SAP Romania brings the cloud procurement solution SAP Ariba on local market

SAP Romania, the local subsidiary of the world's largest business software maker, has launched the SAP Ariba Snap program for the domestic market to support the digitization of specific procurement activities.

With a cloud-based system with a three-month implementation time, the program can automate up to 80% of a company's daily acquisition processes. SAP Ariba Network, the world's largest trading trading network is used by more than 3.6 million organizations worldwide.

SAP Ariba provides the world's largest business network, best-in-class cloud procurement solutions, and innovative business models to help you modernize and grow your business. The solution integrates the entire buying process across your entire organization. When you connect to Ariba Network, you connect to millions of suppliers across direct and indirect expense categories.

SAP Ariba is open to all systems and all types of goods and services, giving you innovative ways to connect to the world's largest network of buyers and suppliers, collaborate with the right business partners, and enhance your solution with targeted apps and extensions. SAP Ariba delivers the insight you need to create and manage lasting, trusted connections with partners who fit with your business, while ensuring your policies and preferences automatically guide efficient, error-free transactions. SAP Ariba offers an end-to-end automated system that removes complexity and allows buyers and suppliers to manage everything from contracts to payments all in one place.

---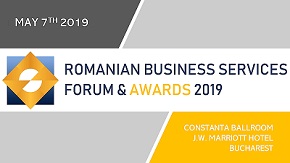 » Romania ranks above EU average in gend...
» The voting procedure for the BRAND OF ...
» Berg Software Romania: Reasons to outs...
» Deloitte's Tech Trends 2019 report: B...
» Steven Hunt, SAP SuccessFactors: Tecto...
» Molson Coors started to grow its busin...
» Societe Generale-European Business Ser...
» Capgemini: Investing in people is the ...
» Countries in CEE region, including Rom...
» Oracle reaches 4,200 employees and pla...

The voting procedure for the BRAND OF THE YEAR 2019 IN ROMANIAN BUSINESS SERVICES is open!

This is the fifth edition of the event and the second year to select the public's favorite brand in the business services BPO, ITO and SSC in Romania.
Read Full article »
Romania ranks above EU average in gender employment gap

In Romania, the employment rate measures the number of people who have a job as a percentage of the working age population. This page provides - Romania Employment Rate- actual values, historical data, forecast
Read Full article »
Steven Hunt, SAP SuccessFactors: Tectonic movements in the world of work

The world of work will be shaped by five tectonic movements – or global megatrends – over the next few years. As you may guess from the geological analogy, the effects could be dramatic.
Read Full article »
EY: European companies are divesting to future-proof growth

According to the EY Global Corporate Divestment Study, 84 per cent of European companies surveyed intending to divest within the next two years (the majority planning to do so in the coming 12 months), executiv
Read Full article »
Knowledge-sharing presentation on latest trends the industry deals, in the program of Romanian Business Services Forum and Awards

Part of the upcoming joint half-day event, Romanian Business Services Forum and Awards to be held at JW Marriott Hotel on May 7th, the discussion agenda comprises a complex Knowledge-sharing presentation on lat
Read Full article »