SAP Romania brings the cloud procurement solution SAP Ariba on local market

SAP Romania, the local subsidiary of the world's largest business software maker, has launched the SAP Ariba Snap program for the domestic market to support the digitization of specific procurement activities.

With a cloud-based system with a three-month implementation time, the program can automate up to 80% of a company's daily acquisition processes. SAP Ariba Network, the world's largest trading trading network is used by more than 3.6 million organizations worldwide.

SAP Ariba provides the world's largest business network, best-in-class cloud procurement solutions, and innovative business models to help you modernize and grow your business. The solution integrates the entire buying process across your entire organization. When you connect to Ariba Network, you connect to millions of suppliers across direct and indirect expense categories.

SAP Ariba is open to all systems and all types of goods and services, giving you innovative ways to connect to the world's largest network of buyers and suppliers, collaborate with the right business partners, and enhance your solution with targeted apps and extensions. SAP Ariba delivers the insight you need to create and manage lasting, trusted connections with partners who fit with your business, while ensuring your policies and preferences automatically guide efficient, error-free transactions. SAP Ariba offers an end-to-end automated system that removes complexity and allows buyers and suppliers to manage everything from contracts to payments all in one place.

---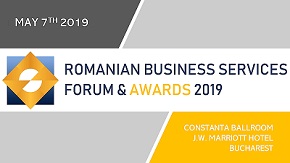 » Romania slides 10 positions in A.T. Ke...
» Having a say in the world of the busin...
» ROMANIAN OUTSOURCING AWARDS FOR EXCELL...
» Digitaljob.ro: Romanian software, onli...
» Ubisoft Coding Campus records 1,000 ap...
» Meet the winners of ROMANIAN BUSINESS ...
» Genpact's COO: Staying ahead of the cu...
» Digital Transformation Conference to t...
» Berg Software Romania: Reasons to outs...
» Andrei Voica: Meet the speakers at Rom...

Value creation enabled by people and innovation

As CEO of SG EBS since July 2018, you took over the Group's development strategy of the company on the Romanian market. Please share with us some of your conclusions, after almost one year of mandate, and plans
Read Full article »
Having a say in the world of the business service leaders

In Romania, The Association of Business Service Leaders in Romania (ABSL) is the organization that represents the business services sector in Romania, gathering high profile companies which conduct business in
Read Full article »
Digital Transformation Conference to take place on June 19 at Bucharest

The Diplomat – Bucharest organizes Digital Transformation Conference to be held on 14 of June in Bucharest, at Hilton Hotel - Regina Maria Hall, starting 8:30 AM.
Read Full article »
L&D Conference by The Diplomat Bucharest took place on June 4th at Bucharest

The Diplomat-Bucharest organizes the Third Edition of its Learning & Development CONFERENCE on 4 June, 2019 at InterContinental Hotel Bucharest starting 09:00 am.
Read Full article »
Meet the winners of ROMANIAN BUSINESS SERVICES AWARDS, 2019 edition

ROMANIAN BUSINESS SERVICES FORUM & AWARDS 2019, in its fifth year, brrought on May 7, in Bucharest, a new concept event with engaging keynote sessions by industry leaders, interactive panel discussions, network
Read Full article »