Workplaces, keeping up with the times

For a company, being people-centric is a way of doing business and engaging employees in the company's operations and strategies in a way that provides a positive employment experience before and after the selling offer, in order to drive responsibility, engagement, loyalty and retention. And a people-centric company is more than a company that offers good service for its professionals.

It also means offering a great experience from the awareness stage, through the hiring process and finally through the working process, starting with the workplace. It's a strategy that's based on putting the employee first, and at the core of business, it's the same level of attention at which a customer is put.

Outsourcing Today talked with some of the largest office market's consultants about how the workplace evolved over time and what the expectations and deliverables are now in terms of workplace for an employee, as well as for its employer.

The fiercely competitive labour markets have caused personalization and deep knowledge of consumers as well as employees at core of customer and people centricity to become essential for making companies stand out from one another and subsequently achieve their business goals. Consequently, in this new digital environment, organizations have realized that their employees are a key pivotal piece in order to be able to adapt to the requirements of clients who are well informed, highly demanding, and possess a great capacity to influence how their business evolves. This is how the notion of employee centricity has emerged, whereby the employee is put right at the heart of their company strategies.

Office spaces, at a glance

According to real estate consultant Colliers International, the Romanian office market is doing a lot of things right. There are developers who are bringing more digital technologies into the buildings, such as virtual receptions, applications for parking selection and optimization. AI will slowly start to be more present in examples like the optimization of utilities based on sensor data. Specific areas of buildings will see a decrease in heating, cooling, or lighting, due to a lower utilization. Inside the office space itself, the IoT and AI will start to make their mark. Desk selection based on regular usage, light and temperature settings and meeting room selection and preparation are soon to follow. We are not there yet, but this is what's to come.

Since the office market has been dominated for years by the IT and BPO/SSC players, the newer technologies will always be well-researched and demanded. Green certification and (as the newest development) WELL certification ("well" referring to the tenants' experience, not the building) will continue to be a hallmark of quality office developments.

A trend observed on the office market and quoted by Mihai Păduroiu, Head of Advisory and Transaction Services and Investor Leasing at CBRE Romania, is the growing number of co-working spaces. This follows the global tendency and is a strong sign that the local market is maturing. "More and more powerful developers, such as Skanska, Portland Trust, Vastint, Atenor Group, C&I include flexible workplaces in their projects so that they can offer the tenants the much needed flexibility for long-term leases. In the recent years we saw a significant increase in the flexible working spaces segment: if three years ago we were talking about a three to five per cent share, now the co-working and flexible office spaces exceed on average 15 per cent of the office area in the new projects, which is an impressive growth. Our estimations show that by 2020, 20 per cent of the modern office stock will be represented by co-working spaces. The real estate players on the office market understood that every office project to be developed in the next several years won't be successful without offering flexibility through co-working and serviced offices. This is the key for attracting new tenants and securing long-term leases," Paduroiu detailed.

The employee's experience, at the core of office space design

According to the latest report Global Human Capital Trends published by the consulting firm, Deloitte, employee experience is positioned as one of the main priorities for HR in the months to come. However, while almost 80 per cent of respondents consider it a key aspect to account for, only 22 per cent state that they have achieved excellence in this aspect. Similarly, 59 per cent of respondents say they are either not prepared, or only partially prepared, to address this challenge. Thus, one of the most important challenges for HR professionals in the next few months will undoubtedly be the ability to incorporate and align all these centric strategies aimed at the thorough understanding of consumers and their talent policies. The combination of both customer and employee performance strategies will be a key mechanism for smoothly running business efficiently in today's world. Additionally, the use of innovative technological tools to analyze, segment and personalize talent plans for each employee according to their needs, provides companies with the input for improving the work experience of their staff, thus increasing workforce efficiency and productivity.


The quality of the office and its facilities has become an important criterion for the younger generations when they choose their employer, CBRE's manager observes. "The new trend in the benefits offered by a modern office space focuses equally on the wellness component. Nowadays, the developers understand the importance of creating healthy, pleasant and creative working environments in order to attract new employees and increase the productivity of existing ones. The new office projects are designed to higher wellness standards, with a wide variety of updates such as: brighter and larger office spaces, more plants distributed in the working and eating areas, access to gym and relaxation spaces, and the list can continue. For the same reasons, the retail space within an office project has grown on average from five per cent, to approximately 15 – 20 per cent at present," Paduroiu said.

Recently, CBRE conducted an international study that highlighted the importance of a human-centric work environment, due to its massive impact when it comes to the performance, well-being and health of employees. The study findings revealed that the productivity has increased with values ranging from ten per cent to 45 per cent in seven months, as a result of improved wellness standards. Thus, the quality of the working environment from the wellness point of view is as important as the technical specifications and the location of an office project.

As Generation Y begins to dominate the workplace, companies need to be looking at how their physical working environment can be used to attract and retain this techno-savvy and digitally sophisticated generation. Colliers International analyzed the motivations and behaviours of Generation Y to understand the way in which they work and would increasingly like to work and the resulting implications for the real estate market.

Flexibility is the underlying theme of the findings with work-life balance a significant source of motivation. The need for flexibility to suit the demands of family and social life is a major factor driving employment choices, pushing organizations towards offering flexible Alternative Working Strategies (AWS). This does not mean that the workplace will become redundant. In fact, we believe quite the opposite will occur. Given the pressure on companies to attract Generation Y staff, it is important that the workplace has the right blend of social and fun space that Generation Y can positively identify with. In locations such as London where there is real pressure on housing in terms of cost and choice, this dynamic is likely to be even more pronounced, pushing the requirement for companies to ensure staff have their own "private space" at work.


"This generation has grown up in a world surrounded by modern information technology and rapid technological change," says Damian Harrington, Regional Director of Research and Consulting for Colliers International; "They expect to have the flexibility to work remotely." Generation Y has a growing influence on how we use technology in the workplace and corporate employment structures such as AWS, creating pressure on how we have traditionally approached the physical working environment.

This will impact upon the need for offices in five key ways, according to Colliers' research:
1. An overall reduction in the demand for office space as a result of the increased implementation of AWS and more efficient use of the actual workspace.
2. A change in the orientation of the workplace, with a greater need for more flexible space which combines efficiently planned workstations with flexible meeting rooms and a large proportion of fun or social space. While a shift from 12 sqm per person to 8 sqm per person is not uncommon, the requirement for greater flexibility and fun/social space means that we will not see an overall reduction in demand of one third.
3. A much greater need for flexibility in the use of space, with implications for the underlying structure, technological platform and management of buildings.
4. Space which genuinely conforms to sustainability standards – be it LEED®, BREEAM® or an alternative - will become a must-have. In particular, energy efficiency will be a critical component of meeting demand.
5. Greater demand for bespoke data centres, driving the growth of a relatively new niche market.



---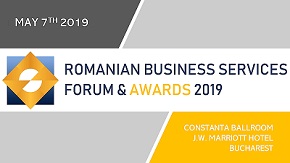 » Capgemini to open new office at Suceav...
» PwC: The competitive advantages of Rom...
» Meet the winners of ROMANIAN BUSINESS ...
» Next Generation Shared Services Roadsh...
» The Outsourcing industry announces its...
» People in Shared Services and Outsourc...
» Societe Generale-European Business Ser...
» French energy operator Total opened su...
» Molson Coors started to grow its busin...
» Client Service Officer (Romanian and H...

Workplace of the Future conference to take place on November 20th at Bucharest

The Diplomat-Bucharest together with Outsourcing Today organize the 3rd Edition of WORKPLACE OF THE FUTURE, on 20th of November 2019, in Bucharest, at Capital Plaza Hotel.
Read Full article »
Strategic Talent Acquisition at People Empowering Business Forum on October 30 in Bucharest

Latest trends like demographic upheaval, globalization, digital technology, and changing social values and worker expectations, are disrupting business models and radically changing the workplace. These are req
Read Full article »
Informal IT School and UiPath launch an educational program for RPA development to start in October

Informal IT School announced a partnership with UiPath to launch an RPA development educational program of five months, 100 hours of courses, five days a week. The program will run in Cluj-Napoca.
Read Full article »
Impact Hub Bucharest joins 3house to manage three coworking spaces in the city

Impact Hub Bucharest, a coworking spaces manager and developer of accelerator programs and events merged with 3house, a new concept of workplace launched in 2018. By this, Impact Hub reaches 3 locations and 6.7
Read Full article »
JLL: Total office space in Bucharest to reach 3 million sqm

The second quarter of 2019 reconfirmed the increased interest for the office market in Romania. Over 115,000 square meters of office space were leased over this period at the national level, a value similar wit
Read Full article »