Creating a valuable customer experience driven by core values of a company

As HR becomes more and more integrated within the company's long-term strategic business strategies, the digitalization and high-technologies impacting the processes also have to be mirrored at the level of HR departments.

In the perspective of Ioana Muşat from TELUS International Romania, the industry has been slow to realize that even if the employees could be surrounded with the finest tools and technologies, if engagement is low and attrition high, customer service will still suffer. "Companies who are hyper-focused on creating a corporate culture that engages and inspires their teams are the ones who are successfully delivering outstanding customer experiences on a consistent and sustained basis. They know that customer experience will never exceed employee experience," Musat told Outsourcing Today. According to the manager, even in the increasingly digital environment where customer support personnel have access to flashy tools, technologies and analytics, it's those companies focused on creating a culture which puts their people first that will succeed over the long-term.

The Human Resources department is the first button to press in the digital transformation process of a company, and it has to find its grounds in the presence of technology. Specialists say that in Human Resources, it is especially imperative to have special HR software that will help effectively manage talent as well as optimize plans and strategies based on data.

From recruitment to learning to career development, all aspects of the employee experience have evolved. This means HR teams have similarly evolved by adopting new technologies, processes, approaches, and mindsets to meaningfully supporting increased employee engagement, growth, and operational excellence among other more specific business objectives. According to Ioana Muşat, HR Manager of TELUS International Romania, "In an increasingly digitized world, we need humans working in concert with technology for it to be effective. In our CX industry, we focus on and invest in the latest technology (Xavient Digital acquisition), but also on the people and the processes that are key to being able to deliver the human touch that customers are demanding in the 21st century," the manager told Outsourcing Today.


The same applies to other departments, which will have tools to digitize their processes. But none of these tools are useful if they are not also operated digitally.

This is why the HR department must be the first to become aware of this and occupy the start of a company's digital transformation plan. Training your employees to adapt and develop is the basis for any digital transformation. People and culture are often the biggest barriers to digital innovation. In addition to investing in technology, brands need to prepare their teams for the digital transformation by fostering a culture that empowers employees, optimizes operations, transforms products and services, and most importantly engages customers. Other aspects include training and development, as well as recruiting and engaging – because at the end of the day, you need to keep high-tech touch in order to create beautiful customer experiences which ultimately lead to top-line growth.



---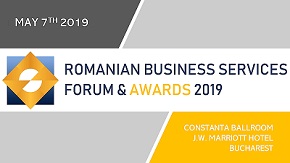 » Raiffeisen Bank Romania outsources onl...
» Horváth & Partners launches Steering ...
» JLL: Total office space in Bucharest t...
» Genpact, Luxoft and Oracle, top lessee...
» SSC in Romania. Who takes the lion's s...
» Oracle results pushed down by a strong...
» World-class HR organizations now spend...
» Romanian employers report the stronges...
» ROMANIAN OUTSOURCING AWARDS FOR EXCELL...
» Eucom: Nine out of ten corporate Roman...

My HR Lab: Research of suitable candidates and giving feedback to rejected ones, the biggest challenge in HR

During June 2019, My HR Lab company run an online (social media platforms) survey "Challenges of the recruitment process" which enrolled over 100 professionals working in HR and recruitment in Romania.
Read Full article »
The local market needs more added-value and complex projects to be developed by the companies

The statement has been uttered within this year's Romanian Outsourcing and Shared Services Summit by Catalina Dodu, Country Manager at Atos, pointing to the local enablers that could enhance the innovation and
Read Full article »
The office market at a glance: The round for tenants is on

Data provided by CBRE show that the office spaces segment will continue to grow rapidly in 2019, and 15 new projects covering 304.000 sqm will be delivered. According to the real estate consultancy agency, curr
Read Full article »
People Empowering Business Forum 2019 to take place on October, 30 at Bucharest

Latest trends like demographic upheaval, globalization, digital technology, and changing social values and worker expectations, are disrupting business models and radically changing the workplace. These are req
Read Full article »
Addressing the mantra of cyber-security: Confidentiality, integrity and availability

The fast advancement of technology in all the aspects of everyday life, either personal or professional, and the emerging of AI (Artificial Intelligence) and ML (Machine Learning), not to mention cloud technolo
Read Full article »