Deloitte report: Two billion youth risk of being left behind in the Fourth Industrial Revolution workforce

Almost two billion youth worldwide risk of being left behind in the Fourth Industrial Revolution (Industry 4.0) workforce, which is changing at an increasingly rapid pace as a result of the emerging technologies, according to Deloitte's global report "Preparing tomorrow's workforce for the Fourth Industrial Revolution," conducted together with Global Business Coalition for Education.

By 2030, more than half of the 1.8 billion youth worldwide, today aged between 15 and 29, will not have the skills or qualifications needed to participate in the workforce, underlines the report.

The report concludes that the business community must take a more proactive role in preparing today's youth to ensure that they are ready for Industry 4.0, which is characterized by the fusion of physical assets and digital technologies such as robotics, artificial intelligence, Internet of Things, digitalization and automation.

"Business leaders worldwide, including in Romania, are rightly concerned that workforce will not be able to keep up with the pace and magnitude of change, as Industry 4.0 is transforming work. Bridging the skill gap and tapping into the energy and creativity of youth seems a daunting challenge and our study is rich in recommendations as to how to tackle it. This is an ongoing preoccupation at Deloitte, as we invest tens of thousands of hours and over one million euros every year in continuously training our staff and we focus our corporate social responsibilities efforts on the critical topic of education. We encourage leaders across all industries to see the Fourth Industrial Revolution as an opportunity, rather than a threat, and reap its benefits, including by rethinking their approach to attracting, recruiting, onboarding and developing talent," said Alexandru Reff, Country Managing Partner, Deloitte Romania.

The research revealed four skills that will be required to succeed in the Fourth Industrial Revolution, namely workforce readiness, soft skills, technical skills and entrepreneurship, accompanied by an attitude emphasizing on continuous and lifelong learning. It also provides four key recommendations to drive change, namely aligning stakeholders' objectives and approaches, engaging in public policy, developing strong talent strategies and investing in workforce skilling.

The report is based on input from youth aged between 15 and 29 from 45 countries, representatives throughout the business community and NGOs, think tanks and academia.



---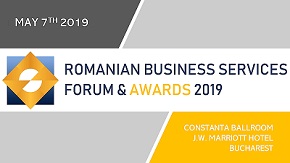 » Capgemini: Investing in people is the ...
» Molson Coors started to grow its busin...
» TELUS International Europe: Three ways...
» Deloitte's Tech Trends 2019 report: B...
» Romania ranks above EU average in gend...
» The Outsourcing industry announces its...
» KPMG study: Big data needs a big re-th...
» Committed to growth
» ROMANIAN OUTSOURCING AWARDS FOR EXCELL...
» Engagement and inclusion through direc...

The voting procedure for the BRAND OF THE YEAR 2019 IN ROMANIAN BUSINESS SERVICES is open!

This is the fifth edition of the event and the second year to select the public's favorite brand in the business services BPO, ITO and SSC in Romania.
Read Full article »
Romania ranks above EU average in gender employment gap

In Romania, the employment rate measures the number of people who have a job as a percentage of the working age population. This page provides - Romania Employment Rate- actual values, historical data, forecast
Read Full article »
Steven Hunt, SAP SuccessFactors: Tectonic movements in the world of work

The world of work will be shaped by five tectonic movements – or global megatrends – over the next few years. As you may guess from the geological analogy, the effects could be dramatic.
Read Full article »
EY: European companies are divesting to future-proof growth

According to the EY Global Corporate Divestment Study, 84 per cent of European companies surveyed intending to divest within the next two years (the majority planning to do so in the coming 12 months), executiv
Read Full article »
Knowledge-sharing presentation on latest trends the industry deals, in the program of Romanian Business Services Forum and Awards

Part of the upcoming joint half-day event, Romanian Business Services Forum and Awards to be held at JW Marriott Hotel on May 7th, the discussion agenda comprises a complex Knowledge-sharing presentation on lat
Read Full article »