Ergonomics in practice - 5 tips for better health at work


Ergonomics is so much more than standing up during the day and sitting correctly. There are so many factors in our environment which also have an effect on our health, and influence our wellbeing at work. The point of good ergonomics in the office is to feel well. If you succeed in creating a working environment for wellbeing you will also succeed in having happy colleagues and increased productivity. Therefore, Kinnarps provides

INCLUSIVE DESIGN

To make sure your working environment is suitable for all employees, you need to have flexible furniture and mobile solutions that can easily be adjusted to each individual's needs, and be adapted to different tasks. You should, for instance, be able to adjust the desks up and down to vary between sitting and standing. Flexible and functional workspace solutions must also be adjustable to different activities. Imagine a natural link between the different areas and different tasks and then you will find a natural ergonomic way to furnish.

A THOUGHT-THROUGH SOUND ENVIRONMENT

In factories or other workplaces with continuous and high noise levels, sound is often high on the agenda. In a survey conducted by YouGov on behalf of Kinnarps Norway in 2016, 47 percent of Norwegian office workers reported that there is too much noise in the office. Of these, 82 percent reported that they are being bothered every single day by colleagues who speak too loudly.
Sound is a complex phenomenon, and after all, it's not something that's easy to forget or close out. Nevertheless, thought-through acoustics are essential for creating an ergonomic and healthy workplace. Although noise levels in office spaces are not harmful to hearing, according to the Labour Inspectorate, it may affect the cardiovascular system, increase blood pressure and contribute to muscle tension and indigestion. Fortunately, it's not hard to improve the sound environment in your workplace. The first and most important step is to become aware of it. Then it's about finding the optimal mix of floor coverings, ceiling insulation, curtains and furniture that can absorb and dampen the sound.

GOOD LIGHT CONDITIONS

Light has a huge effect on us humans, and if we are to work efficiently and comfortably, the quality of the light is crucial. Considering that on average we spend 90 percent of our awake time indoors, it is no wonder that lights and lighting are so important to us.

1. STAND UP FOR YOUR HEALTH
Most of us sit too still during the day. At work, in the car, at the dining table and in front of the TV. It is estimated that adults sit approximately nine hours a day during 16 awake hours. Think about what it does to you and your health. What can you do to become more active? A sit/stand desk at the office is a good start to a more mobile and healthy life.

2. TAKE AN ACTIVE BREAK
Remind yourself to take an active break from time to time – gentle muscle tension sets off lots of positive processes in the body. Taking a break is not the same as passive rest. On the contrary. If you move around, your muscle strain initiates a number of positive processes. Do this every hour, not to relax, but to be active.

3. HOLD YOUR HEAD HIGH
It is a challenge that we spend so much time in front of a computer screen. The screen itself is not the problem, but that we tend to bend down towards the screen. This leads to so-called screen knot, which can cause pain in the neck and shoulder area, and make us tired and tense. It makes a big difference to raise your eyes and keep your head up high. A good tip is to place an independent monitor in front of you, so you need to raise your head to look at it. By lifting your gaze and holding your head a little higher, you achieve a better posture and relieve pressure on the neck. If you do use a laptop, try to angle your gaze downward when you're looking at a screen, without leaning your head noticeably forwards.

4. SIT, BY ALL MEANS, BUT DON'T SIT STILL
Supplement your sit/stand desk with a task chair that follows your body movements and allows you to sit in as many different ways as possible (such as the Capella chair which promotes active sitting).

5. THINK ABOUT WHAT YOU CAN'T SEE
We all perceive sound and light differently, so consideration and respect for other people's perceptions and expectations is a good starting point. Sound and light are subjective, but it's a lot about planning your workplace with solutions like sound absorbers, adjustable lighting and phone rooms.



---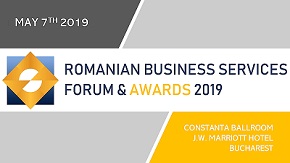 » Huawei opens a centre on cyber securit...
» ROMANIAN OUTSOURCING AWARDS FOR EXCELL...
» Romania ranks above EU average in gend...
» Bucharest, in the top of cities in Eur...
» Meet the experts who will decide the w...
» Berg Software Romania: Reasons to outs...
» KPMG launches an application enabling ...
» Bogdan Pelinescu, president of ABSL: A...
» ABSL GALA AWARDS celebrated its winner...
» George Rotariu, CEO Bitcoin Romania: B...

Catalina Dodu - Meet the speakers at Romanian Business Services Forum 2019 CEO LEADERS DEBATE, on May 7

Catalina Dodu runs the operations of Atos Romania since March 2014, with an experience of over 15 years in IT management. Previous to being appointed Country Manager, Catalina managed the System Integration div
Read Full article »
Philippe Beucher: Meet the speakers at Romanian Business Services Forum 2019 CEO LEADERS DEBATE, on May 7

Philippe Beucher is the Managing Director of Accenture Operations – Danubia Region, leading the Operations entity for Romania, Czech Republic, Slovakia and Hungary starting from February 2019. For the past 1
Read Full article »
Meet the speakers at Romanian Business Services Forum 2019 CEO LEADERS DEBATE, on May 7th - Matthieu Pasquier

Matthieu Pasquier is CEO of Societe Generale European Business Services since August 2018 bringing more than 27 years experience in Societe Generale group. During 2014-2018, Matthieu was Head of SG GSC Chennai
Read Full article »
Sorin Mindrutescu among the speakers at Romanian Business Services Forum 2019 CEO LEADERS DEBATE, on May 7th

Sorin Mindrutescu is the Country Leader for Oracle Romania, as of February 2003. In this role, he is responsible for local sales and project delivery. In Romania, Oracle has two major business directions: the l
Read Full article »
Meet the speakers at Romanian Business Services Forum 2019 CEO LEADERS DEBATE, on May 7th - Vivek Bakshi

Vivek Bakshi is the General Manager of Wipro Technologies. He has spent 12 years heading the International Locations / Delivery Centers Europe from the Bucharest office.
Read Full article »