TEDxBucharest ready to start on November 30th

The 10th edition of TEDxBucharest brings to the audience focus the Crossing Boundaries theme for two days, on November 30th and December 1st, startign 10 am at Auditoriul Pallady. There are over 750 participants expected during the two days' conference, joining the 24 speakers and special entertainment moments.


This year's edition is inspired by Crossing Boundaries general theme and delivers a substantial roundup of speakers, such as Alyssa Carsos, Youngest astronaut in training, MARS ONE Ambassador, Nadya Zhexembayeva, Reinvention Specialist, Sustainability strategist, Andrei Tudor, a 10-year old Robotics Mastermind, and Passionate apprentice, Laura Raetchi, UN Political Affairs and Peacekeeping expert, Gregory Caremans, Brain Master and Founder of the Brain Academy, among others.

The complete list is to be found on the official website at at TEDx Bucharest


"Our modern existence is defined by socially accepted limits, both physical and psychological. And we're told they are meant to keep us safe and enable us to operate optimally within society. But the people who changed the world are those who challenged limits. They committed acts of disobedience or empathy and caused a shift in the way we understand our emotions which ultimately lead to innovation. Once a boundary is breached, it's breached forever. Those who dare change, those are the ones who create something together, breaking down silos and transforming lives, crossing perimeters of territory, industry, race or identity.

It's time to object to these borders with ideas. It's time to burst the bubble and cross off the lines guarded by fear and uncertainty. And it is time to embrace change and address what IS possible. At the 10th edition of TEDxBucharest we aim to push ideas even further, breaking them out of schools, out of books and out of gender and racial constructs. This year we will challenge you to cross your boundaries. Because you don't just happen," a special statement of this year's edition utters.


TEDxBucharest is an independently and locally organized event, running in Bucharest ever since 2009. We aim to become an instrument designed for positive change and development in the local and national community of thinkers and doers. We have been creating valuable connections between stellar individuals, great ideas and our local community. In doing so, we have established ourselves as a landmark meeting place for innovative ideas, high-achieving individuals and inspired partnerships.




---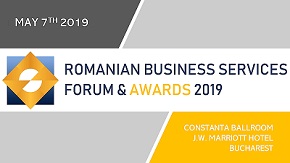 » Digital Transformation Conference to t...
» ASE's HR Master – helping students i...
» Marian V. Popa: Meet the speakers at R...
» Meet the winners of ROMANIAN BUSINESS ...
» Randstad Employer Branding 2019: Salar...
» Zitec launches its 1 million Euro Mirr...
» Deloitte Romania opens application for...
» Capgemini to open new office at Suceav...
» Romulus Caralicea: Meet the speakers a...
» Oracle Romania inaugurates the Iasi of...

Digital Transformation Conference to take place on June 19 at Bucharest

The Diplomat – Bucharest organizes Digital Transformation Conference to be held on 14 of June in Bucharest, at Hilton Hotel - Regina Maria Hall, starting 8:30 AM.
Read Full article »
L&D Conference by The Diplomat Bucharest to take place on June 4th at Bucharest

The Diplomat-Bucharest organizes the Third Edition of its Learning & Development CONFERENCE on 4 June, 2019 at InterContinental Hotel Bucharest starting 09:00 am.
Read Full article »
Meet the winners of ROMANIAN BUSINESS SERVICES AWARDS, 2019 edition

ROMANIAN BUSINESS SERVICES FORUM & AWARDS 2019, in its fifth year, brrought on May 7, in Bucharest, a new concept event with engaging keynote sessions by industry leaders, interactive panel discussions, network
Read Full article »
Few hours away from to the long awaited CEO Leaders Debate, a premiere of Romanian Business Services Forum and Awards
We are a few hours away to the long awaited CEO Leaders Debate, a premiere of Romanian Business Services Forum and Awards on May 7.
Read Full article »
Colin C. Lovering: Meet the speakers at Romanian Business Services Forum & Awards 2019, on May 7

Colin C. Lovering has been living and working in Romania since 2009 when he arrived to offer consultancy and advice to organisations looking for growth and profitability and founded Achieve International.
Read Full article »