PwC: Romania, last in EU for digitalization

Romania ranks last in EU for the digitalization of economy and society, said Dorian Farkas, senior manager financial consulting at PwC Romania, at a specialised conference.

He presented results of three stages carried out on this topic at world level, Romania ranking last in EU for each of them. "All these studies take into account the human factor and the way in which countries use and adopt digital technologies. In a study made by the UN, Romania ranks last in EU. The classification shows the telecommunication infrastructure index, the human capital index and the online service index," Farcas said.

The second study, DESI, made by the European Commission, takes into account digital competitiveness, shows that Romania ranks last in EU.

In this report, for human capital (Internet use, basic and advanced digital competences) Romania ranks 28th in EU, because of difficulties in attracting and keeping specialists to develop efficient digital public services.

Romania is also last in point of using the Internet (citizens using online content, communications and transactions) because 25 per cent of people have never used the Internet and only 17% of companies use online technologies and communication means. As for connectivity (fixed broadband services, mobile broadband services and prices) Romania ranks 22nd in EU, because of differences between urban and rural areas for mobile and Internet connections.

For digital technology integration (digitalization of companies and electronic trade), Romania ranks 28th in EU, because of the poor integration of IT systems in public administration, while public digital services (e-government and e-health) Romania is 26th because of the low degree of confidence in using online banking services and digital platforms. The first countries in EU in DESI classification are Denmark, Finland, Sweden and the Netherlands.

The third study is IMD World and classifies Romania 20th of 21 countries in Europe and 54th of 63 in the world.

This report evaluates the knowledge needed for digital transformation in economy, the understanding and learning of new technologies, the technological factor which evaluates the frame of digitalization development (available capital, available infrastructure, legislative frame), as well as the absorption of digital technologies which supposes the capacity of the business environment to change in order to include innovation and adaptability to new digital tendencies.

Although Romania had a significant economic growth in the last 20 years, it is 1.2-2.5% per year under the growth recorded by countries in Eastern Europe which are in an advanced stage in point of government service digitalization (such as Estonia, Lithuania and Latvia).

At the same time, productivity in Romania is 50 per cent smaller than that of countries ranking first in point of digitalization.



---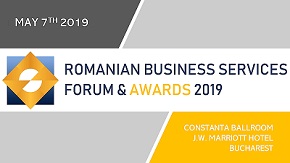 » The most appreciated companies from th...
» Webhelp Romania aiming for EUR 10 mill...
» Tremend joins Mellanox in powering the...
» The Outsourcing industry announces its...
» Manpower: Romania's labor market, more...
» Deloitte's Tech Trends 2019 report: B...
» Bucharest, in the top of cities in Eur...
» Oracle reaches 4,200 employees and pla...
» Genpact's COO: Staying ahead of the cu...
» Ascentis: The top ten HR trends for 20...

Nomination are now open for Romanian Business Services Forum and Awards

Nominations have opened for the prestigious Romanian Business Services Forum & Awards. The 2019 awards will continue to recognize and reinforce the important contribution made by business services professionals
Read Full article »
Study: 89 per cent of finance teams yet to embrace Artificial Intelligence

Report by Association of International Certified Professional Accountants and Oracle shows that almost 90 per cent of finance teams do not have the skills to support digital transformation.
Read Full article »
Bucharest, in the top of cities in Europe with the largest number of experts in high-tech industry

Bucharest is among the top cities boasting the most experts in the high-tech innovative industry, with over 70,000 current employees, next to London, Dublin, Madrid or Budapest, reads a study conducted by CBRE
Read Full article »
CBRE study: Post-millennials, the happiest about their offices
During 2018, real estate consultancy company CBRE conducted the first study dedicated to work environment in office buildings in Bucharest. The respondents have been structured in four age segments, such as Z g
Read Full article »
Deloitte's Tech Trends 2019 report: Beyond the digital frontier

The recently released Deloitte's Tech Trends 2019: Beyond the digital frontier, as each Tech Trends report in the series conducted by the consultancy company, lobbies for embracing the increasing, often mind-b
Read Full article »