SG EBS and PASsE-Par-Nous partnership with Elias University Emergency Hospital to create a new a new section to treat infectious diseases

Societe Generale European Business Services (SG EBS) and PASsE-Par-Nous association join forces with Bucharest-based Elias University Emergency Hospital to create a new section dedicated to infectious diseases.

With the support of PASsE-Par-Nous Association, the Elias Emergency University Hospital identified the need for a separate department within the hospital dedicated to infectious diseases that has the capacity to isolate and treat patients with infectious pathologies or colonized with drug-resistant germs. This new structure is designed to provide the right configuration in terms of space, human resources, processes and procedures for treating infections. Besides the construction of the section, other problems were identified, such as the need for proper use of hospital resources and the need to optimize the processes, all of which were carried out with the help of Societe Generale European Business Services (SG EBS).

A team of 15 volunteers in SG EBS company has been working since March 2018 to analyze, define and optimize processes to provide more effective care to patients and create a balanced work environment for medical teams, thereby reducing administrative steps. The BI-Elias project, in which SG EBS and PASsE-Par-Nous teams are working, includes: creating a multidisciplinary team that is considered the standard for today's treatments, the first in the Romanian medical system; implementing an antibiotic administration program. The program is accompanied by measurements such as DOT (number of days in which a patient was exposed to the antibiotic, regardless of dose) and DDD (defined daily dose). This program will be a premiere for the Romanian health system.

"We are very proud of our contribution to the BI-Elias project that will bring important changes for each patient and medical staff at Elias Hospital. We believe that our work experience in a large company such as Societe Generale provides us with the tools to help the management of the Elias Emergency University Hospital become an example for the Romanian health system. This project provides not only a unique approach to CSR activities but also the possibility that our employees can actively contribute contribute to such a project, "said Matthieu Pasquier, CEO of SG EBS.

"PASsE-Par-Nous is a young and ambitious association with a mission centered on the field of education. We focus on three key aspects of education: educational philosophy and methodology, health and culture. These three aspects are essential to lead a balanced life. In PASsE-Par-Nous, we believe in balancing society by overcoming the gap between love and evolution. The BI-Elias project is our way of providing the Romanian medical system with a very seductive work based on efficiency. Efficiency will mean better and safer medical services for patients and a less stressful work environment for all medical and administrative staff. We will be able to do this both with the help of SG EBS for redefining and optimizing working processes, and by transforming the notion of collaboration into a necessity for any working environment, but also by creating culture around multidisciplinary teams, including and infectious physicians, "said Ana-Maria Dogaru, President of PASsE -Par-Nous.

"By creating an infectious disease section, we want to meet the needs of our patients and provide them with a safer hospital. We would like to thank PASsE-Par-Nous and Societe Generale European Business Services for all the assistance and support they have provided so far. and we look forward to other partners who would like to join us, "said Dr. Mugur Ardelean, Elias University Emergency Hospital Manager.

---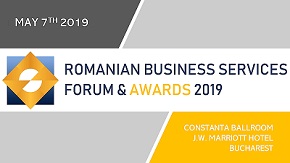 » Matthieu Pasquier is the new CEO of So...
» KPMG study: Big data needs a big re-th...
» Four companies represent Romania in De...
» IBM & financial service industry sign ...
» Exclusive OT: GRS to grow 50% in 2016 ...
» Having a say in the world of the busin...
» GovITHub community says it ends its co...
» Innovation, digitisation, integrated a...
» Genpact's COO: Staying ahead of the cu...
» Workplace of the Future conference to ...

Workplace of the Future conference to take place on November 20th at Bucharest

The Diplomat-Bucharest together with Outsourcing Today organize the 3rd Edition of WORKPLACE OF THE FUTURE, on 20th of November 2019, in Bucharest, at Capital Plaza Hotel.
Read Full article »
Strategic Talent Acquisition at People Empowering Business Forum on October 30 in Bucharest

Latest trends like demographic upheaval, globalization, digital technology, and changing social values and worker expectations, are disrupting business models and radically changing the workplace. These are req
Read Full article »
Informal IT School and UiPath launch an educational program for RPA development to start in October

Informal IT School announced a partnership with UiPath to launch an RPA development educational program of five months, 100 hours of courses, five days a week. The program will run in Cluj-Napoca.
Read Full article »
Impact Hub Bucharest joins 3house to manage three coworking spaces in the city

Impact Hub Bucharest, a coworking spaces manager and developer of accelerator programs and events merged with 3house, a new concept of workplace launched in 2018. By this, Impact Hub reaches 3 locations and 6.7
Read Full article »
JLL: Total office space in Bucharest to reach 3 million sqm

The second quarter of 2019 reconfirmed the increased interest for the office market in Romania. Over 115,000 square meters of office space were leased over this period at the national level, a value similar wit
Read Full article »