The offices need to be social, open, smart

In the future of office space, people will be charmed through countless amenities to nurture more and more the need to connect to each other. As George Didoiu, Director Tenant Services at Colliers International told Outsourcing Today, in that kind of office, someone should feel instantly able to interact with another.

Paradoxically, more and more tech-savvy jobs will address solitude activities, data analysts for example, so the office of the future will try to balance this with open spaces and interactive spaces, where people can work separately but at the same time, together. This trend is not new; the co-working spaces which started to emerge in all the business areas of large cities in Romania already do just like this, bringing together people from different departments and even different businesses into an open environment designed to charm them into collaborating, interacting and exchanging knowledge.

The expectations of all market stakeholders are different now compared to ten or 15 years ago, Didoiu explained. "The workplace has to be memorable for each employee in order to achieve retention and avoid attrition. Digital is facilitating the human experience. Offices and buildings are ever smarter, enabling more interaction between people and the building space itself. Now we have in place concepts and facilities such as virtual reception, access to parking based on license plates. In order to facilitate communication across large businesses, AI will continually emerge into the office and home lives," the Colliers' manager detailed.

A workplace passionate with over 13 years of experience in real estate, George Didoiu, accepted our invitation to tackle subjects like rising expectations of employees, offices as recruiting and retention tools and the latest trends in his department. As Director of Tenant Services, Office Agency at Colliers International Romania, Didoiu advised leasing transactions comprising 65,000 sqm, providing real estate strategies and solutions for key clients and real estate developers in Romania. Before joining Colliers, he was Regional Expansion Director at LIDL Romania and managed ten LIDL properties including six building sites.

---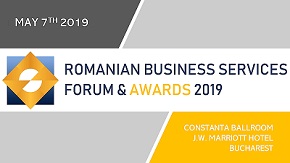 » The most appreciated companies from th...
» Webhelp Romania aiming for EUR 10 mill...
» Tremend joins Mellanox in powering the...
» The Outsourcing industry announces its...
» Manpower: Romania's labor market, more...
» Deloitte's Tech Trends 2019 report: B...
» Bucharest, in the top of cities in Eur...
» Oracle reaches 4,200 employees and pla...
» Genpact's COO: Staying ahead of the cu...
» Ascentis: The top ten HR trends for 20...

Nomination are now open for Romanian Business Services Forum and Awards

Nominations have opened for the prestigious Romanian Business Services Forum & Awards. The 2019 awards will continue to recognize and reinforce the important contribution made by business services professionals
Read Full article »
Study: 89 per cent of finance teams yet to embrace Artificial Intelligence

Report by Association of International Certified Professional Accountants and Oracle shows that almost 90 per cent of finance teams do not have the skills to support digital transformation.
Read Full article »
Bucharest, in the top of cities in Europe with the largest number of experts in high-tech industry

Bucharest is among the top cities boasting the most experts in the high-tech innovative industry, with over 70,000 current employees, next to London, Dublin, Madrid or Budapest, reads a study conducted by CBRE
Read Full article »
CBRE study: Post-millennials, the happiest about their offices
During 2018, real estate consultancy company CBRE conducted the first study dedicated to work environment in office buildings in Bucharest. The respondents have been structured in four age segments, such as Z g
Read Full article »
Deloitte's Tech Trends 2019 report: Beyond the digital frontier

The recently released Deloitte's Tech Trends 2019: Beyond the digital frontier, as each Tech Trends report in the series conducted by the consultancy company, lobbies for embracing the increasing, often mind-b
Read Full article »