The offices need to be social, open, smart

In the future of office space, people will be charmed through countless amenities to nurture more and more the need to connect to each other. As George Didoiu, Director Tenant Services at Colliers International told Outsourcing Today, in that kind of office, someone should feel instantly able to interact with another.

Paradoxically, more and more tech-savvy jobs will address solitude activities, data analysts for example, so the office of the future will try to balance this with open spaces and interactive spaces, where people can work separately but at the same time, together. This trend is not new; the co-working spaces which started to emerge in all the business areas of large cities in Romania already do just like this, bringing together people from different departments and even different businesses into an open environment designed to charm them into collaborating, interacting and exchanging knowledge.

The expectations of all market stakeholders are different now compared to ten or 15 years ago, Didoiu explained. "The workplace has to be memorable for each employee in order to achieve retention and avoid attrition. Digital is facilitating the human experience. Offices and buildings are ever smarter, enabling more interaction between people and the building space itself. Now we have in place concepts and facilities such as virtual reception, access to parking based on license plates. In order to facilitate communication across large businesses, AI will continually emerge into the office and home lives," the Colliers' manager detailed.

A workplace passionate with over 13 years of experience in real estate, George Didoiu, accepted our invitation to tackle subjects like rising expectations of employees, offices as recruiting and retention tools and the latest trends in his department. As Director of Tenant Services, Office Agency at Colliers International Romania, Didoiu advised leasing transactions comprising 65,000 sqm, providing real estate strategies and solutions for key clients and real estate developers in Romania. Before joining Colliers, he was Regional Expansion Director at LIDL Romania and managed ten LIDL properties including six building sites.

---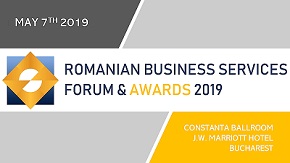 » Raiffeisen Bank Romania outsources onl...
» Oracle results pushed down by a strong...
» World-class HR organizations now spend...
» Microsoft and Oracle to interconnect M...
» Apostoleanu, Oracle: Human talent, mos...
» ANIS: Romanian IT market annual revenu...
» Healthcare IT outsourcing market is ex...
» Bosch Service Solutions to grow 20% Ti...
» Omnichannel: 4 pillars of a purposeful...
» The digitalization of the customer rel...

My HR Lab: Research of suitable candidates and giving feedback to rejected ones, the biggest challenge in HR

During June 2019, My HR Lab company run an online (social media platforms) survey "Challenges of the recruitment process" which enrolled over 100 professionals working in HR and recruitment in Romania.
Read Full article »
The local market needs more added-value and complex projects to be developed by the companies

The statement has been uttered within this year's Romanian Outsourcing and Shared Services Summit by Catalina Dodu, Country Manager at Atos, pointing to the local enablers that could enhance the innovation and
Read Full article »
The office market at a glance: The round for tenants is on

Data provided by CBRE show that the office spaces segment will continue to grow rapidly in 2019, and 15 new projects covering 304.000 sqm will be delivered. According to the real estate consultancy agency, curr
Read Full article »
People Empowering Business Forum 2019 to take place on October, 30 at Bucharest

Latest trends like demographic upheaval, globalization, digital technology, and changing social values and worker expectations, are disrupting business models and radically changing the workplace. These are req
Read Full article »
Addressing the mantra of cyber-security: Confidentiality, integrity and availability

The fast advancement of technology in all the aspects of everyday life, either personal or professional, and the emerging of AI (Artificial Intelligence) and ML (Machine Learning), not to mention cloud technolo
Read Full article »