Keep the communication channels open

The necessity of creating a functional dialogue within a company has been underlined by Denisa Panaite Casu, PwC Academy Manager, Romania, in the panel of the recently held People in Shared Services and Outsourcing Forum.



The specialist underlines the need of starting "a mature conversation about what is in the agenda for a company regarding the job turnover... everything that matters to employee and employer. Keep the communication channels open. People and companies should be part of the solutions, because Governments and authorities will not be enough to solve the problems in the necessary timeframe. HR needs to be swift to more added value talks, to be more valuable, more transparent. We need to make sure that leadership is an active part of the story. Right now, people are interested about more than salaries and benefits. We need to treat things as a partnership. We don't have to be on opposite sides, we need to engage in dialogue," Casu said.

There is a practice at PwC, as Denisa Casu details, called "reversed mentoring program", that at a functional level enables team work and a better understanding and implementation of tech skills and job expertise. In this respect, the young professionals, tech-savvy by nature, can became mentors for more experienced colleagues, enabling by this a profound, easy and efficient exchange of know-how. Also, the technical departments are creating and implementing digital solutions for different departments to answer different needs. According to PwC's manager, interpersonal skills will become more and more important and once the jobs are transforming, the cooperation is very important, to train the employees, to invest in their continuous learning.

Denisa Casu also detailed the company's global framework project, ADAPT, which outlines five urgent global issues facing the world today and their implications: asymmetry, disruption, age, populism, and trust.

"It has become apparent that the long-term phenomena of the Megatrends are already upon us. Governments, organizations and society are all struggling with the near-term manifestations of these trends and looking for answers. The program is helping the company's clients to focus on these challenges using this framework," as stated in the study description.



---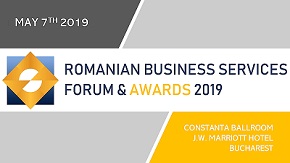 » Raiffeisen Bank Romania outsources onl...
» Horváth & Partners launches Steering ...
» JLL: Total office space in Bucharest t...
» Genpact, Luxoft and Oracle, top lessee...
» SSC in Romania. Who takes the lion's s...
» Oracle results pushed down by a strong...
» World-class HR organizations now spend...
» Romanian employers report the stronges...
» ROMANIAN OUTSOURCING AWARDS FOR EXCELL...
» Eucom: Nine out of ten corporate Roman...

My HR Lab: Research of suitable candidates and giving feedback to rejected ones, the biggest challenge in HR

During June 2019, My HR Lab company run an online (social media platforms) survey "Challenges of the recruitment process" which enrolled over 100 professionals working in HR and recruitment in Romania.
Read Full article »
The local market needs more added-value and complex projects to be developed by the companies

The statement has been uttered within this year's Romanian Outsourcing and Shared Services Summit by Catalina Dodu, Country Manager at Atos, pointing to the local enablers that could enhance the innovation and
Read Full article »
The office market at a glance: The round for tenants is on

Data provided by CBRE show that the office spaces segment will continue to grow rapidly in 2019, and 15 new projects covering 304.000 sqm will be delivered. According to the real estate consultancy agency, curr
Read Full article »
People Empowering Business Forum 2019 to take place on October, 30 at Bucharest

Latest trends like demographic upheaval, globalization, digital technology, and changing social values and worker expectations, are disrupting business models and radically changing the workplace. These are req
Read Full article »
Addressing the mantra of cyber-security: Confidentiality, integrity and availability

The fast advancement of technology in all the aspects of everyday life, either personal or professional, and the emerging of AI (Artificial Intelligence) and ML (Machine Learning), not to mention cloud technolo
Read Full article »