Digital Transformation and Next-Generation Talent Development

To what extent will robotics, chat bots and other cognitive technologies change the makeup of our future workforce? With customizable software and cloud-based tools which promote automation, the low skill sectors of the BPO are at high risk.

This trend will dominate in 2018 and outsourcing companies will automate more processes to bring innovation to existing clients, improve productivity and regain a labour cost advantage. Emerging skills that will be in high demand include robotics, big data analytics, artificial intelligence and machine learning.

Taking on the previous ideas discussed in the plenary session of 2018's People in Shared Services and Outsourcing Forum, Tom Hobson, GM of ADP, a global provider of cloud-based human capital management (HCM) solutions and BPO, thinks that in the future, people will be less employees and more contractors. "People constantly evaluate where to work, which roles to play within a company, and what the companies are offering. This is a natural global trend. In recruitment, you need to address the needs and special features of each generation. People need to know about the values shared by their employers, their decision making process, career opportunities. This is the mindset of current employees," stated Hobson.

Channeling HR related services towards the specific needs of employees

A company has to be equipped to handle the increasing complexity of the fiscal code and to maintain compliance during times of change. Due to this, the outsourcing of payroll plus HR and compliance solutions is a good fit for this market. I believe there will be a shift towards outsourcing more and more particularly in the non-multinational organizations but also in smaller fast growing companies, with small workforce dispatched in many countries looking for simple solutions to pay people and ensure a perfect compliance with local labor and tax legislations in all the geographies where their talents are located.

The Romania market is fairly well aligned from this perspective globally – it is foundational for an organizational to be in compliance no matter where you are located and we know in many countries there are significant changes in Government that are disrupting the status quo – it is important to be ready to manage these changes.

Looking more to the future and at key global macro trends, I would highlight the concepts of digital citizen and economy. More and more the employees of organizations will demand HR related services in channels that make sense to them, such as through mobile devices, therefore it will be important to be seen as a modern employer in this regard. Beyond this, I believe we will begin to see more people working for multiple employers concurrently or on shorter term assignments, perhaps not employees at all and rather more contractors. This will have knock on consequences to how payments are made, how records are kept, what real estate is required and so on.

In addition to talk to the "war for talent" as is often mentioned and is particularly relevant in areas of high employment such as Romania and specifically Bucharest, then this war is not only about attracting and hiring the right talent, but maybe more importantly keeping the talent that you have. Therefore, there is an important need to be taken care of in terms of your employee experience and what solutions you deploy to both allow them to do their day to day work and also to engage and develop them.


Within his 15-year career with ADP, Tom was also Vice President of Operations for GBS, driving a number of Business Transformation initiatives across the GBS organization covering India, the Philippines, Romania, and Brazil.



---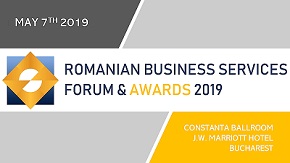 » Huawei opens a centre on cyber securit...
» ROMANIAN OUTSOURCING AWARDS FOR EXCELL...
» Romania ranks above EU average in gend...
» Bucharest, in the top of cities in Eur...
» Meet the experts who will decide the w...
» Berg Software Romania: Reasons to outs...
» KPMG launches an application enabling ...
» Bogdan Pelinescu, president of ABSL: A...
» ABSL GALA AWARDS celebrated its winner...
» George Rotariu, CEO Bitcoin Romania: B...

Catalina Dodu - Meet the speakers at Romanian Business Services Forum 2019 CEO LEADERS DEBATE, on May 7

Catalina Dodu runs the operations of Atos Romania since March 2014, with an experience of over 15 years in IT management. Previous to being appointed Country Manager, Catalina managed the System Integration div
Read Full article »
Philippe Beucher: Meet the speakers at Romanian Business Services Forum 2019 CEO LEADERS DEBATE, on May 7

Philippe Beucher is the Managing Director of Accenture Operations – Danubia Region, leading the Operations entity for Romania, Czech Republic, Slovakia and Hungary starting from February 2019. For the past 1
Read Full article »
Meet the speakers at Romanian Business Services Forum 2019 CEO LEADERS DEBATE, on May 7th - Matthieu Pasquier

Matthieu Pasquier is CEO of Societe Generale European Business Services since August 2018 bringing more than 27 years experience in Societe Generale group. During 2014-2018, Matthieu was Head of SG GSC Chennai
Read Full article »
Sorin Mindrutescu among the speakers at Romanian Business Services Forum 2019 CEO LEADERS DEBATE, on May 7th

Sorin Mindrutescu is the Country Leader for Oracle Romania, as of February 2003. In this role, he is responsible for local sales and project delivery. In Romania, Oracle has two major business directions: the l
Read Full article »
Meet the speakers at Romanian Business Services Forum 2019 CEO LEADERS DEBATE, on May 7th - Vivek Bakshi

Vivek Bakshi is the General Manager of Wipro Technologies. He has spent 12 years heading the International Locations / Delivery Centers Europe from the Bucharest office.
Read Full article »