The missing link- Growing a solid entrepreneurial culture

Within a developing yet solid market where the necessary factors are on the table - investors, strong academic life, work force, skills and private companies operating countrywide - it seems that the evolution of all the components of a healthy labour market should be in place.

However, some of the benefits that once positioned Romania as a "first choice" for investors - such as the low-costs of labour - are not on the agenda anymore. "What once was an advantage is not there anymore. Even in cities such as Timisoara, Cluj or Iasi, the labour costs are not low anymore. Also, foreign languages as an advantage is starting to be outdated. The costs of labour have increased, making labour in Romania just too costly right now for investors. You need to fully specialized and deliver the extra value to sustain the cost of labour. If, say, an engineering project in Craiova enjoys labour cost as an advantage, it is not necessarily also the case in Timisoara," said Sergiu Negut, Board Member of the Romanian Business Leaders Foundation.

Unsettling as this is, another issue is that Romania needs a certain confidence at all the levels of local businesses, entrepreneurship and personal careers that employees and business representatives in other countries have. As Negut says, trusting and working together is less common in Romania compared to other markets. Also, the concept itself of entrepreneurship is seen as a very romantic and idealized image. "Entrepreneurship is not for everyone. Even if the young people are mobilized and enchanted by building their own business, alternatives are still strongly explored. Romanian lacks the solid infrastructure to build a solid entrepreneurial component. We have subsidies, grants, investments, all kind of accelerators, but the missing link is the corporate angel. There are hackathons, workshops, preoccupation at the board level to tap into the innovation potential of the people. There is only a need to create a layer in between these concepts to bring them to innovation." Negut added.

Romania currently doesn't own an ecosystem for creating and developing large business projects born locally, and that could cascade backwards into the economy. To build an efficient business ecosystem, according to Sergiu Negut, the local market needs to become entrepreneurial, to develop more into this segment. For instance, Negut details how Sofia, Bulgaria - compared to Bucharest - shows a more dynamic pace for developing entrepreneurial businesses. "We need to know how to build innovation, develop a greater way of thinking, improve our abilities in dialogue, storytelling, cooperation, and understand strategy to create long term sustainability. We need to bring minds, hearts, and actions together into something valuable," Negut stated. As a basic consequence of these shortfalls, Romania also lacks the experience of large projects, the manager added.

Sergiu Negut is an expert in business growth. He is a frequently-awarded speaker on topics related to innovation, growth, future trends and acts as Associate Dean with the Maastricht School of Management in Romania. Negut is an active Business Angel, with a number of local investments. He is also an initiator of mentorship programs, and a board member in various companies and associations including Romanian Business Leader.

---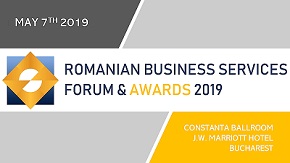 » Evolving from consumers of resources t...
» ROMANIAN OUTSOURCING AWARDS FOR EXCELL...
» Preparing for the new future
» Pepper Escu, the first humanoid robot ...
» Volvo Cars and Uber present production...
» Berg Software Romania: Reasons to outs...
» Marian V. Popa: Meet the speakers at R...
» Deloitte 2019 Global Human Capital Tre...
» George Didoiu: Meet the moderator of R...
» Andrei Voica: Meet the speakers at Rom...

Digital Transformation Conference to take place on June 19 at Bucharest

The Diplomat – Bucharest organizes Digital Transformation Conference to be held on 14 of June in Bucharest, at Hilton Hotel - Regina Maria Hall, starting 8:30 AM.
Read Full article »
L&D Conference by The Diplomat Bucharest took place on June 4th at Bucharest

The Diplomat-Bucharest organizes the Third Edition of its Learning & Development CONFERENCE on 4 June, 2019 at InterContinental Hotel Bucharest starting 09:00 am.
Read Full article »
Meet the winners of ROMANIAN BUSINESS SERVICES AWARDS, 2019 edition

ROMANIAN BUSINESS SERVICES FORUM & AWARDS 2019, in its fifth year, brrought on May 7, in Bucharest, a new concept event with engaging keynote sessions by industry leaders, interactive panel discussions, network
Read Full article »
Few hours away from to the long awaited CEO Leaders Debate, a premiere of Romanian Business Services Forum and Awards
We are a few hours away to the long awaited CEO Leaders Debate, a premiere of Romanian Business Services Forum and Awards on May 7.
Read Full article »
Colin C. Lovering: Meet the speakers at Romanian Business Services Forum & Awards 2019, on May 7

Colin C. Lovering has been living and working in Romania since 2009 when he arrived to offer consultancy and advice to organisations looking for growth and profitability and founded Achieve International.
Read Full article »