Violeta Luca is the new GM of Microsoft Romania

Microsoft announces the appointment of Violeta Luca as the new General Manager for the company's operations in Romania, starting November this year.

Violeta Luca joined Microsoft Romania in February 2015 as Head of Strategy to lead and coordinate the local transformation strategy of the company and subsequently assumed the responsibilities of the Marketing & Operations Director until February 2017.

Violeta Luca holds expertise as manager both in Microsoft Romania and in Whirlpool, Flanco, eMag and Metro Cash & Carry Romania, where she has been a member of the Board of Directors for almost two years. Graduate of the Academy of Economic Studies in Bucharest, as well as numerous management courses, Violeta Luca, 38, has over 17 years of experience in IT and retail.

"I think that technology is more than ever the solution that supports evolution in all areas, whether economics, society or culture. Microsoft has taken on the role of development facilitator and Romania, with its IT tradition, has all the prerequisites to amplify the impact of technology both locally and globally. I wish that together with our team and Microsoft partners we support, through accessible, scalable, customizable technologies, the digitization paths for a large number of organizations on the Romanian market both in the public and private sector ", Violeta Luca stated from her new position.

---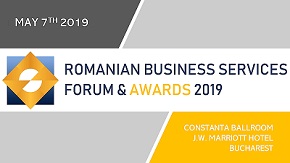 » Capgemini: Investing in people is the ...
» Molson Coors started to grow its busin...
» TELUS International Europe: Three ways...
» KPMG study: Big data needs a big re-th...
» Deloitte's Tech Trends 2019 report: B...
» Romania ranks above EU average in gend...
» The Outsourcing industry announces its...
» Committed to growth
» CBRE study: Post-millennials, the happ...
» ROMANIAN OUTSOURCING AWARDS FOR EXCELL...

The voting procedure for the BRAND OF THE YEAR 2019 IN ROMANIAN BUSINESS SERVICES is open!

This is the fifth edition of the event and the second year to select the public's favorite brand in the business services BPO, ITO and SSC in Romania.
Read Full article »
Romania ranks above EU average in gender employment gap

In Romania, the employment rate measures the number of people who have a job as a percentage of the working age population. This page provides - Romania Employment Rate- actual values, historical data, forecast
Read Full article »
Steven Hunt, SAP SuccessFactors: Tectonic movements in the world of work

The world of work will be shaped by five tectonic movements – or global megatrends – over the next few years. As you may guess from the geological analogy, the effects could be dramatic.
Read Full article »
EY: European companies are divesting to future-proof growth

According to the EY Global Corporate Divestment Study, 84 per cent of European companies surveyed intending to divest within the next two years (the majority planning to do so in the coming 12 months), executiv
Read Full article »
Knowledge-sharing presentation on latest trends the industry deals, in the program of Romanian Business Services Forum and Awards

Part of the upcoming joint half-day event, Romanian Business Services Forum and Awards to be held at JW Marriott Hotel on May 7th, the discussion agenda comprises a complex Knowledge-sharing presentation on lat
Read Full article »