Violeta Luca is the new GM of Microsoft Romania

Microsoft announces the appointment of Violeta Luca as the new General Manager for the company's operations in Romania, starting November this year.

Violeta Luca joined Microsoft Romania in February 2015 as Head of Strategy to lead and coordinate the local transformation strategy of the company and subsequently assumed the responsibilities of the Marketing & Operations Director until February 2017.

Violeta Luca holds expertise as manager both in Microsoft Romania and in Whirlpool, Flanco, eMag and Metro Cash & Carry Romania, where she has been a member of the Board of Directors for almost two years. Graduate of the Academy of Economic Studies in Bucharest, as well as numerous management courses, Violeta Luca, 38, has over 17 years of experience in IT and retail.

"I think that technology is more than ever the solution that supports evolution in all areas, whether economics, society or culture. Microsoft has taken on the role of development facilitator and Romania, with its IT tradition, has all the prerequisites to amplify the impact of technology both locally and globally. I wish that together with our team and Microsoft partners we support, through accessible, scalable, customizable technologies, the digitization paths for a large number of organizations on the Romanian market both in the public and private sector ", Violeta Luca stated from her new position.

---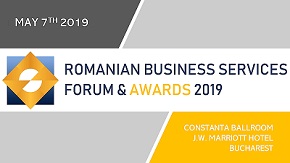 » Evolving from consumers of resources t...
» ROMANIAN OUTSOURCING AWARDS FOR EXCELL...
» Preparing for the new future
» Pepper Escu, the first humanoid robot ...
» Volvo Cars and Uber present production...
» Berg Software Romania: Reasons to outs...
» Marian V. Popa: Meet the speakers at R...
» Deloitte 2019 Global Human Capital Tre...
» How giving back pays dividends for com...
» George Didoiu: Meet the moderator of R...

Digital Transformation Conference to take place on June 19 at Bucharest

The Diplomat – Bucharest organizes Digital Transformation Conference to be held on 14 of June in Bucharest, at Hilton Hotel - Regina Maria Hall, starting 8:30 AM.
Read Full article »
L&D Conference by The Diplomat Bucharest took place on June 4th at Bucharest

The Diplomat-Bucharest organizes the Third Edition of its Learning & Development CONFERENCE on 4 June, 2019 at InterContinental Hotel Bucharest starting 09:00 am.
Read Full article »
Meet the winners of ROMANIAN BUSINESS SERVICES AWARDS, 2019 edition

ROMANIAN BUSINESS SERVICES FORUM & AWARDS 2019, in its fifth year, brrought on May 7, in Bucharest, a new concept event with engaging keynote sessions by industry leaders, interactive panel discussions, network
Read Full article »
Few hours away from to the long awaited CEO Leaders Debate, a premiere of Romanian Business Services Forum and Awards
We are a few hours away to the long awaited CEO Leaders Debate, a premiere of Romanian Business Services Forum and Awards on May 7.
Read Full article »
Colin C. Lovering: Meet the speakers at Romanian Business Services Forum & Awards 2019, on May 7

Colin C. Lovering has been living and working in Romania since 2009 when he arrived to offer consultancy and advice to organisations looking for growth and profitability and founded Achieve International.
Read Full article »