Building an efficient business-wise ecosystem

The Romanian employees are well-seen and appreciated by foreign investors, top managers of large corporations and, as Vivek Bakshi General Manager International Operations (Europe), Wipro Technologies considers that the quality of people is good in Romania. The market offers enough possibilities for both personal development and business growth, not even in Bucharest, but also in the developing counties, in Tier 2 and 3 cities.

"The market of business shared services is also growing outside Bucharest. The challenge comes when we are talking about the people willingness to move from a city to another, in the pursuit of a career or a job offer. This is a significant matter to be tackled, because Romanians don't have yet a culture of work mobility.". In direct link with the mobility, the exodus of different specialists from Romanian to other countries doesn't help in developing a strong work potential locally. In the future, as the manager explains, the complexity of skills delivered by an employee will matter in order to stay competitive on the market.

The country's potential is strongly showing in its human resources, even if suitable talent is never an easy find. That is why, as Vivek told before Outsourcing Today, the company is concentrating on growing talents, instead in struggling to find them from the very beginning. The Wipro manager identifies in his annual budget the most critical area being on the People Capability development. "There is no such thing as perfect profile. But in general, a good attitude, an open mind and willingness to learn will always ensure a success career. We try, by and large, to provide opportunities and a career path to existing employees so most of our recruitment today – over 50 per cent is done through referral schemes," Vivek continues." There are other countries that are larger, more developed and with more resources going after the same business needs as us in Romania, but that doesn't mean we are like the others. If we can differentiate our value proposition, we will thrive in today's marketplace. We need to define our strengths and what makes us different and leverage them to gain a competitive edge. Customers today want to ensure that they are getting their money's worth, so they're always on the lookout for the best and most cost-effective solutions." Vivek stated.

As a GM for the European Delivery Centers (Romania and Poland international locations) tasked with leading the growth and profitability of one of the most dynamic industries with a focus on customer service is one leader to look up to. Vivek Bakshi has spent 11 years heading the International Locations / Delivery Centers Europe of Wipro Technologies in the Bucharest office. He landed 2007 in Bucharest in a single old, dusted office with 20 employees. Eleven years later he is leading 2 countries, 7 delivery locations and over 2000 employees for more than 30 clients.

The opinion has been uttered within the plenary session of People in Shared Services and Outsourcing Forum that brought together the industry stakeholders and the authorities in an open dialogue panel, with the aim at identifying the steps to be done towards a more efficient cooperation. The topics tackled within this session referred to key human capital trends, opportunities, challenges and solutions, Authorities' and associations' steps to support the industry's human capital necessities, HR, the engine for growth and critical determinants on reaching the industry's potential and The power of corporates and universities combined.




---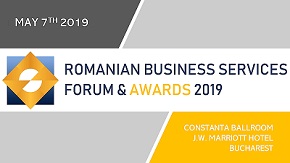 » Raiffeisen Bank Romania outsources onl...
» Oracle results pushed down by a strong...
» World-class HR organizations now spend...
» Apostoleanu, Oracle: Human talent, mos...
» Microsoft and Oracle to interconnect M...
» The importance of training in developi...
» ANIS: Romanian IT market annual revenu...
» Healthcare IT outsourcing market is ex...
» Bosch Service Solutions to grow 20% Ti...
» Omnichannel: 4 pillars of a purposeful...

My HR Lab: Research of suitable candidates and giving feedback to rejected ones, the biggest challenge in HR

During June 2019, My HR Lab company run an online (social media platforms) survey "Challenges of the recruitment process" which enrolled over 100 professionals working in HR and recruitment in Romania.
Read Full article »
The local market needs more added-value and complex projects to be developed by the companies

The statement has been uttered within this year's Romanian Outsourcing and Shared Services Summit by Catalina Dodu, Country Manager at Atos, pointing to the local enablers that could enhance the innovation and
Read Full article »
The office market at a glance: The round for tenants is on

Data provided by CBRE show that the office spaces segment will continue to grow rapidly in 2019, and 15 new projects covering 304.000 sqm will be delivered. According to the real estate consultancy agency, curr
Read Full article »
People Empowering Business Forum 2019 to take place on October, 30 at Bucharest

Latest trends like demographic upheaval, globalization, digital technology, and changing social values and worker expectations, are disrupting business models and radically changing the workplace. These are req
Read Full article »
Addressing the mantra of cyber-security: Confidentiality, integrity and availability

The fast advancement of technology in all the aspects of everyday life, either personal or professional, and the emerging of AI (Artificial Intelligence) and ML (Machine Learning), not to mention cloud technolo
Read Full article »