Oracle delivers personalized digital assistants for companies

Oracle announced the availability of Oracle Digital Assistant, enabling companies to build personalized digital assistants to help employees work smarter and more productively.

With Oracle Digital Assistant, employees leverage one comprehensive digital assistant that can be trained to support domain skills from multiple applications such as HR, ERP, CRM and CX. Leveraging AI, Oracle Digital Assistant understands context, derives intent, and identifies and learns user behaviors and patterns to automate routine tasks proactively, such as expense approvals and meeting reschedules, on behalf of the user.

Built on Oracle Cloud Infrastructure, Oracle Digital Assistant goes well beyond standard chatbots available today that provide simple, single skilled, linear responses. By applying AI for natural language processing (NLP), natural language understanding (NLU) and machine learning (ML), Oracle is in a unique position to leverage its breadth and depth in enterprise applications, and offer a digital assistant that can truly span the enterprise.

"This is the next evolution of chatbots and a major milestone in delivering a smart digital assistant for the enterprise," said Suhas Uliyar, vice president of AI, Bots, Mobile, Product Management, Oracle. "Oracle Digital Assistant has the power to transform organizations, helping our customers achieve greater productivity and enriched user experiences."
By this, users can converse with the Oracle Digital Assistant via the voice interface but it is platform agnostic and is equally optimized to support popular messaging platforms including Slack, Facebook Messenger, WeChat, and Alexa. Analytics are built-in so businesses can monitor usage to gain real time insights into user behavior and app performance, for continued analysis and improvements, an Oracle press release informs.

---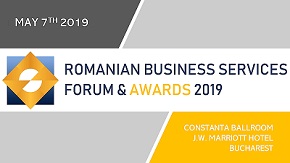 » Capgemini: Investing in people is the ...
» Molson Coors started to grow its busin...
» TELUS International Europe: Three ways...
» Deloitte's Tech Trends 2019 report: B...
» Romania ranks above EU average in gend...
» The Outsourcing industry announces its...
» KPMG study: Big data needs a big re-th...
» Committed to growth
» ROMANIAN OUTSOURCING AWARDS FOR EXCELL...
» Engagement and inclusion through direc...

The voting procedure for the BRAND OF THE YEAR 2019 IN ROMANIAN BUSINESS SERVICES is open!

This is the fifth edition of the event and the second year to select the public's favorite brand in the business services BPO, ITO and SSC in Romania.
Read Full article »
Romania ranks above EU average in gender employment gap

In Romania, the employment rate measures the number of people who have a job as a percentage of the working age population. This page provides - Romania Employment Rate- actual values, historical data, forecast
Read Full article »
Steven Hunt, SAP SuccessFactors: Tectonic movements in the world of work

The world of work will be shaped by five tectonic movements – or global megatrends – over the next few years. As you may guess from the geological analogy, the effects could be dramatic.
Read Full article »
EY: European companies are divesting to future-proof growth

According to the EY Global Corporate Divestment Study, 84 per cent of European companies surveyed intending to divest within the next two years (the majority planning to do so in the coming 12 months), executiv
Read Full article »
Knowledge-sharing presentation on latest trends the industry deals, in the program of Romanian Business Services Forum and Awards

Part of the upcoming joint half-day event, Romanian Business Services Forum and Awards to be held at JW Marriott Hotel on May 7th, the discussion agenda comprises a complex Knowledge-sharing presentation on lat
Read Full article »