How to achieve a solid culture of work?

The plenary session of the recently held People in Shared Services and Outsourcing Forum brought together the industry stakeholders and the authorities in an open dialogue panel, with the aim at identifying the steps to be done towards a more efficient cooperation.

The topics tackled within this session referred to key human capital trends, opportunities, challenges and solutions, Authorities' and associations' steps to support the industry's human capital necessities, HR, the engine for growth and critical determinants on reaching the industry's potential and The power of corporates and universities combined.

For yet so many years, every actor involved in the work environment, either be Governmental representatives, company's managers and employees, refers to the particularities of work culture in Romania. Studies say that Romanians are taking their jobs seriously and generally work more than the normal working program. The work in Romania is subject of specific legislation very similar with other European countries. They are open to foreigners and treat them as professionals if they are coming from countries with best practices and expertise in the area. They respect the foreigners for their skills not for their origins or titles. Hence, the Romanians show a solid democracy level when it comes to work.

Romanian employees' mindset is seen as a benefit of labor force market for companies, but state incentives would be also more than welcome in order to stimulate the hiring and work mobility in Romania – which is at a lower level compared to peer countries. According to Raluca Andreea Popa, Advisor Invest Romania, one of the panelists of the Forum's first session, "at district level, companies and labor market authorities should prepare and deliver trainings for professional reconversion. I work with students and, if in the past years, I was disappointed by their lack of willingness to develop new skills, now, I see a solid evolution in their mindset, they are more active and dedicated in academic curricula and extra curricula activities. Also, there is an increase in the partnerships between universities and private companies for a common exchange of know-how and training projects.". Popa's opinion is underlined also by the students' confidence in building a career in Romania, where there is a larger ground for developing skills on a more diversified market, on industry's niches, where there is space to explore and more potential compared to already saturated markets.

The downsize, as stated by Raluca Andreea Popa, is that there is a real challenge in stimulating the potential of the young, since they, by nature, are averse to risk, not willing to take any chances. "They like to comply in execution tasks, don't accept risk, they need to learn how to manage. This is the biggest challenge if we want to change their mindset. The aversion to risk is more common in Romania compared to other countries. With the eyes on the future which is have a very strong component of technology, their skills should focus on this, besides the necessary soft skills, to complement the technical competencies. Learning new languages is also a manner to develop a complete set of competencies for the future," Raluca Andreea Popa said.

Raluca Andreea Popa is a Lecturer at Bucharest University of Economic Studies and Senior Consultant Expert Evaluator and Title Advisor at Ministry for Business, Trade and Entrepreneurship since 2017. She holds strong expertise in teaching microeconomics, macroeconomics, intermediary miicroeconomics, Industrial Economics;



---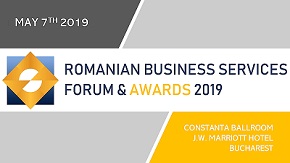 » Evolving from consumers of resources t...
» ROMANIAN OUTSOURCING AWARDS FOR EXCELL...
» Preparing for the new future
» Pepper Escu, the first humanoid robot ...
» Volvo Cars and Uber present production...
» Berg Software Romania: Reasons to outs...
» Marian V. Popa: Meet the speakers at R...
» Deloitte 2019 Global Human Capital Tre...
» How giving back pays dividends for com...
» George Didoiu: Meet the moderator of R...

Digital Transformation Conference to take place on June 19 at Bucharest

The Diplomat – Bucharest organizes Digital Transformation Conference to be held on 14 of June in Bucharest, at Hilton Hotel - Regina Maria Hall, starting 8:30 AM.
Read Full article »
L&D Conference by The Diplomat Bucharest took place on June 4th at Bucharest

The Diplomat-Bucharest organizes the Third Edition of its Learning & Development CONFERENCE on 4 June, 2019 at InterContinental Hotel Bucharest starting 09:00 am.
Read Full article »
Meet the winners of ROMANIAN BUSINESS SERVICES AWARDS, 2019 edition

ROMANIAN BUSINESS SERVICES FORUM & AWARDS 2019, in its fifth year, brrought on May 7, in Bucharest, a new concept event with engaging keynote sessions by industry leaders, interactive panel discussions, network
Read Full article »
Few hours away from to the long awaited CEO Leaders Debate, a premiere of Romanian Business Services Forum and Awards
We are a few hours away to the long awaited CEO Leaders Debate, a premiere of Romanian Business Services Forum and Awards on May 7.
Read Full article »
Colin C. Lovering: Meet the speakers at Romanian Business Services Forum & Awards 2019, on May 7

Colin C. Lovering has been living and working in Romania since 2009 when he arrived to offer consultancy and advice to organisations looking for growth and profitability and founded Achieve International.
Read Full article »