DCA Romania expands outside Bucharest with a new call center

DCA Romania, the company's top five largest debt brokers in the country, opened in October its first call center outside Bucharest, the company announced in a press release.

DCA Romania has analyzed in depth several indicators to determine the city in which to expand its operations. Population size and segmentation by age, education environment (number of public and private universities and their level of performance and competence), unemployment rate and average net wage stood Craiova are criteria first. The city has the highest percentage of people aged 15-49 (54% of the total) and by the existence of two public and private universities.

At a small difference, there were Galaţi and Piteşti, but in the end the distance to Bucharest and the higher number of students tilted the balance in favor of Craiova. Piteşti, Râmnicu Vâlcea, Focşani, Constanţa, Galati, Sibiu, Târgu Jiu, Bacau, Drobeta Turnu Severin and Alba Iulia were the other analyzed cities.

"Expansion of operations into another smaller city - where personnel fluctuation is considerably lower than Bucharest, is a natural action that comes with the company's development. This movement shows stability and is certainty of the fact that the positioning of our company in the top five most important companies in the collection of receivables in Romania is obtained through the motions strategic and long-term vision, "says Andreea Moroşanu, director of operations within DCA Romania.

"Clearly, the most valuable assets a company has are people. And in our business the difference comes from stability, fidelity and trust in the company. We are glad to say that DCA is a company that people trust because we constantly ensure that we invest in their development and create a pleasant work environment, "says Gabriela Dobre, director of human resources within the same company.

"In a very difficult labor market context, we have succeeded in supporting the expansion of the number of colleagues by applying world-class best practice rules in HR. One of the best practices in the organization is the organization of internal competitions based on honest transparency and competitiveness rules for any position that becomes available at the expense of direct appointments. Thus, the team's confidence in the company's management is very high. In addition, for a DCA Romania-sized company, we have invested in a great deal of training last year for colleagues at all levels of the organization, designed to increase people's happiness, "explains Gabriela Dobre.

Improving leadership skills, how to be happy at work and at home, increasing efficiency and effectiveness, meaning effective business communication, how to make a successful project management, meaning effective communication in the public space, how to we effectively enforce data protection rules in everything we do, how to plan and prioritize are some of the themes addressed in DCA Romania training. Since 2015, the company has increased its number of employees more than 5 times.

Established in 2013 at the end of 2015, DCA Romania had 25 employees, at the end of 2016 it had 75 employees, and at the end of 2017 it reached 130, with the company forecasting to grow to about 160 this year. At present, DCA Romania operates locally, without call center activities, in the cities of Cluj-Napoca, Timisoara, Iasi and Brasov, in addition to Bucharest. Thus, 13 new colleagues have already begun working in Craiova, the company planning to increase this number several times in the next year. This will depend on many factors, but the most important is the legislative framework that will shape market conditions.


---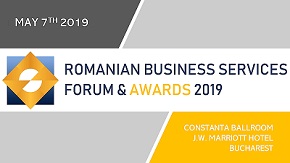 » Evolving from consumers of resources t...
» Preparing for the new future
» ROMANIAN OUTSOURCING AWARDS FOR EXCELL...
» Pepper Escu, the first humanoid robot ...
» Volvo Cars and Uber present production...
» Berg Software Romania: Reasons to outs...
» Marian V. Popa: Meet the speakers at R...
» Deloitte 2019 Global Human Capital Tre...
» Andrei Voica: Meet the speakers at Rom...
» How giving back pays dividends for com...

Digital Transformation Conference to take place on June 19 at Bucharest

The Diplomat – Bucharest organizes Digital Transformation Conference to be held on 14 of June in Bucharest, at Hilton Hotel - Regina Maria Hall, starting 8:30 AM.
Read Full article »
L&D Conference by The Diplomat Bucharest took place on June 4th at Bucharest

The Diplomat-Bucharest organizes the Third Edition of its Learning & Development CONFERENCE on 4 June, 2019 at InterContinental Hotel Bucharest starting 09:00 am.
Read Full article »
Meet the winners of ROMANIAN BUSINESS SERVICES AWARDS, 2019 edition

ROMANIAN BUSINESS SERVICES FORUM & AWARDS 2019, in its fifth year, brrought on May 7, in Bucharest, a new concept event with engaging keynote sessions by industry leaders, interactive panel discussions, network
Read Full article »
Few hours away from to the long awaited CEO Leaders Debate, a premiere of Romanian Business Services Forum and Awards
We are a few hours away to the long awaited CEO Leaders Debate, a premiere of Romanian Business Services Forum and Awards on May 7.
Read Full article »
Colin C. Lovering: Meet the speakers at Romanian Business Services Forum & Awards 2019, on May 7

Colin C. Lovering has been living and working in Romania since 2009 when he arrived to offer consultancy and advice to organisations looking for growth and profitability and founded Achieve International.
Read Full article »