Ford inaugurates Resource and Engagement Center at Craiova

The Ford Resource and Engagement Center in Craiova, Romania, was inaugurated this week, marking the official opening of the first Ford Research and Engagement Center in Europe. The fourth FREC was announced in June of this year and joins two locations in Ford's home city of Detroit and a third FREC in South Africa.

The FREC Craiova is a collaboration with the Asociatia Pentry Educatie SV Oltenia (EDUCOL), a local non-profit organisation that seeks to maximise training, development and employment opportunities for young people; and with the City Hall of Craiova, which is providing building premises.

Underpinned by a one million US dollars million investment over four years from the Ford Motor Company Fund in partnership with GlobalGiving, the new FREC will act as a social entrepreneurship incubator space where students and recent graduates from the University of Craiova can design and launch innovative and sustainable ways to drive social and economic progress. The aim is to positively impact the job growth, economic potential and quality of life for local residents in the Oltenia region.
The FREC Craiova, the fourth of its kind globally, will also help to bring together local non-profit partners, Ford volunteers, mentors and educational leaders to provide related employability and community programs – helping local residents learn new skills, develop new talents and celebrate community.

In addition to the multi-year agreement signed between GlobalGiving, Ford Motor Company Fund's international grant making partner, and EDUCOL, an additional $100,000 grant will also enable the building refurbishment to meet the specific needs of the FREC. Refurbishment work is already underway supported by Ford employees, the City Hall of Craiova, and the academic community of the University of Craiova – with students playing an active role.

Students and graduates will be invited to submit their social enterprise proposals by early September, with the first winning teams being announced in October at an inauguration ceremony. Each team will receive a start-up grant and have access to office facilities at the FREC.
"Ford Fund has a proud tradition of strengthening the communities that are home to our employees, dealers, suppliers and customers," said Jim Vella, president, Ford Motor Company Fund and Community Services. "We are excited to bring our transformational Ford Resource and Engagement Centre model to Europe and provide access to opportunities and resources that will help make people's lives better in Romania."

The first FREC opened in 2013 in Detroit. Since then, Ford Fund has launched a FREC in South Africa and added a second FREC in Detroit. Plans are underway to expand to Asia as well, with a FREC launching in Bangkok in early 2019.

"By combining American expertise and enthusiasm for social enterprise with the fertile Romanian entrepreneurship environment, we hope to challenge more young people to become responsible and active members of their local community, driven by the desire to make a difference and be part of a global network. We are grateful and honoured to work with Ford Motor Company," said Professor Leonardo-Geo Mănescu, President of EDUCOL.

Ford Fund works globally by making strategic investments focused on building communities, improving education and promoting driving safety as part of its Operation Better World initiative.
Recent Ford Motor Company Fund activities in Romania include the establishment of a Vocational Training Centre specialising in mechanical and electrical engineering; "Listen to your heart" free of charge cardio-vascular disease screening program; and Ford Driving Skills for Life, a safe driver training program that reaches more than 1,000 young drivers each year in Romania and more than 2,500 teenagers through in-school seminars.



---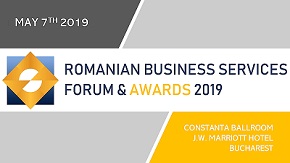 » Evolving from consumers of resources t...
» Preparing for the new future
» ROMANIAN OUTSOURCING AWARDS FOR EXCELL...
» Pepper Escu, the first humanoid robot ...
» Volvo Cars and Uber present production...
» Berg Software Romania: Reasons to outs...
» Marian V. Popa: Meet the speakers at R...
» Deloitte 2019 Global Human Capital Tre...
» George Didoiu: Meet the moderator of R...
» Andrei Voica: Meet the speakers at Rom...

Digital Transformation Conference to take place on June 19 at Bucharest

The Diplomat – Bucharest organizes Digital Transformation Conference to be held on 14 of June in Bucharest, at Hilton Hotel - Regina Maria Hall, starting 8:30 AM.
Read Full article »
L&D Conference by The Diplomat Bucharest took place on June 4th at Bucharest

The Diplomat-Bucharest organizes the Third Edition of its Learning & Development CONFERENCE on 4 June, 2019 at InterContinental Hotel Bucharest starting 09:00 am.
Read Full article »
Meet the winners of ROMANIAN BUSINESS SERVICES AWARDS, 2019 edition

ROMANIAN BUSINESS SERVICES FORUM & AWARDS 2019, in its fifth year, brrought on May 7, in Bucharest, a new concept event with engaging keynote sessions by industry leaders, interactive panel discussions, network
Read Full article »
Few hours away from to the long awaited CEO Leaders Debate, a premiere of Romanian Business Services Forum and Awards
We are a few hours away to the long awaited CEO Leaders Debate, a premiere of Romanian Business Services Forum and Awards on May 7.
Read Full article »
Colin C. Lovering: Meet the speakers at Romanian Business Services Forum & Awards 2019, on May 7

Colin C. Lovering has been living and working in Romania since 2009 when he arrived to offer consultancy and advice to organisations looking for growth and profitability and founded Achieve International.
Read Full article »