Co-working segment: CBRE advises Spaces in the opening of its biggest center in Romania

CBRE, the world and local market leader in real estate consultancy, advised on the leasing transaction of 4,100 sqm office space for the largest center to be opened by Spaces in Romania.

The center will open mid 2019 in EXPO Business Park, located in the Expoziției area, in the Northern part of the Bucharest. Spaces is a brand of coworking spaces dedicated to companies with history and startups, that provides a flexible working environment, increasing productivity and creativity. The brand is owned by International Workspace Group (IWG), a multinational corporation whose portfolio also includes Regus, Basepoint, No.18, Signature and Open Office. IWG entered the local market in 1999 with Regus. CBRE and IWG have a trusted partnership, the transaction that secured office premises for Spaces in EXPO Business Park being the eleventh collaboration materialized with the opening of a new centre between these two industry leaders.

"CBRE supports the current trend of accelerated growth in the number of coworking spaces in the office sector. The fact that our country follows this global trend is a sign that the local market is maturing. The decision of such a large player as IWG to expand its business in our country, through Spaces and Regus, is further proof that the Romanian economy is strong enough to trigger interest from major international companies. Also, we are pleased to observe that powerful developers, such as Portland Trust, value alternative workspaces as part of their office projects, thus being in a strong position to offer their tenants much needed flexibility for long-term leases. The opening of the largest Spaces center in Romania is both a confirmation of the solid partnership between CBRE and IWG, as well as an indicator that the serviced office sector is heading in the right direction, and increasing the share of the flexibile component. According to CBRE's prognosis, every successful office project to open in the next period should offer flexibility through coworking and serviced offices in order to attract tenants and secure long-term leases", said Răzvan Iorgu, Managing Director of CBRE Romania.

The process of identifying the best location for the Spaces center took 12 months. The leasing contract exceeds the market average length of five years. Moreover, this is further evidence of IWG's confidence in the potential of Piața Presei Libere – Expoziției area of becoming the next business hub of Bucharest. The opening of the new M6 subway line which will connect Bucharest with Henri Coandă International Airport will also contribute to the surface traffic improvement in the area. Taking this factor into consideration, many developers of office and residential schemes have plans to start projects in this part of the city. IWG with its brand Spaces is not the only large company that acknoledged the area's capacity to grow into the next sub-market in Northern Bucharest. ING Bank also decided to strenghten its local business operations by consolidating its headquarters in Building 3 of EXPO Business Park, which will be fully occupied by the Dutch bank.
CBRE also represented ING Bank in the closing of this leasing transaction.

"We are happy for the future opening of our new center where many people will be able to take their careers in their own hands, and deliver great ideas in an engaging environment. Spaces is a different kind of concept that focuses on the user's experience and the need to work in a space that stimulates creativity. Our goal is to provide optimal working conditions for those who have chosen Spaces to run their activities, either small entrepreneurial firms or larger companies who want their employees to work in a flexible and original environment. Spaces is an innovative brand that is increasingly making its mark on the market. This concept puts Bucharest on the map of the major cities that understand the need for mobility and flexible workplaces, that are efficient and capable of creating business communities. Spaces is a brand that brings together the world's major business centers, offering the same features in any city of the world you find yourself in, be it London, Paris, New York, Hong Kong, or Rio de Janeiro etc.", explained Ramona Predescu (Iacob), Country Manager of Spaces Romania.

"We are delighted to welcome Spaces to EXPO Business Park. IWG has huge experience in the Bucharest market and really understands the needs of the market. There is tangible need for flexibile space from small companies and major corporates, so for us having this facility on site is great", added Robert Neale, Managing Director of Portland Trust.

EXPO Business Park is the first major office project to be delivered in Expoziției area of Bucharest in the last seven years, and will have a net leasable surface of 40,000 m² located at the crossroad between Expoziției Avenue and Aviator Popișteanu Street. The project will comprise of three buildings, and is located 450 meters away from 1 Mai metro station, 600 meters from Romexpo Exhibition Center, and 1.5 kilometers from Piața Presei Libere. The project will be delivered in one phase in mid 2019, and will also provide impressive landscapings.


---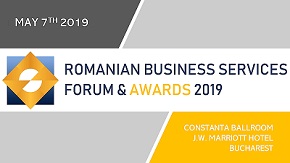 » Raiffeisen Bank Romania outsources onl...
» Horváth & Partners launches Steering ...
» JLL: Total office space in Bucharest t...
» Colliers International takes over the ...
» Survey: Romanians switch to a lower-pa...
» Oracle results pushed down by a strong...
» SSC in Romania. Who takes the lion's s...
» Genpact, Luxoft and Oracle, top lessee...
» The value proposition of HR in 2019
» Eucom: Nine out of ten corporate Roman...

My HR Lab: Research of suitable candidates and giving feedback to rejected ones, the biggest challenge in HR

During June 2019, My HR Lab company run an online (social media platforms) survey "Challenges of the recruitment process" which enrolled over 100 professionals working in HR and recruitment in Romania.
Read Full article »
The local market needs more added-value and complex projects to be developed by the companies

The statement has been uttered within this year's Romanian Outsourcing and Shared Services Summit by Catalina Dodu, Country Manager at Atos, pointing to the local enablers that could enhance the innovation and
Read Full article »
The office market at a glance: The round for tenants is on

Data provided by CBRE show that the office spaces segment will continue to grow rapidly in 2019, and 15 new projects covering 304.000 sqm will be delivered. According to the real estate consultancy agency, curr
Read Full article »
People Empowering Business Forum 2019 to take place on October, 30 at Bucharest

Latest trends like demographic upheaval, globalization, digital technology, and changing social values and worker expectations, are disrupting business models and radically changing the workplace. These are req
Read Full article »
Addressing the mantra of cyber-security: Confidentiality, integrity and availability

The fast advancement of technology in all the aspects of everyday life, either personal or professional, and the emerging of AI (Artificial Intelligence) and ML (Machine Learning), not to mention cloud technolo
Read Full article »