Delphi Technologies inaugurates global IT center in Bucharest

Delphi Technologies, a leading provider of advanced propulsion solutions to automotive manufacturers has opened its first multidisciplinary global IT center in Bucharest. This new site will provide information technology services to the company's technical centers, manufacturing sites and business support functions on a global basis. Bucharest was selected due to its impressive talent pool and is a natural expansion of the company

"Our new Bucharest global IT center is a continued commitment to our existing investments in Romania. We are creating a global IT team that will provide a platform to support our company in delivering real value. The Bucharest team will create innovative, technical solutions and services to support more than 20,000 employees across the globe." said Edward Mandic, vice president and chief information officer, Delphi Technologies.

The office will host up to 150 people whom will cover core functions like IT security and compliance, enterprise architecture, IT operations, enterprise resource planning and global solution delivery. Together, they will ensure effective and integrated IT services for Delphi Technologies together with its global, strategic IT partners.

Delphi Technologies' is making material investments in the development of the new facility, that will be phased in by 2022. This is in addition to the 300m Euro invested already in the company's existing manufacturing site in Iasi which manufactures high pressure pumps and injectors for the automotive industry.

The new investment is located on the Globalworth campus in Pipera, the largest premium business park in Romania and benefits from flexible office space that can easily support teamwork and collaboration with strategic IT vendors. This modern environment supports the performance and innovation of the employees offering them the optimum balance between their personal and professional lives.


---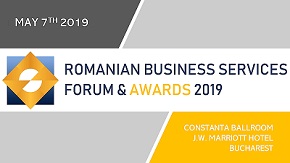 » Molson Coors started to grow its busin...
» TELUS International Europe: Three ways...
» Deloitte's Tech Trends 2019 report: B...
» Capgemini: Investing in people is the ...
» The Outsourcing industry announces its...
» KPMG study: Big data needs a big re-th...
» Romania ranks above EU average in gend...
» Committed to growth
» ROMANIAN OUTSOURCING AWARDS FOR EXCELL...
» Engagement and inclusion through direc...

The voting procedure for the BRAND OF THE YEAR 2019 IN ROMANIAN BUSINESS SERVICES is open!

This is the fifth edition of the event and the second year to select the public's favorite brand in the business services BPO, ITO and SSC in Romania.
Read Full article »
Romania ranks above EU average in gender employment gap

In Romania, the employment rate measures the number of people who have a job as a percentage of the working age population. This page provides - Romania Employment Rate- actual values, historical data, forecast
Read Full article »
Steven Hunt, SAP SuccessFactors: Tectonic movements in the world of work

The world of work will be shaped by five tectonic movements – or global megatrends – over the next few years. As you may guess from the geological analogy, the effects could be dramatic.
Read Full article »
EY: European companies are divesting to future-proof growth

According to the EY Global Corporate Divestment Study, 84 per cent of European companies surveyed intending to divest within the next two years (the majority planning to do so in the coming 12 months), executiv
Read Full article »
Knowledge-sharing presentation on latest trends the industry deals, in the program of Romanian Business Services Forum and Awards

Part of the upcoming joint half-day event, Romanian Business Services Forum and Awards to be held at JW Marriott Hotel on May 7th, the discussion agenda comprises a complex Knowledge-sharing presentation on lat
Read Full article »