Delphi Technologies inaugurates global IT center in Bucharest

Delphi Technologies, a leading provider of advanced propulsion solutions to automotive manufacturers has opened its first multidisciplinary global IT center in Bucharest. This new site will provide information technology services to the company's technical centers, manufacturing sites and business support functions on a global basis. Bucharest was selected due to its impressive talent pool and is a natural expansion of the company

"Our new Bucharest global IT center is a continued commitment to our existing investments in Romania. We are creating a global IT team that will provide a platform to support our company in delivering real value. The Bucharest team will create innovative, technical solutions and services to support more than 20,000 employees across the globe." said Edward Mandic, vice president and chief information officer, Delphi Technologies.

The office will host up to 150 people whom will cover core functions like IT security and compliance, enterprise architecture, IT operations, enterprise resource planning and global solution delivery. Together, they will ensure effective and integrated IT services for Delphi Technologies together with its global, strategic IT partners.

Delphi Technologies' is making material investments in the development of the new facility, that will be phased in by 2022. This is in addition to the 300m Euro invested already in the company's existing manufacturing site in Iasi which manufactures high pressure pumps and injectors for the automotive industry.

The new investment is located on the Globalworth campus in Pipera, the largest premium business park in Romania and benefits from flexible office space that can easily support teamwork and collaboration with strategic IT vendors. This modern environment supports the performance and innovation of the employees offering them the optimum balance between their personal and professional lives.


---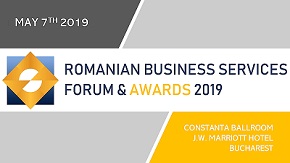 » Evolving from consumers of resources t...
» Preparing for the new future
» ROMANIAN OUTSOURCING AWARDS FOR EXCELL...
» Pepper Escu, the first humanoid robot ...
» Volvo Cars and Uber present production...
» Berg Software Romania: Reasons to outs...
» Marian V. Popa: Meet the speakers at R...
» Deloitte 2019 Global Human Capital Tre...
» Andrei Voica: Meet the speakers at Rom...
» How giving back pays dividends for com...

Digital Transformation Conference to take place on June 19 at Bucharest

The Diplomat – Bucharest organizes Digital Transformation Conference to be held on 14 of June in Bucharest, at Hilton Hotel - Regina Maria Hall, starting 8:30 AM.
Read Full article »
L&D Conference by The Diplomat Bucharest took place on June 4th at Bucharest

The Diplomat-Bucharest organizes the Third Edition of its Learning & Development CONFERENCE on 4 June, 2019 at InterContinental Hotel Bucharest starting 09:00 am.
Read Full article »
Meet the winners of ROMANIAN BUSINESS SERVICES AWARDS, 2019 edition

ROMANIAN BUSINESS SERVICES FORUM & AWARDS 2019, in its fifth year, brrought on May 7, in Bucharest, a new concept event with engaging keynote sessions by industry leaders, interactive panel discussions, network
Read Full article »
Few hours away from to the long awaited CEO Leaders Debate, a premiere of Romanian Business Services Forum and Awards
We are a few hours away to the long awaited CEO Leaders Debate, a premiere of Romanian Business Services Forum and Awards on May 7.
Read Full article »
Colin C. Lovering: Meet the speakers at Romanian Business Services Forum & Awards 2019, on May 7

Colin C. Lovering has been living and working in Romania since 2009 when he arrived to offer consultancy and advice to organisations looking for growth and profitability and founded Achieve International.
Read Full article »