Organizations look at more ethical and responsible use of AI, study finds

Ninety-two percent of AI leaders train their technologists in ethics; 74 percent evaluate AI outcomes weekly, says report from SAS, Accenture Applied Intelligence, Intel, and Forbes Insights.

A new study shows that business leaders are taking steps to ensure responsible use of artificial intelligence (AI) within their organizations. Most AI adopters – which now account for 72 percent of organizations globally – conduct ethics training for their technologists (70 percent) and have ethics committees in place to review the use of AI (63 percent).

AI leaders – organizations rating their deployment of AI "successful" or "highly successful" – also take the lead on responsible AI efforts: Almost all (92 percent) train their technologists in ethics compared to 48 percent of other AI adopters.

The findings are based on a global survey among 305 business leaders, more than half of them chief information officers, chief technology offers, and chief analytics officers. The study, "AI Momentum, Maturity and Models for Success," was commissioned by SAS, Accenture Applied Intelligence and Intel, and conducted by Forbes Insights in July 2018.

AI now has a real impact on peoples' lives which highlights the importance of having a strong ethical framework surrounding its use, according to the report.

"Organizations have begun addressing concerns and aberrations that AI has been known to cause, such as biased and unfair treatment of people," said Rumman Chowdhury, Responsible AI Lead at Accenture Applied Intelligence. "These are positive steps; however, organizations need to move beyond directional AI ethics codes that are in the spirit of the Hippocratic Oath to 'do no harm'. They need to provide prescriptive, specific and technical guidelines to develop AI systems that are secure, transparent, explainable, and accountable – to avoid unintended consequences and compliance challenges that can be harmful to individuals, businesses, and society. Data scientists are hungry for these guidelines."

AI leaders also recognize the strong connection between analytics and their AI success. Of those, 79 percent report that analytics plays a major or central role in their organization's AI efforts compared to only 14 percent of those who have not yet benefited from their use of AI.

"Those who have deployed AI recognize that success in AI is success in analytics," said Oliver Schabenberger, Chief Operating Officer and Chief Technology Officer at SAS. "For them, analytics has achieved a central role in AI."

AI oversight is not optional

Despite popular messages suggesting AI operates independently of human intervention, the research shows that AI leaders recognize that oversight is not optional for these technologies. Nearly three-quarters (74 percent) of AI leaders reported careful oversight with at least weekly review or evaluation of outcomes (less successful AI adopters: 33 percent). Additionally, 43 percent of AI leaders shared that their organization has a process for augmenting or overriding results deemed questionable during review (less successful AI adopters: 28 percent).

Still, the report states that oversight processes have a long way to go before they catch up with advances in AI technology.

"The ability to understand how AI makes decisions builds trust and enables effective human oversight," said Yinyin Liu, head of data science for Intel AI Products Group. "For developers and customers deploying AI, algorithm transparency and accountability, as well as having AI systems signal that they are not human, will go a long way toward developing the trust needed for widespread adoption."

It stands to reason that companies are taking steps toward ethical AI and ensuring AI oversight because they know that faulty AI output can cause repercussions. Of the organizations that have either already deployed AI or are planning to do so, 60 percent stated that they are concerned about the impact of AI-driven decisions on customer engagement – for example, that their actions will not show enough empathy or customers will trust them less.

Other key findings from the survey include:
• Overall, 72 percent of organizations globally are now using AI in one or more business areas.
• More than half (51 percent) of AI adopters indicated their deployment of AI has been a real success – citing more accurate forecasting and decision-making, higher success at acquiring customers, and increased organizational productivity as the primary benefits.
• Nearly half (46 percent) of AI adopters overall said their organization has fully deployed AI, either in one or multiple use cases.
• Respondents outside of the C-suite were more likely to see the impact of AI positively: More than half (55 percent) of non-C-level executives say their AI efforts have been "successful" or "very successful." Only 38 percent of the C-suite reported the same.
• Many organizations see an advantage for their workforce by way of elevated roles. Sixty-four percent strongly or completely agree they are already seeing the effects, as employees focus on more strategic tasks rather than operative ones, thanks to AI.
• However, nearly 20 percent identify "resistance from employees due to concerns about job security" as a challenge to their AI efforts. Plus, 57 percent agree or strongly agree with the statement, "We are concerned about the impact of AI on employee relations (e.g., employees might feel threatened or overstrained.)"
"As with any new technology that's quickly gaining traction, there will be challenges to overcome," says Ross Gagnon, research director at Forbes Insights. "But the opportunities AI presents are seemingly endless, from operational efficiencies to increased productivity and revenue. The question executives should be asking themselves is not whether to deploy AI, but how quickly?"

The survey includes responses from 305 global business leaders in the Americas, Europe and the Asia-Pacific region. It was conducted in July 2018 by Forbes Insights, the strategic research and thought leadership practice of Forbes Media. Download the full study for more details.

Accenture is a leading global professional services company, providing a broad range of services and solutions in strategy, consulting, digital, technology and operations. Combining unmatched experience and specialized skills across more than 40 industries and all business functions – underpinned by the world's largest delivery network – Accenture works at the intersection of business and technology to help clients improve their performance and create sustainable value for their stakeholders. With more than 449,000 people serving clients in more than 120 countries, Accenture drives innovation to improve the way the world works and lives. Visit us at www.accenture.com.

Accenture Applied Intelligence, part of Accenture Digital, applies artificial intelligence and human ingenuity at the core of business to help clients solve their most complex business problems. By deploying AI responsibly and combining it with our deep industry and analytics expertise, we enable the digital transformation of organizations, extend human capabilities, and make intelligent products and services a reality. Follow @AccentureAI and visit accenture.com/appliedintelligence.


---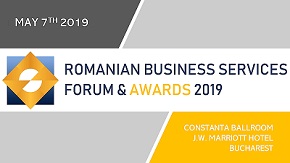 » Capgemini: Investing in people is the ...
» Molson Coors started to grow its busin...
» TELUS International Europe: Three ways...
» Deloitte's Tech Trends 2019 report: B...
» Romania ranks above EU average in gend...
» The Outsourcing industry announces its...
» KPMG study: Big data needs a big re-th...
» Committed to growth
» ROMANIAN OUTSOURCING AWARDS FOR EXCELL...
» Engagement and inclusion through direc...

The voting procedure for the BRAND OF THE YEAR 2019 IN ROMANIAN BUSINESS SERVICES is open!

This is the fifth edition of the event and the second year to select the public's favorite brand in the business services BPO, ITO and SSC in Romania.
Read Full article »
Romania ranks above EU average in gender employment gap

In Romania, the employment rate measures the number of people who have a job as a percentage of the working age population. This page provides - Romania Employment Rate- actual values, historical data, forecast
Read Full article »
Steven Hunt, SAP SuccessFactors: Tectonic movements in the world of work

The world of work will be shaped by five tectonic movements – or global megatrends – over the next few years. As you may guess from the geological analogy, the effects could be dramatic.
Read Full article »
EY: European companies are divesting to future-proof growth

According to the EY Global Corporate Divestment Study, 84 per cent of European companies surveyed intending to divest within the next two years (the majority planning to do so in the coming 12 months), executiv
Read Full article »
Knowledge-sharing presentation on latest trends the industry deals, in the program of Romanian Business Services Forum and Awards

Part of the upcoming joint half-day event, Romanian Business Services Forum and Awards to be held at JW Marriott Hotel on May 7th, the discussion agenda comprises a complex Knowledge-sharing presentation on lat
Read Full article »