Allgeier SE acquires two thirds of the shares of iQuest after agreement signed this month

Technology group iQuest and Munich-based international technology group Allgeier SE. signed a definitive agreement in which Allgeier acquires two thirds of the shares of iQuest.

iQuest continues to be run independently and will collaborate closely with the Allgeier Group to consolidate its presence in Europe and extend to other markets, such as the USA, while further developing its software services and solutions portfolio. Consultancy company Deloitte assisted on the transaction.

"With Allgeier, we have found a strong international partner for the further strategic development of iQuest. Allgeier's global reach provides us with very promising opportunities for expansion and rapid growth. This acquisition is part of our long-term strategy and supports us in reaching our vision to enable our clients to accomplish unique success with iQuest's outstanding delivery of innovative solutions", said Jürgen Samuel, CEO of iQuest Group. "Together, we will have a much broader geographical coverage, excellent market and customer access, and a broader range of expertise. We will also be able to offer a wide range of additional services to our clients, as well as creating new career opportunities for our people."

"We are very pleased to have gained iQuest as an outstanding partner and many excellent new colleagues to accelerate the joint growth of our software development business. This transaction marks another important step to continue the internationalization of our Group and to further expand our competence in the development of complex software solutions for business-critical enterprise processes", said Carl Georg Dürschmidt, CEO of Allgeier SE. "We are convinced that not only both sides but above all our customers will benefit sustainably from this step."

"The long-term partnership with Allgeier is a strategic step which will enable iQuest to expand its services and global presence in the years to come. It is a partnership with a strong, resourceful team we came to respect and trust. As the founder of the company, I am extremely pleased to contribute sowing the seeds for a future growth of iQuest in line with our vision and values. On a more personal level, 20 years after founding iQuest, I am happy to keep contributing as a shareholder to the partnership that we launch today ", said Cornelius Brody, Founder of iQuest Group.

iQuest is an international IT services and solutions provider with more than 20 years of experience in delivering an extensive portfolio of personalized software solutions, products and integration services. By successfully combining technical expertise and excellence in services, iQuest brings long-term value to leading companies in Life Sciences, Telecom, Financial Services, Transport and Energy. Headquartered in Germany, iQuest has local teams in Romania, Poland and Switzerland, currently employing more than 650 people.

Allgeier SE is one of the leading IT companies for digital transformation. The Munich-based Group has locations in 23 countries on five continents and over 9,000 employees worldwide, including 5,500 high-end software developers and more than 1,000 SAP and Microsoft consultants at locations all over Europe, USA, Mexico, Japan, Australia, India, Singapore, Malaysia, Vietnam and China. Some of the world's largest companies, including Siemens, GE, Intel, Google, IBM, Lufthansa, Pfizer, Allianz, AT&T, Audi, BMW and Daimler, benefit from the Allgeier Group's entire IT service spectrum, from onsite to nearshore to offshore.




---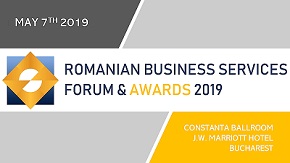 » The most appreciated companies from th...
» Webhelp Romania aiming for EUR 10 mill...
» Tremend joins Mellanox in powering the...
» Manpower: Romania's labor market, more...
» The Outsourcing industry announces its...
» Deloitte's Tech Trends 2019 report: B...
» Bucharest, in the top of cities in Eur...
» Oracle reaches 4,200 employees and pla...
» Genpact's COO: Staying ahead of the cu...
» CBRE study: Post-millennials, the happ...

Nomination are now open for Romanian Business Services Forum and Awards

Nominations have opened for the prestigious Romanian Business Services Forum & Awards. The 2019 awards will continue to recognize and reinforce the important contribution made by business services professionals
Read Full article »
Study: 89 per cent of finance teams yet to embrace Artificial Intelligence

Report by Association of International Certified Professional Accountants and Oracle shows that almost 90 per cent of finance teams do not have the skills to support digital transformation.
Read Full article »
Bucharest, in the top of cities in Europe with the largest number of experts in high-tech industry

Bucharest is among the top cities boasting the most experts in the high-tech innovative industry, with over 70,000 current employees, next to London, Dublin, Madrid or Budapest, reads a study conducted by CBRE
Read Full article »
CBRE study: Post-millennials, the happiest about their offices
During 2018, real estate consultancy company CBRE conducted the first study dedicated to work environment in office buildings in Bucharest. The respondents have been structured in four age segments, such as Z g
Read Full article »
Deloitte's Tech Trends 2019 report: Beyond the digital frontier

The recently released Deloitte's Tech Trends 2019: Beyond the digital frontier, as each Tech Trends report in the series conducted by the consultancy company, lobbies for embracing the increasing, often mind-b
Read Full article »