Ness Digital Development center in Iasi expands activity, creates new jobs

Ness Digital Engineering, one of the leading global providers of IT services, is consolidating the activities of its center based in Palas Iași, adding two major companies in the field of telecom, media & entertainment and HR software to its client portfolio, the company announced.

The Iaşi-based Ness Digital Engineering (NDE) Development Center located in the United Business Center 2 (UBC 2) office building in Palas, recently announced that it signed two new transatlantic strategic partnerships. One of the partners is Betterworks, the leading enterprise HR software for Continuous Performance Management. Headquartered in Redwood City, CA in the U.S.A., Betterworks has seen a significant increase in its platform adoption by large enterprises such as BMW, Kroger, Bill.com and others. To support this growth and augment their in-house engineering staff to support round-the-clock innovation, the company has partnered with NDE and their team in Iași, Romania. "We were seeking a partner with experience building cloud enterprise products, managing agile engineering talent across the globe, and who understands the workforce management domain well," said Chris Lanier, vice president of development at Betterworks. "We're thrilled to be starting this relationship with Ness and their team in Iași, and excited for them to support our continued growth."

NDE, whose operations in Romania currently include 300 employees in Iași and 100 in Timișoara, had an approximately 50% growth of its business over the last year and it will continue to expand locally over the coming years. "Iași has an extraordinary potential for this industry. This matter is also confirmed by the two US-based companies – major players in the telecom, media & entertainment, and HR software, respectively – who decided to partner with NDE for the upcoming years. The Development Center in Iași has had an upward evolution, consistent with the company goals and industry trends, thus consolidating our position on the profile market. Iași continues to prove its value as a talent pool, particularly owing to its status as a university center, providing well trained resources, with competitive skills, as well as matter-of-fact technical and language skills," said Ștefan Rusu, General Manager of Ness Romania.

The specialties to be covered by the company over the next six months by drawing more than 70 new employees include: .NET, Python, iOS, Android, C++, and JS.

The Ness Digital Engineering Development Center in Iaşi has been operating as of 2012 in the UBC 2 office building based in the Palas mixed-use project. The company has been growing constantly and has consolidated its local presence, reaching a total of 300 employees – that is ten times the size of its original team. Concurrently, Ness Digital Engineering has gradually leased up all six floors of the UBC 2 building, currently spanning on a 4,200 sqm area.

The Ness Development Center in Iaşi is one of the successful stepping-stones that support the development strategy of Ness Digital Engineering in Europe. Ness Digital Engineering is a premier global leader in the field of software products and platforms development, big data, user experience design and digital services. Ness Digital Engineering provides its clients with an extensive portfolio of solutions and services, using a unique global delivery model that combines local teams on an offshore and nearshore basis.

Ness Digital Engineering has more than 3,000 employees that work closely with the clients in North America, Europe and Asia via the technology and design centers operating in Great Britain, Romania, Slovakia, India, and the United States. Ness Digital Engineering has over 200 clients in more than 20 countries, including many Fortune 1000 and Software 500 companies in key fields including education, media and publishing, financial services, tourism, transportation and entertainment, trade, sports, software and high quality technology.



---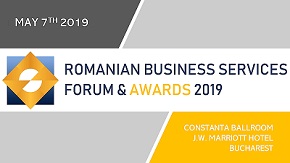 » Molson Coors started to grow its busin...
» TELUS International Europe: Three ways...
» Deloitte's Tech Trends 2019 report: B...
» Capgemini: Investing in people is the ...
» Committed to growth
» The Outsourcing industry announces its...
» Romania ranks above EU average in gend...
» ROMANIAN OUTSOURCING AWARDS FOR EXCELL...
» Engagement and inclusion through direc...
» KPMG study: Big data needs a big re-th...

The voting procedure for the BRAND OF THE YEAR 2019 IN ROMANIAN BUSINESS SERVICES is open!

This is the fifth edition of the event and the second year to select the public's favorite brand in the business services BPO, ITO and SSC in Romania.
Read Full article »
Romania ranks above EU average in gender employment gap

In Romania, the employment rate measures the number of people who have a job as a percentage of the working age population. This page provides - Romania Employment Rate- actual values, historical data, forecast
Read Full article »
Steven Hunt, SAP SuccessFactors: Tectonic movements in the world of work

The world of work will be shaped by five tectonic movements – or global megatrends – over the next few years. As you may guess from the geological analogy, the effects could be dramatic.
Read Full article »
EY: European companies are divesting to future-proof growth

According to the EY Global Corporate Divestment Study, 84 per cent of European companies surveyed intending to divest within the next two years (the majority planning to do so in the coming 12 months), executiv
Read Full article »
Knowledge-sharing presentation on latest trends the industry deals, in the program of Romanian Business Services Forum and Awards

Part of the upcoming joint half-day event, Romanian Business Services Forum and Awards to be held at JW Marriott Hotel on May 7th, the discussion agenda comprises a complex Knowledge-sharing presentation on lat
Read Full article »