BearingPoint expands its Security Advisory Center of Excellence in Romania

Technology consultancy company BearingPoint announced that it is expanding its Security Advisory Center of Excellence (CoE) in Romania.

In the highly interconnected digital business world, the number of security vulnerabilities are multiplying exponentially, and BearingPoint, with its Security Advisory Center of Excellence, will help its clients stay secure in this complex and dynamic environment. Using disruptive innovation and ever-growing capabilities, BearingPoint is creating an ambitious security portfolio that covers cybersecurity, application security and IoT/Industry 4.0 security. With this, the consultancy strengthens cyber resilience which allows clients to focus on what is most important, their business.

"Cyber Resiliency is a major focus of the Security Center of Excellence, whilst the demand for information security services is increasing globally", says Christian Gurny, Partner BearingPoint Romania.

"We have the advantage that there is a continuous flow of talents from the universities to the Romanian cyber community, constantly of the highest level in Europe, as proven at the European Cyber-Security Challenge (ECSC).

In addition, Romania is already providing cyber stability in the region and has success stories in the areas of cyber threat defense and Managed Security Services."
"I am proud to be part of this exciting journey," says Sergiu Zaharia, Cybersecurity Center lead at BearingPoint Bucharest. "I've been engaged in the international cybersecurity community for many years, and I think the market is more than ready for the next step in deploying and operationalizing next generation cyber resilience concepts. The Romanian Cybersecurity community is highly advanced, and we're currently attracting top talent that is building the backbone of our CoE."

BearingPoint is an independent management and technology consultancy with European roots and a global reach. The company operates in three units: consulting, solutions and ventures. Consulting covers the advisory business; solutions provides the tools for successful digital transformation, regulatory technology and advanced analytics; ventures drives the financing and development of start-ups. The firm has a global consulting network with more than 10,000 people and supports clients in over 75 countries.



---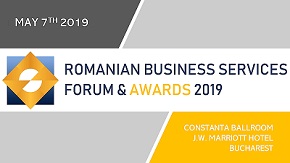 » Molson Coors started to grow its busin...
» TELUS International Europe: Three ways...
» Deloitte's Tech Trends 2019 report: B...
» Capgemini: Investing in people is the ...
» The Outsourcing industry announces its...
» Romania ranks above EU average in gend...
» Committed to growth
» ROMANIAN OUTSOURCING AWARDS FOR EXCELL...
» Engagement and inclusion through direc...
» KPMG study: Big data needs a big re-th...

The voting procedure for the BRAND OF THE YEAR 2019 IN ROMANIAN BUSINESS SERVICES is open!

This is the fifth edition of the event and the second year to select the public's favorite brand in the business services BPO, ITO and SSC in Romania.
Read Full article »
Romania ranks above EU average in gender employment gap

In Romania, the employment rate measures the number of people who have a job as a percentage of the working age population. This page provides - Romania Employment Rate- actual values, historical data, forecast
Read Full article »
Steven Hunt, SAP SuccessFactors: Tectonic movements in the world of work

The world of work will be shaped by five tectonic movements – or global megatrends – over the next few years. As you may guess from the geological analogy, the effects could be dramatic.
Read Full article »
EY: European companies are divesting to future-proof growth

According to the EY Global Corporate Divestment Study, 84 per cent of European companies surveyed intending to divest within the next two years (the majority planning to do so in the coming 12 months), executiv
Read Full article »
Knowledge-sharing presentation on latest trends the industry deals, in the program of Romanian Business Services Forum and Awards

Part of the upcoming joint half-day event, Romanian Business Services Forum and Awards to be held at JW Marriott Hotel on May 7th, the discussion agenda comprises a complex Knowledge-sharing presentation on lat
Read Full article »