Connections signs partnership with UiPath, aims 5 mln Euro from robots in 2019

Digital transformation company Connections, operating in Romania, Bulgaria and Serbia, has signed a partnership with UiPath, the Enterprise Robotic Process Automation (RPA) platform with the fastest acquisition rate worldwide, which will help Romanian companies and global customers implement and benefit from RPA technology, a company release announces.

The automatization of repetitive business processes and rule-based ones or connecting existing systems to digital technologies based on software robots, bring many benefits to organizations, most notably by increasing workflow, operational efficiency, improving customer service, and reducing costs.

Since 2017, Connections has been focusing on expanding, consolidating and certifying the company's team of professionals and RPA capabilities, exclusively on UiPath solutions.

"The partnership with the Connections team is a guarantee to their customers that they start on time on the road to digital transformation. Automating repetitive administrative processes, be they financial, human resources or contact center, will significantly improve productivity, the level of employee satisfaction that will be promoted for strategic activities, and the degree of compliance," said Daniel Dines, co-founder and CEO of UiPath.

Connections has already successfully implemented robot automation processes in various industries ranging from FMCG and banking companies to accounting firms, BPOs, healthcare companies and laboratory tests. The robotic processes concerned departments in the financial and accounting area and in the operational area where automated operations related to monthly reporting, vacation management, the introduction of invoices in accounting software, as well as back-office processes in the banking industry were automated.

"This year we want to ensure visibility as "trusted UiPath implementation partner" in Romania and we estimate a potential of several hundreds of thousands of euros. We focus on the implementation of software robots and excellence centers in various industries, especially in the banking and oil & gas area, where processes are standardized and repetitive. Starting next year, we are targeting the expansion of capabilities to the EMEA and the US, and we estimate revenues between 2 and 5 million euros. At the service level, the goal is to also launch a Software as a Service (SaaS) platform next year for the SME area," says Bogdan Florea, founder and CEO of Connections.

RPA technology can be deployed in any industry, because software robots automate the actions a person would undertake while working on a computer. At present, many large companies in Romania have either an ongoing RPA project or are planning to implement such a project. There is an increase in interest in RPA on the market, an indication being the increasing number of positions available in the field. Most companies that want to adopt this technology are in the financial, banking, insurance, telecommunications and retail sectors. Some of the major banks and insurance companies in the local market have already begun implementing RPA technology to automate certain processes.

"Robots can work 24 hours a day, 365 days a year, and achieve an accuracy of nearly 100%, and companies can quickly see the effects of an automation project. For example, following the automation of processes, there is a drop of up to 80% in their execution time and a return on investment in less than a year," adds Bogdan Florea, founder and CEO of Connections.

RPA becomes a significant facilitator in increasing efficiency and effectiveness, both in service delivery and back-office operations. The robot takes over and runs laborious tasks to enhance process accuracy, ensures security requirements, protects sensitive data and ensures full visibility and control. It also helps to release human capital from repetitive activities, allowing it to be involved in delivering higher value added services.

UiPath is the Enterprise Robotic Process Automation (RPA) platform with the fastest acquisition rate worldwide. Over 1,500 customers - enterprises and government agencies - use the Enterprise RPA UiPath platform to quickly put into operation in back and front office operations robots that perfectly emulate and execute repetitive processes, increasing productivity, ensuring compliance and improving customer experience . With an international community of over 200,000 RPA developers, UiPath has appropriated its mission to democratize RPA and support the digital business revolution. With its headquarters in New York City, its presence extends to 15 countries in North America, Europe and Asia. The company is supported by a $183 million A and B Series funding from Accel, CapitalG, Kleiner, Perkins, Caufield & Byers, Credo Ventures, Earlybird's Digital East Fund and Seedcamp. The UiPath B Series rating exceeded $ 1 billion.

Connections is the leader in the digital transformation market in Romania, with offices in Bulgaria, Serbia and global expansion plans. The company specializes in IT Outsourcing, Business Process Outsourcing and Software Development. Connections customers are global companies and medium-sized Romanian companies in industries such as Banking, FMCG, Oil & Gas, Telecom and Retail.

---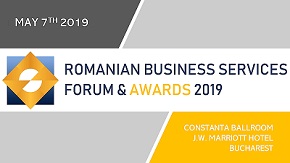 » Molson Coors started to grow its busin...
» TELUS International Europe: Three ways...
» Deloitte's Tech Trends 2019 report: B...
» Capgemini: Investing in people is the ...
» The Outsourcing industry announces its...
» KPMG study: Big data needs a big re-th...
» Romania ranks above EU average in gend...
» Committed to growth
» ROMANIAN OUTSOURCING AWARDS FOR EXCELL...
» Engagement and inclusion through direc...

The voting procedure for the BRAND OF THE YEAR 2019 IN ROMANIAN BUSINESS SERVICES is open!

This is the fifth edition of the event and the second year to select the public's favorite brand in the business services BPO, ITO and SSC in Romania.
Read Full article »
Romania ranks above EU average in gender employment gap

In Romania, the employment rate measures the number of people who have a job as a percentage of the working age population. This page provides - Romania Employment Rate- actual values, historical data, forecast
Read Full article »
Steven Hunt, SAP SuccessFactors: Tectonic movements in the world of work

The world of work will be shaped by five tectonic movements – or global megatrends – over the next few years. As you may guess from the geological analogy, the effects could be dramatic.
Read Full article »
EY: European companies are divesting to future-proof growth

According to the EY Global Corporate Divestment Study, 84 per cent of European companies surveyed intending to divest within the next two years (the majority planning to do so in the coming 12 months), executiv
Read Full article »
Knowledge-sharing presentation on latest trends the industry deals, in the program of Romanian Business Services Forum and Awards

Part of the upcoming joint half-day event, Romanian Business Services Forum and Awards to be held at JW Marriott Hotel on May 7th, the discussion agenda comprises a complex Knowledge-sharing presentation on lat
Read Full article »