Endava marks IPO and first day of trading on New York Stock Exchange

Endava opened for trading on the New York Stock Exchange (NYSE) under the ticker symbol "DAVA" following its initial public offering.

Endava is a leading next-generation technology services provider that helps accelerate disruption by delivering rapid evolution to enterprises. Engaging with an approach called Ideation to Production, and delivering using Distributed Enterprise Agile at scale, Endava collaborates with its clients, seamlessly integrating with their teams, catalyzing ideation and delivering robust solutions. Endava helps its clients become digital experience-driven businesses by assisting them in their journey from idea generation to development and deployment of products, platforms and solutions.

Endava Chief Executive Officer John Cotterell, joined by members of the company's senior executive team, rang the NYSE Opening Bell® on Friday morning. This IPO marks a significant milestone in Endava's 18-year journey.

"This IPO is a natural next step in the evolution of our company, and I want to first thank my colleagues, our clients and partners for their contributions to our ongoing story and success," said John Cotterell, CEO, Endava. "Today marks the beginning of a new phase for our company and we will continue to build on our core purpose of creating an environment and culture that breeds success by caring for our customers as individuals and enabling our people to be the best that they can be."

Endava has more than 4,700 employees with nearshore delivery centers located in two EU countries (Romania and Bulgaria), three other Central European countries (Macedonia, Moldova and Serbia) and four countries in Latin America (Argentina, Colombia, Uruguay and Venezuela). We have close-to-client offices in four Western European countries – Denmark, Germany, the Netherlands and the United Kingdom, as well as the United States.


---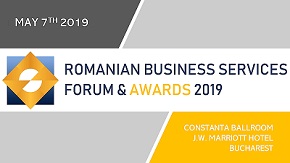 » Molson Coors started to grow its busin...
» TELUS International Europe: Three ways...
» Deloitte's Tech Trends 2019 report: B...
» Capgemini: Investing in people is the ...
» The Outsourcing industry announces its...
» Romania ranks above EU average in gend...
» Committed to growth
» ROMANIAN OUTSOURCING AWARDS FOR EXCELL...
» Engagement and inclusion through direc...
» KPMG study: Big data needs a big re-th...

The voting procedure for the BRAND OF THE YEAR 2019 IN ROMANIAN BUSINESS SERVICES is open!

This is the fifth edition of the event and the second year to select the public's favorite brand in the business services BPO, ITO and SSC in Romania.
Read Full article »
Romania ranks above EU average in gender employment gap

In Romania, the employment rate measures the number of people who have a job as a percentage of the working age population. This page provides - Romania Employment Rate- actual values, historical data, forecast
Read Full article »
Steven Hunt, SAP SuccessFactors: Tectonic movements in the world of work

The world of work will be shaped by five tectonic movements – or global megatrends – over the next few years. As you may guess from the geological analogy, the effects could be dramatic.
Read Full article »
EY: European companies are divesting to future-proof growth

According to the EY Global Corporate Divestment Study, 84 per cent of European companies surveyed intending to divest within the next two years (the majority planning to do so in the coming 12 months), executiv
Read Full article »
Knowledge-sharing presentation on latest trends the industry deals, in the program of Romanian Business Services Forum and Awards

Part of the upcoming joint half-day event, Romanian Business Services Forum and Awards to be held at JW Marriott Hotel on May 7th, the discussion agenda comprises a complex Knowledge-sharing presentation on lat
Read Full article »