Risk management in industry 4.0. The risks are new, how is the management?

The ink is not yet dry in terms of GDPR's EU compliance regulations and the last few months have been a very useful exercise for everybody, either vendor, producer or consumer to understand that rigid concepts such as "data protection" is impacting the every-day and every-one's business as usual.

However, facing the light-speed developments in the area of technology that connects each corner and aspect of businesses all around the world, the global consultancy companies, as well as developers in the area of security software found out through multiple surveys that both companies as organizations and employees are not fully aware of the risks and their responsibilities in the area of using the new technologies.

So, the Industry 4.0 is here - Is everybody ready?

According to a research report by Deloitte Global, senior business executives and government agency leaders from around the world lack confidence in their organizations' readiness to influence and harness the opportunities offered by the Fourth Industrial Revolution (Industry 4.0). This represents the compound of physical and digital technologies, such as analytics, artificial intelligence, cognitive computing and the internet of things (IoT). Deloitte Global surveyed 1,600 C-level executives across 19 countries and conducted select in-person interviews to explore their readiness to leverage Industry 4.0 to benefit customers, employees, communities and other key stakeholders, as the report states.

"On the back of the development of e-government, robotics and automatization of the industrial sectors and the transfer of services from traditional to digital services, we estimate that around 60 per cent of the existing jobs in Romania will be impacted by the digital economy," said Dinu Bumbacea, Partner-in-charge Deloitte Romania. "Any industrial revolution has had an impact on the workforce. However, if the previous industrial revolutions had a long lasting impact on generations, the digital economy is impacting significant effects on shorter periods of time. It's a time of great opportunity, but also risk."
The research was made to better understand how executives are navigating the pervasive shift and to uncover areas where they can more effectively influence how the Fourth Industrial Revolution impacts their organizations and society.

The questions focused on four major topics: social impact, strategy, talent/workforce, and technology. The survey results indicate that while executives conceptually understand the changes Industry 4.0 will bring, they are less certain how they should act to benefit from those changes. For instance, while executives see a more stable future with less inequality, they are less confident about the roles they or their organizations can play in influencing society in an Industry 4.0 era. An overwhelming (87 per cent) proportion believe the Fourth Industrial Revolution will lead to more social and economic equality and stability, and two out of three say business will have much more influence than governments and other entities in shaping this future. However, less than a quarter believe their own organizations can influence key societal factors such as education, sustainability and social mobility, the report says.

Dinu Bumbacea, Partner-in-charge Deloitte Romania: "If the previous industrial revolutions had a long lasting impact on generations, the digital economy is impacting significant effects on shorter periods of time. It's a time of great opportunity, but also risk."

Also, executives acknowledge they may not be ready to harness the changes associated with Industry 4.0, but these reservations have not compelled them to alter their strategies. Only one-third are highly confident they steward for their organizations during this time of change. Just 14% are highly confident that their organizations are ready to fully harness the changes associated with Industry 4.0. Many executives are sticking with a focus on traditional domains (i.e., developing products and increasing productivity) instead of shifting their focus toward developing talent and driving competitive disruption that could spur innovation and create value.

In the area of technology, the study found that executives understand they need to invest in technology to drive new business models. However, they have a hard time making the business case to fully address Industry 4.0 opportunities because of a lack of internal strategic alignment and short-term focus. Executives acknowledge that their current investments in technology are strongly influenced by the desire to create new business models which they believe will have one of the biggest impacts on their organizations. However, very few executives say they are able to make a strong business case for investing in the technologies that define the Fourth Industrial Revolution. They cite a lack of internal alignment, a lack of collaboration with external partners, and a focus on the short term.

The research revealed that, overall, executives around the world are in the early stages of readying their organizations to harness the full potential of Industry 4.0. They will need to seize opportunities to strengthen key connections that will benefit their clients, their people, their organizations, their communities and society more broadly.

Addressing the gender gap

New research from Accenture has identified 40 workplace factors that create a culture of equality – including 14 factors that matter the most. The research, published this year in the company's "Getting to Equal 2018" report, details the most-effective actions that business leaders can take to accelerate advancement and help close the gender pay gap. The research is based on a survey of more than 22,000 working men and women in 34 countries – including more than 1,400 in the United States – to measure their perception of factors that contribute to their workplace cultures. The survey was supplemented with in-depth interviews and a detailed analysis of published data on a range of workforce issues.

"Our research shows that in companies with cultures that include the workplace factors that help women advance, men thrive too, and we all rise together," said Julie Sweet, Accenture's chief executive officer – North America. "We see this research as a powerful reminder that building a culture of equality is essential to achieving gender equality because people, not programs, are what make a company inclusive and diverse."

Accenture's research found that women are 42 percent more likely to advance to manager or above and five times as likely to advance to senior manager/director or above, while men are 20 percent more likely to advance to manager or above and twice as likely to advance to senior manager/director or above. While both women and men advance in companies in which the 40 factors are common, women have the most to gain. If all working environments in the U.S. were like those in which the 40 factors are most common:

• For every 100 male managers, there could be as many as 87 female managers, up from the current ratio of 100 to 65.
• Women's pay could increase 52 percent

Setting clear diversity targets, the research found, is a crucial step for leaders who want to strengthen their cultures. "Culture is set from the top, so if women are to advance, gender equality must be a strategic priority for the C-suite," said Ellyn Shook, Accenture's chief leadership & human resources officer. "It's critical that companies create a truly human environment where people can be successful both professionally and personally – where they can be who they are and feel they belong, every day."

Protecting Data

Businesses struggle to protect sensitive cloud data according to new Oracle and KPMG Cloud Threat Report. Despite defined security policies, eight in 10 organizations worry about employee compliance and four in 10 say detecting and responding to cloud security incidents is a top cyber security challenge

In a recent survey of 450 global IT professionals conducted by Oracle and KPMG LLP, results show that organizations are struggling to protect their data amidst a growing number of security breaches. The Oracle and KPMG Cloud Threat Report, 2018 found that 90 percent of information security professionals classify more than half of their cloud data as sensitive. Furthermore, 97 percent have defined cloud-approval policies, however, the vast majority (82 percent) noted they are concerned about employees following these policies.

For enterprises storing sensitive data in the cloud, an enhanced security strategy is key to monitoring and protecting that data. In fact, 40 percent of respondents indicate that detecting and responding to cloud security incidents is now their top cyber security challenge. As part of apparent efforts to address this challenge, four in 10 companies have hired dedicated cloud security architects, while 84 percent are committed to using more automation to effectively defend against sophisticated attackers.

Additional Key Findings of Oracle and KPMG Cloud Threat Report, 2018

• Changing threat landscape poses challenges: Only 14 percent surveyed are able to effectively analyze and respond to the vast majority (75-100 percent) of their security event data.
• Cyber security spending on the rise: 89 percent surveyed expect their organization to increase cyber security investments in the next fiscal year.
• Inconsistency in cloud policies: 26 percent cited a lack of unified policies across disparate infrastructure as a top challenge.
• Rethinking cloud strategies and providers in the face of changing regulations: General Data Protection Regulation (GDPR) will impact cloud strategies and service provider choices, according to 95 percent of respondents who must comply.
• Mobile users are creating identity and access management (IAM) challenges for organizations: 36 percent said mobile device and application use make IAM controls and monitoring more difficult.
• Automation can help: 29 percent surveyed are using machine learning on a limited basis, 18 percent do so extensively, and another 24 percent are now adding machine learning to existing security tools.

"As organizations expand their cloud footprint, traditional security measures are unable to keep up with the rapid growth of users, applications, data, and infrastructure," said Akshay Bhargava, vice president, Cloud Business Group, Oracle. "Autonomous security is critical when adopting more cloud services to easily deploy and manage integrated policies that span hybrid and multi-cloud environments. By using machine learning, artificial intelligence and orchestration, organizations can more quickly detect and respond to security threats, and protect their assets."

"The pace of innovation and change in business strategies today necessitate flexible, cost-effective, cloud-based solutions," said Tony Buffomante, U.S. Leader of KPMG LLP's Cyber Security Services. "As many organizations migrate to cloud services, it is critical that their business and security objectives align, and that they establish rigorous controls of their own, versus solely relying on the cyber security measures provided by the cloud vendor."

In this respect, Mihaela Apostoleanu, Director Business Operation Partners UK, IE and IL Technology Sales at Oracle, stated that: "The technological improvements are not going to directly impact employees tomorrow. They create space for growth in years. It empowers us to use more tools. Right now, the security challenge is the focus area in software area. The weakness comes from companies. With the volumes of data and people involved at so many levels, the security data is foremost. We need to educate people how to use technologies and social media in security data, informing and developing protocols for permits to use image of companies and information. All this, in conjunction with the using of security tools in order to identify the breaches and prevent." Also, the manager highlighted the opportunity of cloud-based call centres and automation used at higher levels.

Mihaela Apostoleanu, Director Business Operation Partners, Oracle: "Right now, the security challenge is the focus area in software area. The weakness comes from companies"

Preventing and fighting cyberattacks

With ransomware and distributed denial of service (DDoS) attacks on the rise, the average number of focused cyberattacks per organization has more than doubled this year compared to the previous 12 months (232 through January 2018 versus 106 through January 2017), a study delivered by Accenture said. In the face of these growing cyber threats, organizations are demonstrating far more success in detecting and blocking them, according to study.

Yet, organizations still experience 30 cyber breaches per year, signaling need for more investment in innovative technologies to further improve cyber resilience. Despite making significant progress, only two out of five organizations are currently investing in breakthrough technologies like machine learning, artificial intelligence (AI) and automation, indicating there is even more ground to be gained by increasing investment in cyber resilient innovations and solutions.

This year, Bitdefender BOX 2, the revolutionary consumer device that shields homes from the growing global wave of cybercrime, became available in Romania and in Europe, as part of its global launch. Featuring award-winning multi-layered security, Bitdefender BOX 2 simply plugs into a router to protect all internet-connected devices, from refrigerators to security cameras to laptops, phones and anything else that can ever go online. It was launched in the U.S. late last year.

Ciprian Istrate, Bitdefender's Vice President of Consumer Solutions: "As our homes are becoming more vulnerable to hacker attacks with every new smart device added to the home network, Bitdefender BOX 2 continues the global launch to offer peace of mind to all the families that want to add more convenience to their life through smart devices."

Despite the increased pressure of ransomware attacks, which more than doubled in frequency last year, the organizations are upping their game and now preventing 87 percent of all focused attacks compared to 70 percent in 2017. However, with 13 percent of focused attacks penetrating defenses, organizations are still facing an average of 30 successful security breaches per year which cause damage or result in the loss of high-value assets.

"Only one in eight focused cyberattacks are getting through versus one in three last year, indicating that organizations are doing a better job of preventing data from being hacked, stolen or leaked," said Kelly Bissell, managing director of Accenture Security. "While the findings of this study demonstrate that organizations are performing better at mitigating the impact of cyberattacks, they still have more work to do. Building investment capacity for wise security investments must be a priority for those organizations who want to close the gap on successful attacks even further. For business leaders who continue to invest in and embrace new technologies, reaching a sustainable level of cyber resilience could become a reality for many organizations in the next two to three years."

Industrial organisations themselves are fully aware of the need for high-quality protection against cyberthreats. 62 per cent of employees at industrial companies firmly believe it's necessary to use more sophisticated IT security software. However, software alone is not enough: almost half (49 per cent) of industrial company respondents blame staff for not properly following IT security policies, which is 6 per cent more than respondents in other sectors. Cybersecurity awareness training is a 'must' when it comes to cybersecurity in industrial organisations, given that any employee, from the administration side to the factory floor, plays a key role in the safety of an enterprise and maintaining operational continuity.

According to Andrey Suvorov, Head of Critical Infrastructure Protection Business Development, Kaspersky Lab, "cyberattacks on industrial control systems have become the indisputable number-one concern. The good news is that the majority of industrial market players know which threats are coming to the fore today and will be relevant in the near future. That's why it's crucially important to implement a complex security solution that's specifically designed to protect automated industrial environments, is highly flexible and configured in accordance with the technological processes of each organization."



---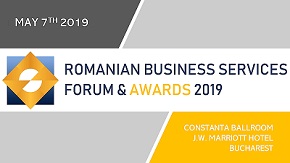 » Romanians buy 10 times more with conta...
» Meet the winners of ROMANIAN BUSINESS ...
» Capgemini to open new office at Suceav...
» Molson Coors started to grow its busin...
» The Outsourcing industry announces its...
» ROMANIAN OUTSOURCING AWARDS FOR EXCELL...
» DB Global Technology creates new techn...
» London Stock Exchange Group to establi...
» PwC: The competitive advantages of Rom...
» Raiffeisen Bank Romania outsources onl...

Workplace of the Future conference to take place on November 20th at Bucharest

The Diplomat-Bucharest together with Outsourcing Today organize the 3rd Edition of WORKPLACE OF THE FUTURE, on 20th of November 2019, in Bucharest, at Capital Plaza Hotel.
Read Full article »
Strategic Talent Acquisition at People Empowering Business Forum on October 30 in Bucharest

Latest trends like demographic upheaval, globalization, digital technology, and changing social values and worker expectations, are disrupting business models and radically changing the workplace. These are req
Read Full article »
Informal IT School and UiPath launch an educational program for RPA development to start in October

Informal IT School announced a partnership with UiPath to launch an RPA development educational program of five months, 100 hours of courses, five days a week. The program will run in Cluj-Napoca.
Read Full article »
Impact Hub Bucharest joins 3house to manage three coworking spaces in the city

Impact Hub Bucharest, a coworking spaces manager and developer of accelerator programs and events merged with 3house, a new concept of workplace launched in 2018. By this, Impact Hub reaches 3 locations and 6.7
Read Full article »
JLL: Total office space in Bucharest to reach 3 million sqm

The second quarter of 2019 reconfirmed the increased interest for the office market in Romania. Over 115,000 square meters of office space were leased over this period at the national level, a value similar wit
Read Full article »