CBRE: The outsourced project management market to grow by over 20 per cent in 2018

CBRE, the global and national leader in the real estate consultancy market, notes a sharp rise in local demand for project management services. The agency's representatives estimate an increase of more than 20 per cent in this segment in 2018. According to the CBRE, this trend will continue in the future.

Market experience has shown that investing in professional project management services generates savings that cover several times the fees of the consultants involved.

According to Gabriel Balaban, Head of Building Consultancy al CBRE Romania, outsourcing of project management services have long been considered a luxury in Romania. "Currently, the situation has changed and more and more companies have found that the added value of these services and cost management bring significant savings. In the six years of experience with the CBRE with this type of service on the local market, we have noticed through concrete cases that the investment in project management implemented by specialists brings you savings that amount to a few times the fee paid to the consultant team. Specifically, we are talking about value engineering, that is, the process by which savings are made to the project budget, without compromising on quality or specification. Practically, reduce the costs involved by resorting to other levers and preserving the original concept."

CBRE has invested heavily in this area, being the market leader in the project management segment, with the strongest team of consultants across the real estate industry, and directly competing with specialized firms that only offer this type of service, CBRE carries out project management and cost control services on office, retail and industrial segments. In six years of activity, the company's technical consultants coordinated major projects, ranging from office space design, shopping center reconfiguration to management to building helicopter factories, car components and electronic equipment.

Among the most famous names in the company portfolio, in the project management sphere are: Sun Plaza (the initial phase of the expansion), Airbus Helicopters (Braşov helicopter factory), ThyssenKrupp Bilstein (production unit for vehicle shock absorbers, in Sibiu County) or Kimball Electronics (electronic systems factory, in Timisoara). CBRE also handled spectacular projects involving large office space (4,000 sqm or 8,000 sqm) in projects by developers such as Skanska (Campus 6), CA Immo, Forte Partners (The Bridge), etc. The agency has performed technical due diligence services as well as project management and cost monitoring for the London Stock Exchange Group, Johnson & Johnson or Misys / Finastra.

"The due diligence component is extremely important in the selection process for an office and not only. This service usually goes hand in hand with the consultancy provided by the transaction management team, and its goal is to ensure that the target site is also the best and technically, our company working to provide our customers with integrated services in to help them achieve the best results, "added Gabriel Balaban.

Regarding the average costs of setting up a Class A office, there are no significant differences between Bucharest and the rest of the country. Depending on the type of industry in which the company operates, the internal fitting policy, the technical specifications and the degree of compartmentalization imposed by the needs and size of the business concerned, costs may vary quite a bit from one project to another. According to CBRE estimates, average costs are generally between 200 euro / m2 and 500 euro / sqm, without taking into account the budget allocated to special IT furniture and equipment (eg server rooms, storage and data processing laboratories, etc.). .)

CBRE's office floor plans include expansion to the aesthetic area and employee welfare (the concept of workplace well-being). The well-being of office workers and the experience of working environment that provides optimal conditions are the main trends in this market segment. The latest CBRE studies have revealed that beyond functionality, comfort and safety, new generations are looking for a complete experience including the wellness side.

"CBRE is currently the only player in the real estate consulting market to have the resources to provide customers with a full range of integrated services. If, for example, we receive a request from a large company tomorrow to open an office on the local market as soon as possible, we have the capacity to handle the whole process: from searching and choosing the best location to the transaction , drafting a concept concept and providing the highest level project management and facility management services, "concluded Gabriel Balaban.

The CBRE Building Consultancy Department was set up in Romania in early 2012, but it benefits from the resources, expertise, know-how and maturity of the existing solid teams in the network, both globally and regionally. The range of services it offers includes: project management, due diligence, project monitoring for banks and investors, concept development, workplace consulting, change management, as well as other technical and non-technical consulting services in real estate. Gabriel Balaban has more than 20 years of experience in real estate and construction, has been running this department since its inception and has coordinated a team of nine specialists, both construction engineers and architects.

---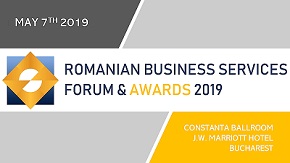 » Digital Transformation Conference to t...
» ASE's HR Master – helping students i...
» Marian V. Popa: Meet the speakers at R...
» Meet the winners of ROMANIAN BUSINESS ...
» Capgemini to open new office at Suceav...
» Romulus Caralicea: Meet the speakers a...
» Randstad Employer Branding 2019: Salar...
» Zitec launches its 1 million Euro Mirr...
» Deloitte Romania opens application for...
» Oracle Romania inaugurates the Iasi of...

Digital Transformation Conference to take place on June 19 at Bucharest

The Diplomat – Bucharest organizes Digital Transformation Conference to be held on 14 of June in Bucharest, at Hilton Hotel - Regina Maria Hall, starting 8:30 AM.
Read Full article »
L&D Conference by The Diplomat Bucharest to take place on June 4th at Bucharest

The Diplomat-Bucharest organizes the Third Edition of its Learning & Development CONFERENCE on 4 June, 2019 at InterContinental Hotel Bucharest starting 09:00 am.
Read Full article »
Meet the winners of ROMANIAN BUSINESS SERVICES AWARDS, 2019 edition

ROMANIAN BUSINESS SERVICES FORUM & AWARDS 2019, in its fifth year, brrought on May 7, in Bucharest, a new concept event with engaging keynote sessions by industry leaders, interactive panel discussions, network
Read Full article »
Few hours away from to the long awaited CEO Leaders Debate, a premiere of Romanian Business Services Forum and Awards
We are a few hours away to the long awaited CEO Leaders Debate, a premiere of Romanian Business Services Forum and Awards on May 7.
Read Full article »
Colin C. Lovering: Meet the speakers at Romanian Business Services Forum & Awards 2019, on May 7

Colin C. Lovering has been living and working in Romania since 2009 when he arrived to offer consultancy and advice to organisations looking for growth and profitability and founded Achieve International.
Read Full article »