Stefanini achieves 2 digit growth for the 5th consecutive year in Romania and EMEA

Stefanini Romania increased its net turnover by 13.5 per cent last year, to 38.8 million Euro. The company has also seen an important 12 per cent growth at EMEA level last year, where it registered revenues of over 101.4 million Euro, a company release states.

"It is the company's 5th consecutive year of 2 digit growth in both Romania and the region, where our country represents the most important service hub", says Andreea Stănescu, Vicepresident EMEA Delivery, Stefanini. "We are becoming a bigger company every year not only in terms of revenues, but also in what our team is concerned. We currently have 3200 people in the EMEA region, more than half of them being in Romania, more precisely 1660, almost 25 per cent more than we had in 2016 on average."

Moreover, the Romanian office also coordinates the company's business in Poland and Republic of Moldova. Last year, Stefanini opened offices in Opole, Poland, and Chisinau, Republic of Moldova, employing more than 100 people for the new markets.

In Romania, Stefanini has 3 offices, in Bucharest, Sibiu and Targu Mures. 1300 of the employees are involved in service desk activities, while more than 300 work in the application development center. Romanian employees serve around 85 clients all over the world, from countries like USA, Australia, Germany, France, Switzerland, Portugal, Spain, Canada, Russia, Greece, Macedonia, Serbia, Croatia and UK.

"For this year, we plan to keep on investing in our team's training and development, as well as in innovation, digital transformation and new technologies", adds Farlei Kothe, Vicepresident for EMEA region, Stefanini. "We are also looking for new office spaces that would reflect our open and collaborative environment in most of our locations in Europe and we are planning for an investment of 5 Mil Euro for the financial year of 2018 at EMEA level".

Stefanini Romania recently received the award for the category Employee Engagement Initiative of the Year at the Romanian Outsourcing & Shared Services Awards. The company focused on redesigning the service culture within the organization, introduced a flexible benefits program and clear career paths for its employees, resulting in a 25% lower turnover of personnel rate and a much more engaged team. The excellent results of these initiatives are to be exported to other countries as well and might even be expanded to EMEA level and even to the USA.


Stefanini is a Brasilian company with over 30 years of experience in providing IT services globally, from IT infrastructure outsourcing to developing software applications. The company is present directly in 40 countries, through its 73 offices around the world, and has a portfolio of over 500 active clients. Clients come from sectors like financial services, manufacturing, telecommunications, the chemical industry, services, technology, the public sector and benefits from a complete set of mature and professional services, which cover the entire life cycle of an application.


---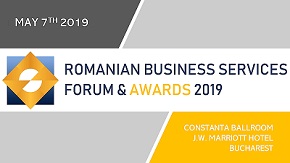 » Evolving from consumers of resources t...
» Preparing for the new future
» ROMANIAN OUTSOURCING AWARDS FOR EXCELL...
» Pepper Escu, the first humanoid robot ...
» Volvo Cars and Uber present production...
» Berg Software Romania: Reasons to outs...
» Marian V. Popa: Meet the speakers at R...
» Deloitte 2019 Global Human Capital Tre...
» Andrei Voica: Meet the speakers at Rom...
» How giving back pays dividends for com...

Digital Transformation Conference to take place on June 19 at Bucharest

The Diplomat – Bucharest organizes Digital Transformation Conference to be held on 14 of June in Bucharest, at Hilton Hotel - Regina Maria Hall, starting 8:30 AM.
Read Full article »
L&D Conference by The Diplomat Bucharest took place on June 4th at Bucharest

The Diplomat-Bucharest organizes the Third Edition of its Learning & Development CONFERENCE on 4 June, 2019 at InterContinental Hotel Bucharest starting 09:00 am.
Read Full article »
Meet the winners of ROMANIAN BUSINESS SERVICES AWARDS, 2019 edition

ROMANIAN BUSINESS SERVICES FORUM & AWARDS 2019, in its fifth year, brrought on May 7, in Bucharest, a new concept event with engaging keynote sessions by industry leaders, interactive panel discussions, network
Read Full article »
Few hours away from to the long awaited CEO Leaders Debate, a premiere of Romanian Business Services Forum and Awards
We are a few hours away to the long awaited CEO Leaders Debate, a premiere of Romanian Business Services Forum and Awards on May 7.
Read Full article »
Colin C. Lovering: Meet the speakers at Romanian Business Services Forum & Awards 2019, on May 7

Colin C. Lovering has been living and working in Romania since 2009 when he arrived to offer consultancy and advice to organisations looking for growth and profitability and founded Achieve International.
Read Full article »