Ubisoft Coding Campus records 1,000 applicants for 24 positions

Ubisoft, one of the entertainment industry leaders, announces the start of the Coding Campus courses, a 6-month international accelerated learning program based on a curriculum developed by Ubisoft's online programming experts.

Approximately 1,000 students and graduates from across the country, with more than 300 from Bucharest, applied for 24 openings, with a total number of 41 applicants per position. Most of the candidates living in Bucharest come from prestigious educational institutions such as the Polytechnic University, the Bucharest University and the Academy of Economic Studies.

The recruitment campaign, which spanned across three months, also involved a series of technical interviews and tests to identify passionate video game enthusiasts with basic knowledge in programming and who are proficient English speakers.

"Now, more than ever, we are in need of professionals who are able to experience and innovate in a new branch of programming, which requires expertise at the highest level, talent, but also a passion for gaming. We want to transform Ubisoft Coding Campus in an industry standard, a unique school in Romania that prepares online programming experts. We are already exploring the possibility of extending the program to other specializations," says Grigoriada Stroe, HR & Operations Director for Ubisoft Romania, Serbia and Ukraine.

Between July 2018 and January 2019, students will use their knowledge to develop a 2D shooter, adding multiplayer features and online services, such as leaderboards or a matchmaking system. The courses imply presence at the Ubisoft Bucharest studio, within the Coding Campus lab, specially created to offer participants access to the latest technology used within the company. They will receive support from the 13 mentors - technical experts from the Ubisoft network worldwide, but also from the Bucharest University and GameDev Academy teachers.

Moreover, the students also benefit from a 500 euros monthly scholarship, offered with support from Ubisoft's partners, as well as access to industry-specific e-learning resources, gym, internal events and cafeteria.

After graduating, attendants will be able to continue their professional career in one of Ubisoft's Studios which are part of the program: Annecy, Bucharest, Montpellier, Paris, Quebec, Helsinki (Redlynx), Singapore or Toronto, with relocation support from the company. The Ubisoft Coding Campus program is also implemented in the Kiev Ubisoft studio.

Ubisoft is one of the leaders in entertainment, with a rich portfolio of well-known brands worldwide. And the mission of the teams working at Ubisoft studios around the world is to deliver original and memorable gaming experiences for all platforms.
Ubisoft Bucharest is an important pillar of the gaming industry in Romania, being one of the first companies of its kind ever since 1992. Having a strong history of successful titles such as Silent Hunter, Blazing Angels or HAWX, the studio has migrated to co-development and has left its mark on blockbusters like Just Dance, Assassin's Creed, Ghost Recon and Watch Dogs.



---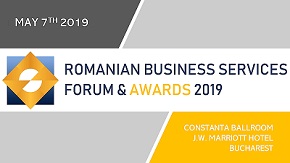 » Huawei opens a centre on cyber securit...
» ROMANIAN OUTSOURCING AWARDS FOR EXCELL...
» Romania ranks above EU average in gend...
» Bucharest, in the top of cities in Eur...
» Meet the experts who will decide the w...
» Berg Software Romania: Reasons to outs...
» KPMG launches an application enabling ...
» Bogdan Pelinescu, president of ABSL: A...
» ABSL GALA AWARDS celebrated its winner...
» George Rotariu, CEO Bitcoin Romania: B...

Catalina Dodu - Meet the speakers at Romanian Business Services Forum 2019 CEO LEADERS DEBATE, on May 7

Catalina Dodu runs the operations of Atos Romania since March 2014, with an experience of over 15 years in IT management. Previous to being appointed Country Manager, Catalina managed the System Integration div
Read Full article »
Philippe Beucher: Meet the speakers at Romanian Business Services Forum 2019 CEO LEADERS DEBATE, on May 7

Philippe Beucher is the Managing Director of Accenture Operations – Danubia Region, leading the Operations entity for Romania, Czech Republic, Slovakia and Hungary starting from February 2019. For the past 1
Read Full article »
Meet the speakers at Romanian Business Services Forum 2019 CEO LEADERS DEBATE, on May 7th - Matthieu Pasquier

Matthieu Pasquier is CEO of Societe Generale European Business Services since August 2018 bringing more than 27 years experience in Societe Generale group. During 2014-2018, Matthieu was Head of SG GSC Chennai
Read Full article »
Sorin Mindrutescu among the speakers at Romanian Business Services Forum 2019 CEO LEADERS DEBATE, on May 7th

Sorin Mindrutescu is the Country Leader for Oracle Romania, as of February 2003. In this role, he is responsible for local sales and project delivery. In Romania, Oracle has two major business directions: the l
Read Full article »
Meet the speakers at Romanian Business Services Forum 2019 CEO LEADERS DEBATE, on May 7th - Vivek Bakshi

Vivek Bakshi is the General Manager of Wipro Technologies. He has spent 12 years heading the International Locations / Delivery Centers Europe from the Bucharest office.
Read Full article »