Competing in outsourcing: racing of endurance and skills

As Romania's outsourcing sector is currently estimated to employ more than 100,000 people, a constant evolution in the past years (with 15.000 employees registered in 2007), the local market is a popular nearshoring location due to strong IT and finance and accounting skills, as well as the wide range of foreign languages spoken, while the top three sectors in outsourcing services are banking, insurance, and financial services.

In this context, the companies already present on the market as well as the new comers feel the pressure of competing especially in terms of securing the right human resource able to deliver the services and products towards their multimarket clients.

ITO, the new driver in added-value services

Not long ago, Telus International, active in Romania in BPO sector, wrote an article on the top capabilities of local market and quoted "Romania's abundance of professional, multilingual, highly-skilled labor as well as its cultural proximity to Western Europe." As Telus International stated, the country has been climbing in the rankings of preferred outsourcing hubs for European and North American companies. Investors have labeled Romania as an "outsourcing valley" for BPO, ITO, software development, research programs, knowledge process outsourcing operations, and shared services.

Among the first competitiveness capabilities, the company mentioned the large multilingual talent pool. "The country's sizable and multilingual labor force and student body are among the main lures for international companies to outsource in Romania. The diverse linguistic profile makes it especially attractive for BPO operations that require interaction with customers, while the large pool of IT professionals ensures best-in-class ITO engagements," according to the company report. In terms of IT skills, the company states that Romania has become a flourishing technology hub. As per data from ANIS, the Association of the Software and Services Industry in Romania, the country currently has around 50 offshore centers owned by large international IT vendors. More than half of these are BPO centers, 30 per cent are IT services-related centers, and less than 20 per cent are R&D facilities.

The ITO services started to become a flagship sector in outsourcing and business shared services industry, which is a good trend, being a more value-adding sector compared to the traditional BPO services. According to data, there's a pool of more than 100,000 people in various IT-oriented profiles, working for The successful presence of global high tech companies such as Microsoft, IBM, P&G, HP, Oracle, Wipro, S&T, Accenture, WNS, Intel, as well as Luxoft, Ubisoft and Amazon, that confirm Romania's ITO experience and potential.

Preserving talents and availability of skilled people

Romania has its strong competitive advantages as an outsourcing destination. One given by the level of education, which is reflected in the level of skills, being them technical, financial or language skills, and the other one given by the cost and flexibility of labor, Andreea Stănescu, VicePresident EMEA Delivery, Stefanini told Outsourcing-Today. Whilst both advantages still exist, the gap versus other countries has narrowed in both areas, the availability of the resources decreasing, and with the labor becoming increasingly more expensive, the manager stated.

According to Andreea Stănescu, the companies operating in outsourcing need to be careful of preserving both, by taking specific actions at company level to provide our employees with the right training and development, but also by advising the state institutions for taking the right actions when it comes to educational policy and plans and also to the fiscal changes. The risk is high that our competitive advantage will decrease, so we all, business and government, need to act in a responsible and proactive manner. "Romania must maintain its traditional advantages when it comes to highly qualified IT resources and the language skills and continue to invest in them. The IT tax exemptions have contributed to a great extent to keeping the highly skilled specialists from looking for job opportunities abroad. It did not stop the migration, but it has certainly reduced it," Stănescu said. Also, the Romanian educational system has to be able to identify the necessary pool of resources and has to ensure they provide educated people who will be the engine of further growth, the manager added.

Andreea Stănescu, VicePresident EMEA Delivery: "Romania must maintain its traditional advantages when it comes to highly qualified IT resources and the language skills and continue to invest in them."

Olga Botusan, EMEA Human Resources Director at Stefanini underlined within Romanian Outsourcing and Business Shared Services's Summit this year that the interest of the company she represents in creating the work resources needed for their operations. "Hence, we try to work together with the governmental institutions in order to mitigate the gap between the school educational schemes and the specific needs of our industry, to offer what the school is not offering. We are investing in young people which are completing their studies as students or are at the start of their careers but we also go further and go to high schools where we established educational hours to train the scholars for foreign languages such as English, German and IT. However, in order to sustain and further develop these programs, the companies in our industry could use a stronger support from all the stakeholders, including the Governmental institutions. The companies operating in business shared services industry are investing in Romania as much as in other European countries though, here, we struggle more to put these programs into practice, that is why a support from the state institutions would be of great help."

Olga Botusan, EMEA Human Resources Director, Stefanini: In order to sustain and further develop the educational programs, the companies could use a stronger support from all the stakeholders, including the Governmental institutions"

Outsourcing does not fit every need of a business

As Andreea Stănescu explained, companies need to assess thoroughly the advantages and disadvantages and the reasons for outsourcing, being it cost, continuity of operations, risk transfer, or expertise. "A major advantage of the outsourcers is that they are specialized in particular areas which they execute very well on, they have tools, business practices and processes that sometimes are expensive to be replicated in a company, especially if we talk about activities that are not in the core for companies. So to be fair, outsourcing is not a universally valid solution, but where it makes sense to outsource, there are both cost reductions and also improvements in experience for the users and/ or customers provided that the right model is in place with the outsourcer and the partner selection was right," the Stefanini manager said.

Technology requires a shift in leadership approach

Rapid advances in artificial intelligence and other technologies are accelerating the creation of intelligent enterprises and enabling companies to integrate themselves into people's lives, according to Accenture Technology Vision 2018, the annual technology report from Accenture that predicts key technology trends likely to disrupt business over the next three years. However, capitalizing on growth opportunities while also having a positive impact on society requires a new
era of leadership that prioritizes trust and greater responsibility.

This year's report, "Intelligent Enterprise Unleashed: Redefine Your Company Based on the Company You Keep," highlights how rapid advancements in technologies – including artificial intelligence (AI), advanced analytics and the cloud – are enabling companies to not just create innovative products and services, but change the way people work and live. This, in turn, is changing companies' relationships with their customers and business partners.

For example, Amazon – through not only its tremendous online presence but also its Echo device and AI assistant Alexa – has integrated itself into people's everyday lives to such an extent that developers are building dedicated Amazon lockers into new apartment complexes and people are granting the company physical access to their homes via its smart lock system to let couriers make deliveries when no one is around. "Technology is now firmly embedded throughout our everyday lives and is reshaping large parts of society," said Paul Daugherty, Accenture's chief technology & innovation officer. "Just as cities developed around ports and then railroads, or people rebuilt their lives around electricity, the world today is reimagining itself around digital innovation – and, by extension, the companies that provide those services. This requires a new type of relationship, built on trust and the sharing of large amounts of personal information," the Amazon manager stated.

The report notes that this latest technological transformation is unique in that for the first time the change is a two-way street; people aren't just using companies' products and services, but feeding information and access back to them. This level of "integrated innovation" and degree of trust requires a deeper relationship – a true partnership based not only on a company's products, but also its goals and values. And with this two-way partnership come new responsibilities – to consumers, business partners and society at large — requiring leadership and commitment from the top. Savvy organizations understand that these new societal expectations can be transformed into an enterprise strength. They're using their increased interactions to build partnerships with customers, employees, government and the public. And this extends beyond the consumer or retail arena.

The Accenture's Technology Vision 2018 identifies five emerging technology trends that companies must address if they are to build the partnerships needed to succeed in today's digital economy:

• Citizen AI: Raising AI to Benefit Business and Society. As artificial intelligence (AI) grows in its capabilities, so does its impact on people's lives. Businesses looking to capitalize on AI's potential must acknowledge this impact, "raising" AI to act as responsible representatives of their business.
• Extended Reality: The End of Distance. Virtual and augmented reality technologies are transforming the ways people live and work by removing the distance to people, information and experiences.
• Data Veracity: The Importance of Trust. By transforming themselves to run on data, businesses now face a new kind of vulnerability: inaccurate, manipulated and biased data that leads to corrupted business insights and skewed decisions. To address this challenge, companies must follow a dual mandate to maximize veracity and minimize incentives for data manipulation.
• Frictionless Business: Built to Partner at Scale. Businesses depend on technology-based partnerships for growth, but their own legacy systems aren't designed to support partnerships at scale. To fully power the connected Intelligent Enterprise, companies must first re-design themselves.
• Internet of Thinking: Creating Intelligent Distributed Systems. Businesses are making big bets on intelligent environments via robotics, AI and immersive experiences, but bringing these intelligent environments to life will require not only adding key skills and workforce capabilities, but also modernizing current enterprise technology infrastructures.

Moreover, as The Business Service Leaders Association (ABSL)'s representative stated this year, regarding the recruitment of staff, that there is a growing tendency for companies to use machine learning systems, data analysis and search tools to predict who the candidates will be interested in in a particular job. At the same time, in terms of employee retention, recruiters begin to use data analytics to identify common factors for employees who have left the company (the same manager, department) and to identify those who have a high probability of leaving the job. In this context, the purpose of the conference is to facilitate the exchange of best practices and jointly anticipate the challenges and opportunities brought by the implementation of new technologies and business models.

Top companies will share their expertise and provide insights into how trends in the field will affect the Romanian Outsourcing industry. Also, case studies will be presented, and the discussion sessions will involve the participants in relevant discussions, and will further apply to their companies the information and exchange of experience gained during the event.

Bringing school to work

Maybe one of the most soaring aspect in preserving and growing the competition factors is the educated and skilled workforce. In this context, the companies and their managers have to decide on how they are further cultivating change and innovation within their organizations, tackling the increased consumerization of HR and delivering business enablement. The future characteristics of the workforce in the context of digital transformation, automation and data revolution are deeply impacting how companies now operate. Still, for industry companies, it is employees who are most important, because more than three quarters of the players on the market are planning to increase employment on the short term. Hunting for the most gifted specialists and the needed operational staff, their retention and empowerment within the organization, their productivity is what matters at the end of the day. The companies have to address all these aspects by taking into consideration the new features of the workforce market, defined by diversity of genres and generations, competitiveness and sharp regulations.

As uttered along the panel discussions within Romanian Outsourcing & Shared Services Summit, the companies are facing a real challenge in securing their talents, both in terms of retention but also in terms of finding the right skills for what they need. The companies in the industry seem to address the same pool of talents and therefore, the race for these resources is sharp. Not to further mention the volatility of employees, especially the younger generations which are now looking for new professional experiences, not only in terms of changing jobs but to add a larger diversity of professional experiences. In the companies' point of view, what will matter will be the judgement and expertise. The big concern is related to the entry level and to new hires and how to cultivate this expertise and judgement at higher level. The employee's wider definition has to be more than a job title.

So, the companies are bringing on the table different formulas of work trainings, academies and partnership with universities and technical schools, depending on what kind of specialists they need to form. For instance, Business Service Leaders Association Romania (ABSL) annually offers 30 scholarships in the Business Services Master program for young people wishing to pursue a career in the outsourcing industry. There are 40 available places in the Business Services Master out of which 30 are offered and financially supported by ABSL companies and 10 are paid by students. Under this program, the students specialize and progress their career paths in a highly dynamic, growing environment, where the average age is between 26 and 35 years old.

Cătălin Iorgulescu, ABSL Vice President: "Now we are asking for more creativity, synthesis and quality decision making in an everchanging working environment, inaccessible to robots at this time".


Specifically, they have the opportunity to combine the theoretical knowledge with practical experience by using real-time case studies and to take paid internships in the ABSL member companies, such as Accenture, Genpact, Hewlett Packard Enterprise, OMW, P&G, Unicredit. "Through this program, ABSL invests in the sustainable development of business services sector and provides students with real opportunities to gain practical experience and to start their career in a new, fast-growing industry. In recent years, we have witnessed a remarkable leap in the attractiveness of these industries for young graduates as the repetitive, low-value activities are more and more taken over by automated systems ("Robotics"). Thus, human interaction in Outsourcing processes occurs at a much higher level than in previous years. Now we are asking for more creativity, synthesis and quality decision making in an everchanging working environment, inaccessible to the "robots" at this time" said Cătălin Iorgulescu, ABSL Vice President.

This year, Amazon and Amazon Web Services (AWS) today officially opened a new Corporate Office and Technology Development Centre in Bucharest and announced the creation of more than 650 permanent, technology-focused and corporate jobs, adding to the 1000 roles already existing in Romania, the company official press release states. The Corporate Office and Technology Development Centre will continue to focus on developing new and innovative features, including helping to build the speech and language solutions behind Alexa, as well as working on key technologies that form the building blocks that are the foundation of AWS. The new Romanian Amazon and AWS office is home to a new Engineering Center, Technology Development, Speech and Language Solutions for Alexa, as well as Alexa Product Testing, which are all tasked with developing and innovating technology solutions and enhancing Amazon's operations. Amazon and AWS are currently looking among others for software development engineers, language specialists, business service sector generalists, project managers and team managers.

Lucian Vornicu, Managing Director, Amazon Romania: "We are very happy to be opening our new Corporate Office and Development Centre in Bucharest. Our growing teams will now benefit from an 11300 square meter modern office building with first-rate facilities. We are looking forward to continuing our investments in Romania and bringing the brightest talents from around the country and abroad to Bucharest"

Also this year, DB Global Technology, the technology center of Deutsche Bank in Bucharest, is preparing for the third edition of DB Tech School, a training program for Java specialists, the company announced. Also, following the courses, the company plans to hire 100 students enrolled in the program. Following the success of the 2016 and 2017 editions, DB Global Technology returns to DB Tech's 2018 Internship Program in 2018, where knowledge of the latest and most popular technologies such as Java 8, React, Angular JS, Spring, SQL, no-SQL, Cloud Technologies, REST, and more.

Marian V. Popa, DB Global Technology CEO: "We are excited about the results of DB Tech School in previous years, but especially to see that the program is appreciated among software specialists which are at the beginning of their career. That's why in 2018 we decided to expand the program and organize three internship sessions a year instead of one as we did in previous years. Our goal is to offer the young generation the opportunity of a long-term IT career within an internationally recognized team "

Last year, ACADEMY + PLUS, the free programming school, officially opened its activity in Bucharest. The inauguration took place in partnership with the private sector and aims to train 140 IT specialists within the framework of a practice-based and teamwork process in the next 6 to 9 months. "With the launch of the ACADEMY + PLUS programming school, we brought to Romania one of the most ambitious training projects and, based on a timetable adapted to the moment, we have relied on an alternative learning method that supports the increase of the quality of specialists in IT, "says Daniela Buşcan, Program Director at ACADEMY + PLUS. "Romania currently has a deficiency in the IT industry of over 50,000 specialists. By involving companies directly in the training process of IT professionals, we have the opportunity to reduce this deficit and to form future specialists in line with market requirements. In this way, we support the IT industry in Romania, and ACADEMY + PLUS graduates have the best chances to quickly find jobs in the IT industry."

Daniela Buşcan, Program Director at ACADEMY + PLUS: "With the launch of the ACADEMY + PLUS programming school, we brought to Romania one of the most ambitious training projects and, based on a timetable adapted to the moment, we have relied on an alternative learning method that supports the increase of the quality of specialists in IT"

Bringing the feel-like-home at the office

The discussion regarding the workplace wellness trend is very hot right now and the latest CBRE European Occupier Survey supports this, revealing that almost three quarters of the real estate decision makers we polled already have a formal wellness programme in place. This new report from CBRE Global Workplace Solutions examines the growing wellness phenomenon, discusses the drivers behind it and makes recommendations on how organisations can respond.

CBRE's Tomorrow's workplace By 2040 the workplace will look very different to now, as developers and consultants' project indicate. The lines between home and work will have become blurred and people's working lives will be characterized by much more autonomy and choice. We start by describing a future work environment where digital developments and changing attitudes will help us to be more proactive in managing our health and wellbeing whether at home or at work. And what's clear is that the workplace of 2040 will – in many ways – be the product of influences that are already in play. We see five far-reaching demographic and social trends which are driving the growing interest in wellness.

80 per cent of employees agree that a company's wellness offering will be crucial in recruiting and retaining them in the next 10 years

One of the first aspects impacting the workplace trends is that employees are living longer – people are living and working longer and workers aged 50+ put a higher value on non-financial factors such as flexible work or working from home than on money or titles. Also, declining health and rising healthcare costs – worldwide obesity has nearly doubled since 1980, and workplace absenteeism and presentism alone represent as much as two percent of GDP in both the UK and US.

Another aspect quoted by the studies is that key skills are hard to find – in many global economies there's a shortage of skills and talent is at a premium. 80 percent of employees agree that a company's wellness offering will be crucial in recruiting and retaining them within the next 10 years. And linked to the need of consolidating the pool of specialists and merging them under the same roof, the cooworking spaces started to emerge also in Romania. For instance, Iasi started to be one of the most dynamic cities in terms of technology developments. Last year, based on a concept made by the Miolk team, Fab Lab Iasi, founded by Dan Zaharia, founder of FAB LAB IASI and co-founder of PINmagazine, also managing Extind company, has a surface of over 700 sqm and it offers different scenarios for flexible use of the space (competition areas, co-working, makerspace, teaching rooms, spaces for video conferences and personal desks). The space will function as an independent platform which will bring together innovation and the tech community from Iasi.

Dan Zaharia, founder of Fab Lab Iasi: "the city of Iasithus gains a well-deserved permanent place on the short list of any major player in the global IT & Outsourcing industry looking to expand its operations in Central and Eastern Europe. It is also a confirmation for the large companies already in IASI that they have made a good choice to develop the technology community in the region."

Placed in the university campus Tudor Vladimirescu, Fab Lab Iasi has as a purpose to develop student programs for the technical field, together with the Gheorghe Asachi Technical University and Alexandru Ioan Cuza University Iasi. These programs will have the purpose to stimulate innovation, digital fabrication and entrepreneurial spirit among the technical students of Iasi. Besides the flexibility of the space, Fab Lab Iasi also adds value through a laboratory of digital fabrication which will be equipped with numerical control machines, offering to the users the possibility to realise almost anything they want using 3D printers, laser engraving equipment, milling machine, electronic circuits printer.

There are already partnerships and advanced discussions with sponsors and partners that will contribute with equipment. This equipment will be from the companies' portfolio or from the equipment they use for their own production. In both cases, the interest of these partners is big because it is about making the students more comfortable with these technologies.

According to a Crosspoint Real Estate study issued at the end of 2017, coworking spaces are still a new, developing concept in the Romanian office market, with a little over 1 per cent share in the total stock. Most of the spaces are available in Bucharest, amounting to 28,000 sqm GLA, almost 84 per cent of the total available coworking spaces throughout the country. The largest amount of coworking space was delivered in 2012. So far, in 2017, 3,130 sqm of shared office space was delivered, out of which 2,500 sqm in Bucharest, 300 sqm in Timisoara, 260 sqm in Cluj-Napoca and around 100 sqm in Brasov.The majority of the developers are local entrepreneurs, with a few big players like Regus and the newly entered Crossrider. The IT&C industry is mainly represented in this type of space, with startup businesses and freelancers occupying most of the available hubs, followed by freelance writers, bloggers and artists.

Given the growth of the IT sector's contribution to the Romanian GDP and the increasing worldwide trend in encouraging small startup businesses and freelance activities, we expect that the stock for coworking spaces will gradually increase in the following years. Google announced the opening of 6 regional hubs within universities in Bucharest, Cluj-Napoca, Iasi, Timisoara, Constanta and Brasov in order to connect the students with the local businesses. A group of digital consultants will offer free advisory services on online marketing and strategy to local SMEs. Also, the German retailer Kaufland is turning its stores' roofs, parking lots, and plots of land located near schools into green spaces where people can grow their own crops. The urban gardens will also benefit from coworkingspaces with wi-fi, tea and other facilities.

---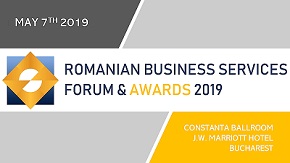 » Meet the winners of ROMANIAN BUSINESS ...
» Capgemini to open new office at Suceav...
» Molson Coors started to grow its busin...
» The Outsourcing industry announces its...
» ROMANIAN OUTSOURCING AWARDS FOR EXCELL...
» DB Global Technology creates new techn...
» London Stock Exchange Group to establi...
» PwC: The competitive advantages of Rom...
» Raiffeisen Bank Romania outsources onl...
» Genpact's COO: Staying ahead of the cu...

Workplace of the Future conference to take place on November 20th at Bucharest

The Diplomat-Bucharest together with Outsourcing Today organize the 3rd Edition of WORKPLACE OF THE FUTURE, on 20th of November 2019, in Bucharest, at Capital Plaza Hotel.
Read Full article »
Strategic Talent Acquisition at People Empowering Business Forum on October 30 in Bucharest

Latest trends like demographic upheaval, globalization, digital technology, and changing social values and worker expectations, are disrupting business models and radically changing the workplace. These are req
Read Full article »
Informal IT School and UiPath launch an educational program for RPA development to start in October

Informal IT School announced a partnership with UiPath to launch an RPA development educational program of five months, 100 hours of courses, five days a week. The program will run in Cluj-Napoca.
Read Full article »
Impact Hub Bucharest joins 3house to manage three coworking spaces in the city

Impact Hub Bucharest, a coworking spaces manager and developer of accelerator programs and events merged with 3house, a new concept of workplace launched in 2018. By this, Impact Hub reaches 3 locations and 6.7
Read Full article »
JLL: Total office space in Bucharest to reach 3 million sqm

The second quarter of 2019 reconfirmed the increased interest for the office market in Romania. Over 115,000 square meters of office space were leased over this period at the national level, a value similar wit
Read Full article »