CBRE: Building owners choose to outsource their property management

According to the latest findings of real estate consultant CBRE, the percentage of outsourcing of property management services has increased over the last few years in retail and office segments; In 2017, 79 per cent of new projects turned to outsourced services for real estate management activities, compared with only 24 per cent in 2015.

CBRE expects 2018 to be the year for the industrial sector, in terms of outsourcing asset management. Bucharest, 09.07.2018. CBRE, the global and national leader in real estate consultancy, has analyzed the evolution of the property management services segment in recent years in Romania.

According to CBRE representatives, the trend is to significantly increase the percentage of outsourcing in this segment.

"Initially, the local property market was managed exclusively by internal resources. For CBRE, the first segment that broke the ice in Romania in 2013 was retail through Sun Plaza, which turned to us for rental, financial, marketing, and technical services for the general management of the project, including execution, modifying and monitoring contracts. Among the great owners of shopping centers who have decided to teach large areas in the management of specialized consultant departments, I would like to mention, besides S Immo with Sun Plaza, our VIVO! Customers at national level or the Felicia Shopping Center in Iasi. The main reason that favored this phenomenon is the need for cost efficiency by using experienced multidisciplinary teams and competitive suppliers. For a developer, it is more complicated to build interdisciplinary teams that enjoy the know-how, experience, training and resources provided by the CBRE network, capable of managing a complex process such as managing a shopping center or office building, "explains Luiza Moraru, Coordinator of the CBRE Property Management Division, for the Central and Eastern Europe region.

Outsourcing is also felt in the office building market, where a spectacular evolution has been noted over the past three years. While 24 per cent of the office building projects delivered in 2015 used the outsourcing of property management services, 57 per cent adopted this mode of work in 2016. The year 2017 marked a new leap: nearly 80 per cent of the office space benefited by the services of companies specialized in the field. The development of the property management market by specialized consultants in the office buildings segment is steadily increasing.

In 2015, the office space stock was 73,000 sqm, of which 17,700 sqm representing 24 per cent, turned to outsourcing property management services; In 2916, 294,000 sqm of office space were delivered, of which 167,300 sqm (57 per cent of the total area) were administered by external teams; Year 2017 marked the maturity approach of this segment: out of a total of 123,000 sqm of finished office space, 79 per cent of which was 97,300 sqm, were outsourced. "Increasing demand for external property management is a welcome phenomenon and a sign of maturing the local real estate market. The use of professional services increases the quality of work and reduces costs, generating significant savings for the owner and an improved experience for tenants and beneficiaries. The efficiency and transparency of day-to-day processes is a direct consequence of outsourcing management services. CBRE has a property management department since 2013 and I think one of our great strengths is the huge network experience we are benefiting from. We have thousands of colleagues around the world, whose know-how we know how to capitalize on it and adapt it to the local market.

In addition, CBRE invests heavily in technology dedicated to building management processes. We have acquired and developed software applications and solutions to provide our customers with the best services available on the market today, "added Valeriu Toma, CBRE Romania's Deputy Head of Asset Services. According to CBRE representatives, by retail and office space, 2018 will be the year of the industrial sector in terms of increasing the number of externally managed projects.

CBRE's client property portfolio includes, in addition to shopping centers, several office buildings, including Times Square, Vastint, or Green Gate in Bucharest. At present, CBRE manages 300 properties in Central and Eastern Europe, that is, an area of 3,950,000 square meters, of which 1,800,000 square meters of shopping centers and 1,000,000 square meters of office space, with the rest of the area being industrial and logistics areas. In Romania, CBRE's dedicated department, set up at the end of 2013 under the management of Luiza Moraru, currently has 11 properties, with a total area of 400,000 sqm.

---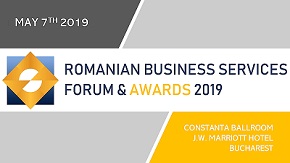 » Evolving from consumers of resources t...
» Preparing for the new future
» ROMANIAN OUTSOURCING AWARDS FOR EXCELL...
» Pepper Escu, the first humanoid robot ...
» Volvo Cars and Uber present production...
» Berg Software Romania: Reasons to outs...
» Marian V. Popa: Meet the speakers at R...
» Deloitte 2019 Global Human Capital Tre...
» Andrei Voica: Meet the speakers at Rom...
» How giving back pays dividends for com...

Digital Transformation Conference to take place on June 19 at Bucharest

The Diplomat – Bucharest organizes Digital Transformation Conference to be held on 14 of June in Bucharest, at Hilton Hotel - Regina Maria Hall, starting 8:30 AM.
Read Full article »
L&D Conference by The Diplomat Bucharest took place on June 4th at Bucharest

The Diplomat-Bucharest organizes the Third Edition of its Learning & Development CONFERENCE on 4 June, 2019 at InterContinental Hotel Bucharest starting 09:00 am.
Read Full article »
Meet the winners of ROMANIAN BUSINESS SERVICES AWARDS, 2019 edition

ROMANIAN BUSINESS SERVICES FORUM & AWARDS 2019, in its fifth year, brrought on May 7, in Bucharest, a new concept event with engaging keynote sessions by industry leaders, interactive panel discussions, network
Read Full article »
Few hours away from to the long awaited CEO Leaders Debate, a premiere of Romanian Business Services Forum and Awards
We are a few hours away to the long awaited CEO Leaders Debate, a premiere of Romanian Business Services Forum and Awards on May 7.
Read Full article »
Colin C. Lovering: Meet the speakers at Romanian Business Services Forum & Awards 2019, on May 7

Colin C. Lovering has been living and working in Romania since 2009 when he arrived to offer consultancy and advice to organisations looking for growth and profitability and founded Achieve International.
Read Full article »