SAP will "adopt a school" also in Cluj-Napoca, Timisoara and Bucharest


SAP continues in 2018 the project Adopta o Scoala (Adopt a School) through which the company's employees support Scratch programming courses in three primary schools in Bucharest, Timisoara and Cluj-Napoca.

Within this project, fourth grade students will learn to develop applications in the popular programming language Scratch, from January 19th to June 15th. The initiative started last year in Cluj-Napoca where 7 SAP volunteers "adopted" the Emil Isac school.

At the end of the six-month course, students will learn to search for and use media resources, analyze images and videos using libraries, follow tutorials and instructions, test and solve bugs, create animations, programming concepts: sequences, loops, events, conditional structures, operators and variables, game design elements: creation, control of mouse characters and keyboard.

Scratch, a programming language developed at MIT Media Lab, is used by students, teachers, parents to easily create animations, games, applications. It was created especially for children from 8 to 16 years, but is used by people of all ages. Even though not all children will eventually follow a career in programming, the skills developed using digital games learning, such as creativity, systematic thinking, teamwork, are needed to better understand and solve the challenges encountered in the chosen professions.

Children and Technology: A winning combination for a better future

"In a digital world like today, programming is a fundamental skill alongside math and reading, but too few children have the opportunity to learn to program, and this discipline is rarely taught at school. Through the Adopt a School program, we want to create a fun and exciting platform where children not only learn to program but have the opportunity to be creative using scheduling. Even from the first Scratch meetings, we had great feedback from the kids. They are very curious and want to discover as many things as possible. Of the 25 students who signed up, we have no absences, "said Sarbrina Mitu, SAP Hybrid Commerce Business Analyst and project initiator.

Throughout history, technology has had the power to turn every aspect of society, from business, to local or national governments. Transformation is still ongoing through new sessions: Artificial Intelligence, Robotics, Internet of Things, cybersecurity, or data science. More and more jobs in all industries require a certain level of knowledge in technology or computer science. According to the World Economic Forum, 65 per cent of today's first grade children will have jobs that do not exist today. The SAP initiative has the role of making children understand and even create the applications and games they use so often, skills that will enable them to keep up with the rapid changes in technology.



---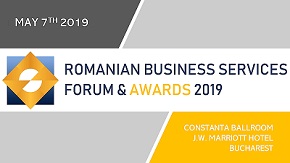 » Huawei opens a centre on cyber securit...
» ROMANIAN OUTSOURCING AWARDS FOR EXCELL...
» Romania ranks above EU average in gend...
» Bucharest, in the top of cities in Eur...
» Meet the experts who will decide the w...
» Berg Software Romania: Reasons to outs...
» KPMG launches an application enabling ...
» Bogdan Pelinescu, president of ABSL: A...
» ABSL GALA AWARDS celebrated its winner...
» George Rotariu, CEO Bitcoin Romania: B...

Catalina Dodu - Meet the speakers at Romanian Business Services Forum 2019 CEO LEADERS DEBATE, on May 7

Catalina Dodu runs the operations of Atos Romania since March 2014, with an experience of over 15 years in IT management. Previous to being appointed Country Manager, Catalina managed the System Integration div
Read Full article »
Philippe Beucher: Meet the speakers at Romanian Business Services Forum 2019 CEO LEADERS DEBATE, on May 7

Philippe Beucher is the Managing Director of Accenture Operations – Danubia Region, leading the Operations entity for Romania, Czech Republic, Slovakia and Hungary starting from February 2019. For the past 1
Read Full article »
Meet the speakers at Romanian Business Services Forum 2019 CEO LEADERS DEBATE, on May 7th - Matthieu Pasquier

Matthieu Pasquier is CEO of Societe Generale European Business Services since August 2018 bringing more than 27 years experience in Societe Generale group. During 2014-2018, Matthieu was Head of SG GSC Chennai
Read Full article »
Sorin Mindrutescu among the speakers at Romanian Business Services Forum 2019 CEO LEADERS DEBATE, on May 7th

Sorin Mindrutescu is the Country Leader for Oracle Romania, as of February 2003. In this role, he is responsible for local sales and project delivery. In Romania, Oracle has two major business directions: the l
Read Full article »
Meet the speakers at Romanian Business Services Forum 2019 CEO LEADERS DEBATE, on May 7th - Vivek Bakshi

Vivek Bakshi is the General Manager of Wipro Technologies. He has spent 12 years heading the International Locations / Delivery Centers Europe from the Bucharest office.
Read Full article »