96% of the first generation of ABSL Master's graduates were employed in business services

96% of the first generation of ABSL Master's graduates were employed in the same field they have studied - business services, within the member companies of the Association of Business Leaders in Romania (ABSL), the creator of this program.

Graduation diplomas were offered in a ceremony yesterday, in the presence of the professors, business leaders who taught them during the two years, and representatives of ABSL member companies who supported them through scholarships and internship programs.

The business services industry, one of the most profitable in Romania, has a market potential of 300,000 people and currently employs around 120,000 people. The need for skilled workforce has determined companies to be creative in spotting and educating the talent in people, including the development of a Master's Degree in Business Services.

The Master program was created by ABSL in partnership with the Bucharest University of Economic Studies (ASE), within the Faculty of Accounting and Management Information Systems and currently offers 50 seats for students interested in a career in the field. Out of these, 30 seats are funded by ABSL member companies. This year, the enrollment in the program takes place from July 23 to 25 and includes a written exam and an interview.

"Starting from a common need for qualified workforce in our member companies, ABSL decided to create a Master Program that combines theoretical and practical knowledge. Our program is designed to prepare young graduates for the present requirements of companies, giving them a real chance to find a position in a fast-developing industry offering impressive opportunities. We are grateful to all the benefactors of our program, proud of the first generation of graduates and we hope to replicate the program in other Universities." said Cătălin Iorgulescu, Vicepresident ABSL.

Master's courses are taught by ASE teachers and the seminars by experienced industry experts employed by ABSL member companies. An extremely important part of the seminars are case studies where master students are faced with market reality and examples of good industry practices and practical projects.

"Graduates of this master's program are starting their careers being prepared with the critical skills and know-how necessary to advance in specialists roles in the within the business services. It has been a real pleasure to provide my 10+ years of experience to such talented young people and prepare them for a smooth and effective integration into the workplace", said Cătălin Şerbănescu, Quality Assurance Manager Stefanini and Associate Professor in the Business Services Master.

"To highlight the strong link between the Business Services Master program and the business realities, its worth mentioning that one of the Master's Degree Thesis was describing a project that was recognized for its practical value and implemented globally in the business operations of a BPO company", said Associate Professor, PhD.,. Ionuţ Anica-Popa, ASE representative.

More information about signing up and about the program can be found here: http://mbs.ase.ro/.


Association of Business Service Leaders in Romania (ABSL) is the most important organization representing the business services sector, bringing together the most important market companies operating in areas such as Shared Services Center (SSC), Business Process Outsourcing (BPO), Information Technology Outsourcing (ITO) Research and Development (R & D).

The role of ABSL Romania is to support the expansion of the Business Service sector and its transformation into an important vector of Romania's economic growth. The association achieves its goals by facilitating the collaboration of the main players, as well as engaging authorities and interest groups in developing the key operational aspects of the industry.

The ABSL Romania includes both local and multinational companies, regional and global leaders such as: Accenture Services, Allianz Worldwide Partners, APT Resources & Services, Arvato Services Romania, Be Think Solve Execute, Bosch Service Solutions, Capgemini, Central Europe Technologies, Connections Consult, CRH Ciment Romania, DB Schenker, Deloitte Audit, DXC Technology, Ernst & Young, Eucom Business Language, Euromaster Tyre & Services, Genpact Romania, Global Remote Services, Goodyear Dunlop Tires Operations Romania, H Group IT Expert, HP Enterprise, HP Inc Romania, Luxoft Professional Romania, Mazars Consulting, Microfocus, Microsoft Romania, Mood Media, Office Depot Service Center, OMV Petrom Global Solutions, Optima Solutions Services, P4Cards, PwC Romania, Process Solutions, Procter & Gamble Marketing Romania, Renault Business Services, Samsung SSCE, SCC Services Romania, SELIR, Societe Generale European Business Services, Stefanini Romania, TELUS International, TMF Group, UniCredit Business Integrated Solutions, Valoris Center, Vauban IT, Veeam Software, Vodafone Shared Services Romania, Webhelp, Wipro Technologies și WNS Global Services Romania. ACCA, COS, Fine Law, HAYS, I Future, JLL, KPMG and SKANSKA also support ABSL as strategic partners of the association.


---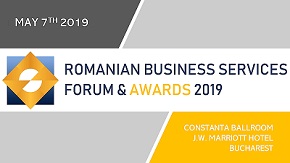 » Huawei opens a centre on cyber securit...
» ROMANIAN OUTSOURCING AWARDS FOR EXCELL...
» Romania ranks above EU average in gend...
» Bucharest, in the top of cities in Eur...
» Meet the experts who will decide the w...
» Berg Software Romania: Reasons to outs...
» KPMG launches an application enabling ...
» Bogdan Pelinescu, president of ABSL: A...
» ABSL GALA AWARDS celebrated its winner...
» George Rotariu, CEO Bitcoin Romania: B...

Catalina Dodu - Meet the speakers at Romanian Business Services Forum 2019 CEO LEADERS DEBATE, on May 7

Catalina Dodu runs the operations of Atos Romania since March 2014, with an experience of over 15 years in IT management. Previous to being appointed Country Manager, Catalina managed the System Integration div
Read Full article »
Philippe Beucher: Meet the speakers at Romanian Business Services Forum 2019 CEO LEADERS DEBATE, on May 7

Philippe Beucher is the Managing Director of Accenture Operations – Danubia Region, leading the Operations entity for Romania, Czech Republic, Slovakia and Hungary starting from February 2019. For the past 1
Read Full article »
Meet the speakers at Romanian Business Services Forum 2019 CEO LEADERS DEBATE, on May 7th - Matthieu Pasquier

Matthieu Pasquier is CEO of Societe Generale European Business Services since August 2018 bringing more than 27 years experience in Societe Generale group. During 2014-2018, Matthieu was Head of SG GSC Chennai
Read Full article »
Sorin Mindrutescu among the speakers at Romanian Business Services Forum 2019 CEO LEADERS DEBATE, on May 7th

Sorin Mindrutescu is the Country Leader for Oracle Romania, as of February 2003. In this role, he is responsible for local sales and project delivery. In Romania, Oracle has two major business directions: the l
Read Full article »
Meet the speakers at Romanian Business Services Forum 2019 CEO LEADERS DEBATE, on May 7th - Vivek Bakshi

Vivek Bakshi is the General Manager of Wipro Technologies. He has spent 12 years heading the International Locations / Delivery Centers Europe from the Bucharest office.
Read Full article »