The digitization barometer shows a concern for the growth level of digital transformation in Romania

Romania has the lowest rate of digital integration in Europe – a scenario that is holding Romanian businesses back from increasing profits, according to the 2018 Barometer of Digitalization of Companies in Romania.

Digital advancement is driving economies all across the European Union, with the continent's economic stalwarts positioned at the top of both the Digital Economies and Society Index (DESI) and the rankings for GDP per capita. At a glance, this provides an indication of the benefits reaped by companies adapting to the EU's 'Digital Agenda for Europe' plan. The bottom end of these indices, however, tell another story.

Elena Badea, Managing Partner of Valoria Business Solutions, said in the report: "The digitization barometer shows a concern for the growth level of digitization in Romania, especially in comparison to the year previous."

Romania currently has the second lowest GDP per capita in the European Union, ahead of only Bulgaria. With only a fraction of businesses in Romania being digitally active, the country brings up the rear of this year's DESI. Romanians are struggling to integrate digital business models with their businesses and, as a result, companies are lagging behind their European counterparts.

Romanian consulting firm Valoria Business Solutions has identified the groups of companies that are leading the way in the digital transformation, alongside the key problems areas. In the 2018 Barometer of Digitalisation of Companies in Romania, Valoria sought to determine whether a correlation exists between digitalisation and increased annual revenue. The results of the Barometer suggest that there is a correlation with the uptake in digital technologies and Romania's economic shortcomings.

The consulting firm analyses three main digital trends, and examines them against the backdrop of a company's annual revenue to understand where Romanian companies are at in terms of digital penetration. These include; the current influence of digitisation on a company, the know-how for digital transformation, and a company's existing digital business models.

Digital awareness on the rise

In terms of the impact that digitalisation has already had on a business, the respondents are both optimistic as well as realistic about their situation. 47 per cent of Romanian companies – compared to 35 per cent last year – say that digitisation has had a great influence on their business so far.

However only 42 per cent of Romanian companies have a website for their business, indicating that there is still a way to go in this regard. Furthermore, only 33 per cent of Romanian workers use a computer in their daily activities. In terms of e-commerce, the number of Romanian businesses that sell products online is even lower, sitting at 7 per cent nationally.

Romanians are becoming increasingly aware of the opportunities and challenges that digitisation brings. The greatest influence of digitalisation can be seen in firms with an annual revenue of €50-100 million at a digitalisation influence rate of 59 per cent . This number was closely followed by companies with over 100 million Euro of revenue with an uptake rate of 50 per cent.

This is also the case when looking at how confident companies are of their own abilities to bring about digital change, albeit with a smaller margin. This year, 53% of companies overall – in comparison to 31 Euro in 2017 – say that they are confident about digitisation and believe that they themselves have the knowledge to implement it.

However, companies with revenues higher than 50 million Euro and lower than 1 million Euro are higher than this average, showing that companies with revenues between 1-50 million Euro are lagging behind the competition. The report suggests that this is due to the fact that "high-income firms are strongly interested in implementing digital solutions to strengthen their dominant position in the market. Small businesses are privileged because they either have a digital DNA or have very little change to be done in their business model for digitalisation."

In terms of business models, 75 per cent of companies with a turnover over 100 million Euro stated that new and digitally endowed business models have greatly changed the industry in which they operate. This is followed by a dramatic drop to 41 per cent of companies with a turnover of between 50-100 Euromillion and 36 per cent of those with turnover of 10-50 million Euro. The majority of businesses within these three groups – with turnovers above 10 million Euro– do not believe that digital business models are a threat.

---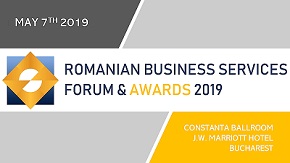 » The most appreciated companies from th...
» Webhelp Romania aiming for EUR 10 mill...
» Tremend joins Mellanox in powering the...
» The Outsourcing industry announces its...
» Manpower: Romania's labor market, more...
» Deloitte's Tech Trends 2019 report: B...
» Bucharest, in the top of cities in Eur...
» Oracle reaches 4,200 employees and pla...
» Genpact's COO: Staying ahead of the cu...
» Ascentis: The top ten HR trends for 20...

Nomination are now open for Romanian Business Services Forum and Awards

Nominations have opened for the prestigious Romanian Business Services Forum & Awards. The 2019 awards will continue to recognize and reinforce the important contribution made by business services professionals
Read Full article »
Study: 89 per cent of finance teams yet to embrace Artificial Intelligence

Report by Association of International Certified Professional Accountants and Oracle shows that almost 90 per cent of finance teams do not have the skills to support digital transformation.
Read Full article »
Bucharest, in the top of cities in Europe with the largest number of experts in high-tech industry

Bucharest is among the top cities boasting the most experts in the high-tech innovative industry, with over 70,000 current employees, next to London, Dublin, Madrid or Budapest, reads a study conducted by CBRE
Read Full article »
CBRE study: Post-millennials, the happiest about their offices
During 2018, real estate consultancy company CBRE conducted the first study dedicated to work environment in office buildings in Bucharest. The respondents have been structured in four age segments, such as Z g
Read Full article »
Deloitte's Tech Trends 2019 report: Beyond the digital frontier

The recently released Deloitte's Tech Trends 2019: Beyond the digital frontier, as each Tech Trends report in the series conducted by the consultancy company, lobbies for embracing the increasing, often mind-b
Read Full article »