Veeam marks record growth in 2018 to almost 1 billion Euro worth turnover

VeeamSoftware, the leader in intelligent data management for Hyper-Available Enterprise , marks the 39th consecutive quarter of growth , 21 per cent more than last year. Overall, the financial performance for 2017 was important, with revenues of 827 million dollars, the company said.

At the same time, the company \announced it signed several contracts worth $ 500,000 in 2017 than in the past six years. This consistent development is due to continuous innovation. The company attracts 133 new customers from around the globe every day and has recorded a Net Promoter Score (NPS) of 73 - 3.5 times the average of the industry.

"Organizations across the globe face a massive increase in data sprawl, and the need to make data and applications available in a multi-cloud complex environment is larger than ever," said Peter McKay, Co-CEO and President of Veeam. "We still have a two-digit growth rate, while its competitors are declining. We are leaders in ensuring availability for any kind of application, any kind of data, and within any cloud system, and by the end of 2018 we will achieve a one billion Euro worth turnover. "

The latest Net Promoter Score (NPS) shows that Veeam is the indisputable industry leader in customer satisfaction, achieving a score of 73. This places Veeam ahead of some of the largest and most respected companies in terms of customer satisfaction, 3.5 times the industry average. It is the fifth consecutive year in which Veeam's performance grew faster than that of the industry. To detail the rankings, customers offered multi-level responses. More than 90 per cent of respondents answered whether they are satisfied with Veeam as a software vendor, whether they would recommend Veeam solutions to their friends and colleagues, or renew their contract, stating that they are fully satisfied with the features and functionality of Veeam products.

---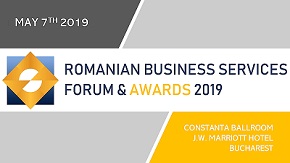 » The most appreciated companies from th...
» Webhelp Romania aiming for EUR 10 mill...
» Tremend joins Mellanox in powering the...
» Manpower: Romania's labor market, more...
» The Outsourcing industry announces its...
» Deloitte's Tech Trends 2019 report: B...
» Bucharest, in the top of cities in Eur...
» Oracle reaches 4,200 employees and pla...
» Genpact's COO: Staying ahead of the cu...
» CBRE study: Post-millennials, the happ...

Nomination are now open for Romanian Business Services Forum and Awards

Nominations have opened for the prestigious Romanian Business Services Forum & Awards. The 2019 awards will continue to recognize and reinforce the important contribution made by business services professionals
Read Full article »
Study: 89 per cent of finance teams yet to embrace Artificial Intelligence

Report by Association of International Certified Professional Accountants and Oracle shows that almost 90 per cent of finance teams do not have the skills to support digital transformation.
Read Full article »
Bucharest, in the top of cities in Europe with the largest number of experts in high-tech industry

Bucharest is among the top cities boasting the most experts in the high-tech innovative industry, with over 70,000 current employees, next to London, Dublin, Madrid or Budapest, reads a study conducted by CBRE
Read Full article »
CBRE study: Post-millennials, the happiest about their offices
During 2018, real estate consultancy company CBRE conducted the first study dedicated to work environment in office buildings in Bucharest. The respondents have been structured in four age segments, such as Z g
Read Full article »
Deloitte's Tech Trends 2019 report: Beyond the digital frontier

The recently released Deloitte's Tech Trends 2019: Beyond the digital frontier, as each Tech Trends report in the series conducted by the consultancy company, lobbies for embracing the increasing, often mind-b
Read Full article »