Andrei Romanescu CEO, VEEAM, on the importance of people skills and leadership forming

Within the recently ended OT Learning & Development roundtable edition, Andrei Romanescu CEO, VEEAM stated that he trends of the current and following years underline the importance of people skills and leadership forming. "We need to calibrate our expectations regarding our skills to this context, to prepare ourselves now for the future."

Andrei Romanescu from VEEAM gave consistence to this provocative subject with local examples: "Learning and Development is a really challenging topic. I can set a context in which jobs didn't exist 10 to 15 years ago, such as employer branding, social media, mobile application developer, data scientist. More, 12 or 13 years ago, there was no IPhone, there was no Facebook platform. Studies show that there will be jobs that will disappear, especially in the transactional and services area such as data operator, machine operators, mail operators. We need to calibrate our expectations regarding our skills to this context, to prepare ourselves now for the future. There will be jobs given odd names such as human-technology integration specialist, telesurgeon, garbage designer, trash engineer, chief productivity officer."

Romanescu also referred to the need of existing pool of specialists, leaders and juniors to adjust to the fast changes that are already impacting our jobs. Weird concepts such as mental elasticity, critical thinking, or hard-to-digest acronyms such as STEM (Science Technology Engineering and Math), SMAC (Social, Mobile, Analytics & Cloud) will have to be embraced in the new skill portfolio of the future employee. However, the area of L&D will equally need the people skills, increasingly important in the future tech world.

In this world, the changes already started to emerge in an area that is directly related to the development of business shared services businesses, that of the real estate and the office development and trading segment.

The statements have been uttered within the second edition of OT Learning & Development. This special event which exclusively focuses on maybe one of the most important aspects of the working ecosystem – the learning and development - was organized on June 7th at InterContinental Hotel Bucharest.

The event organized as roundtable brought together the business services professionals to discuss and discover new tools and programs designed to assist businesses in supporting employee development and was organized with the support of: Gold Partners Wipro, Portland Trust, Expo Business Park, Colliers, with the support of ABSL, ANIS, ClujIT.

The discussions during this roundtable have been sustained by a strong panel lineup, with the event's moderator Andrei Romanescu, CEO of VEEAM, along with Teodora Todoran, Head, Training Function – Europe, Wipro Limited, Francine Rosca, Global Head of Employee Learning Experience, HP, Marius Istudora, Marketing Manager, Portland Trust, George Didoiu, Associate Director, Colliers, Daniel Adumitrachioaiei, HRD, CapGemini.

During OT Learning & Development, the topics in the agenda aimed at focusing on the exchange knowledge of relevant trends and research results as well as the presentation of practical experiences gained while developing, designing and testing elements of advanced corporate learning. As we have witnessed in the past years, technology started to emerge in all the aspects of a profession and jo title. The technology also created a plenty of jobs around, especially tech jobs, with titles like app developer, social media director and Uber driver among the ones that didn't exist a decade ago. And the work landscape will continue to evolve, bringing us positions in the next two decades that we can barely imagine now. In this light, the panelists that holds managerial and business leading positions within the companies operating in outsourcing industry as well as in related stakeholder businesses, touched this subject referring to the challenges they trigger on the local scene.

---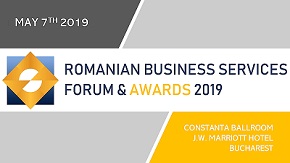 » Romania slides 10 positions in A.T. Ke...
» Having a say in the world of the busin...
» ROMANIAN OUTSOURCING AWARDS FOR EXCELL...
» Digitaljob.ro: Romanian software, onli...
» Ubisoft Coding Campus records 1,000 ap...
» Meet the winners of ROMANIAN BUSINESS ...
» Genpact's COO: Staying ahead of the cu...
» Digital Transformation Conference to t...
» Berg Software Romania: Reasons to outs...
» Andrei Voica: Meet the speakers at Rom...

Value creation enabled by people and innovation

As CEO of SG EBS since July 2018, you took over the Group's development strategy of the company on the Romanian market. Please share with us some of your conclusions, after almost one year of mandate, and plans
Read Full article »
Having a say in the world of the business service leaders

In Romania, The Association of Business Service Leaders in Romania (ABSL) is the organization that represents the business services sector in Romania, gathering high profile companies which conduct business in
Read Full article »
Digital Transformation Conference to take place on June 19 at Bucharest

The Diplomat – Bucharest organizes Digital Transformation Conference to be held on 14 of June in Bucharest, at Hilton Hotel - Regina Maria Hall, starting 8:30 AM.
Read Full article »
L&D Conference by The Diplomat Bucharest took place on June 4th at Bucharest

The Diplomat-Bucharest organizes the Third Edition of its Learning & Development CONFERENCE on 4 June, 2019 at InterContinental Hotel Bucharest starting 09:00 am.
Read Full article »
Meet the winners of ROMANIAN BUSINESS SERVICES AWARDS, 2019 edition

ROMANIAN BUSINESS SERVICES FORUM & AWARDS 2019, in its fifth year, brrought on May 7, in Bucharest, a new concept event with engaging keynote sessions by industry leaders, interactive panel discussions, network
Read Full article »