Atos ranked in Top Five for Managed Security Services, Worldwide by Gartner

Atos, a global leader in digital transformation today announces that it has been ranked amongst the top 5 global players in Managed Security Services (MSS) in terms of 2017 market share revenue, according to the latest Gartner report.

Atos has consistently grown its market share in MSS and expanded its MSS revenue by more than 10 per cent from 2016 to 2017, exceeding the overall market growth.

With a global team of over 5,000 security specialists and a worldwide network of 14 Security Operation Centers (SOCs), Atos offers an end-to-end security partnership. Atos integrates the best technologies and offers a full portfolio of advanced security products and solutions, helping clients turn risk into business value.

As a trusted partner, Atos develops, operates and maintains cutting-edge digital solutions that combine computing power, security and systems integration in the fields of identity and access management, data encryption, IoT security, ultra-secure mobile communications. Atos' solutions support clients in meeting access and control requirements that European and global regulations demand.

"We feel this result reflects the expertise of our strong team of security experts" said Chris Moret, Senior Vice President Cybersecurity at Atos. "We provide continuous protection in a rapidly changing world, managing more than 100 million security events every hour. Additionally, our managed security services portfolio is in constant evolution against future threats."

Security is also at the heart of the new partnership between Atos and Google Cloud. The expanded Atos solution will complement Google Cloud's advanced and comprehensive set of security features with a multilayered defense approach delivering enhanced security to customers. Atos' integration capabilities will also help Google's European customers comply with global data government rules.

Furthermore, Atos' Prescriptive SOC prevents breaches from happening by leveraging big data and supercomputing capabilities and automating security responses. Atos recently signed a deal with the Commonwealth of Virginia to protect its technology infrastructure with next generation cybersecurity solutions.

---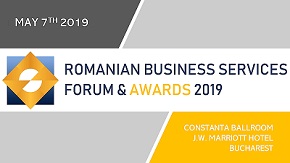 » The most appreciated companies from th...
» Webhelp Romania aiming for EUR 10 mill...
» Tremend joins Mellanox in powering the...
» The Outsourcing industry announces its...
» Manpower: Romania's labor market, more...
» Deloitte's Tech Trends 2019 report: B...
» Bucharest, in the top of cities in Eur...
» Oracle reaches 4,200 employees and pla...
» Genpact's COO: Staying ahead of the cu...
» Ascentis: The top ten HR trends for 20...

Nomination are now open for Romanian Business Services Forum and Awards

Nominations have opened for the prestigious Romanian Business Services Forum & Awards. The 2019 awards will continue to recognize and reinforce the important contribution made by business services professionals
Read Full article »
Study: 89 per cent of finance teams yet to embrace Artificial Intelligence

Report by Association of International Certified Professional Accountants and Oracle shows that almost 90 per cent of finance teams do not have the skills to support digital transformation.
Read Full article »
Bucharest, in the top of cities in Europe with the largest number of experts in high-tech industry

Bucharest is among the top cities boasting the most experts in the high-tech innovative industry, with over 70,000 current employees, next to London, Dublin, Madrid or Budapest, reads a study conducted by CBRE
Read Full article »
CBRE study: Post-millennials, the happiest about their offices
During 2018, real estate consultancy company CBRE conducted the first study dedicated to work environment in office buildings in Bucharest. The respondents have been structured in four age segments, such as Z g
Read Full article »
Deloitte's Tech Trends 2019 report: Beyond the digital frontier

The recently released Deloitte's Tech Trends 2019: Beyond the digital frontier, as each Tech Trends report in the series conducted by the consultancy company, lobbies for embracing the increasing, often mind-b
Read Full article »