OT Learning & Development: About capitalizing on self-willingness to reach performance

How to succeed in reaching the young and the valuable employees and wining their hearts and minds, so they will forever be committed to gain knowledge, evolve in profession and build a strong career inside the companies? How to capitalize on their curiosity, how to nurture and cultivate it so they show a real hunger for reaching new knowledge and skills, so useful for companies' development and business growth?

A consistent dose of valuable insights on these topics has been offered by a strong list of leaders and managers present at Outsourcing Today's dedicated series of events of 2018, completed this summer with the second edition of OT Learning & Development. This special event which exclusively focuses on maybe one of the most important aspects of the working ecosystem – the learning and development - was organized on June 7th at InterContinental Hotel Bucharest.

The event organized as roundtable brought together the business services professionals to discuss and discover new tools and programs designed to assist businesses in supporting employee development and was organized with the support of: Gold Partners Wipro, Portland Trust, Expo Business Park, Colliers, with the support of ABSL, ANIS, ClujIT.

The discussions during this roundtable have been sustained by a strong panel lineup, with the event's moderator Andrei Romanescu, CEO of VEEAM, along with Teodora Todoran, Head, Training Function – Europe, Wipro Limited, Francine Rosca, Global Head of Employee Learning Experience, HP, Marius Istudora, Marketing Manager, Portland Trust, George Didoiu, Associate Director, Colliers, Daniel Adumitrachioaiei, HRD, CapGemini.

The roundtable opened with Andrei Romanescu from VEEAM, who gave consistence to this provocative subject with local examples: "Learning and Development is a really challenging topic. I can set a context in which jobs didn't exist 10 to 15 years ago, such as employer branding, social media, mobile application developer, data scientist. More, 12 or 13 years ago, there was no IPhone, there was no Facebook platform. Studies show that there will be jobs that will disappear, especially in the transactional and services area such as data operator, machine operators, mail operators. We need to calibrate our expectations regarding our skills to this context, to prepare ourselves now for the future. There will be jobs given odd names such as human-technology integration specialist, telesurgeon, garbage designer, trash engineer, chief productivity officer." Romanescu also referred to the need of existing pool of specialists, leaders and juniors to adjust to the fast changes that are already impacting our jobs. Weird concepts such as mental elasticity, critical thinking, or hard-to-digest acronyms such as STEM (Science Technology Engineering and Math), SMAC (Social, Mobile, Analytics & Cloud) will have to be embraced in the new skill portfolio of the future employee. However, the area of L&D will equally need the people skills, increasingly important in the future tech world.

Read the full report on this summer's edition of OT Learning & Development in the upcoming printed and online issue of Outsourcing Today.

---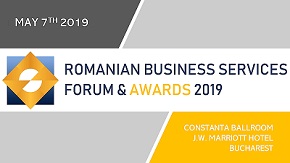 » Raiffeisen Bank Romania outsources onl...
» Horváth & Partners launches Steering ...
» JLL: Total office space in Bucharest t...
» Genpact, Luxoft and Oracle, top lessee...
» SSC in Romania. Who takes the lion's s...
» Oracle results pushed down by a strong...
» World-class HR organizations now spend...
» Romanian employers report the stronges...
» ROMANIAN OUTSOURCING AWARDS FOR EXCELL...
» Eucom: Nine out of ten corporate Roman...

My HR Lab: Research of suitable candidates and giving feedback to rejected ones, the biggest challenge in HR

During June 2019, My HR Lab company run an online (social media platforms) survey "Challenges of the recruitment process" which enrolled over 100 professionals working in HR and recruitment in Romania.
Read Full article »
The local market needs more added-value and complex projects to be developed by the companies

The statement has been uttered within this year's Romanian Outsourcing and Shared Services Summit by Catalina Dodu, Country Manager at Atos, pointing to the local enablers that could enhance the innovation and
Read Full article »
The office market at a glance: The round for tenants is on

Data provided by CBRE show that the office spaces segment will continue to grow rapidly in 2019, and 15 new projects covering 304.000 sqm will be delivered. According to the real estate consultancy agency, curr
Read Full article »
People Empowering Business Forum 2019 to take place on October, 30 at Bucharest

Latest trends like demographic upheaval, globalization, digital technology, and changing social values and worker expectations, are disrupting business models and radically changing the workplace. These are req
Read Full article »
Addressing the mantra of cyber-security: Confidentiality, integrity and availability

The fast advancement of technology in all the aspects of everyday life, either personal or professional, and the emerging of AI (Artificial Intelligence) and ML (Machine Learning), not to mention cloud technolo
Read Full article »