OT Learning & Development: About capitalizing on self-willingness to reach performance

How to succeed in reaching the young and the valuable employees and wining their hearts and minds, so they will forever be committed to gain knowledge, evolve in profession and build a strong career inside the companies? How to capitalize on their curiosity, how to nurture and cultivate it so they show a real hunger for reaching new knowledge and skills, so useful for companies' development and business growth?

A consistent dose of valuable insights on these topics has been offered by a strong list of leaders and managers present at Outsourcing Today's dedicated series of events of 2018, completed this summer with the second edition of OT Learning & Development. This special event which exclusively focuses on maybe one of the most important aspects of the working ecosystem – the learning and development - was organized on June 7th at InterContinental Hotel Bucharest.

The event organized as roundtable brought together the business services professionals to discuss and discover new tools and programs designed to assist businesses in supporting employee development and was organized with the support of: Gold Partners Wipro, Portland Trust, Expo Business Park, Colliers, with the support of ABSL, ANIS, ClujIT.

The discussions during this roundtable have been sustained by a strong panel lineup, with the event's moderator Andrei Romanescu, CEO of VEEAM, along with Teodora Todoran, Head, Training Function – Europe, Wipro Limited, Francine Rosca, Global Head of Employee Learning Experience, HP, Marius Istudora, Marketing Manager, Portland Trust, George Didoiu, Associate Director, Colliers, Daniel Adumitrachioaiei, HRD, CapGemini.

The roundtable opened with Andrei Romanescu from VEEAM, who gave consistence to this provocative subject with local examples: "Learning and Development is a really challenging topic. I can set a context in which jobs didn't exist 10 to 15 years ago, such as employer branding, social media, mobile application developer, data scientist. More, 12 or 13 years ago, there was no IPhone, there was no Facebook platform. Studies show that there will be jobs that will disappear, especially in the transactional and services area such as data operator, machine operators, mail operators. We need to calibrate our expectations regarding our skills to this context, to prepare ourselves now for the future. There will be jobs given odd names such as human-technology integration specialist, telesurgeon, garbage designer, trash engineer, chief productivity officer." Romanescu also referred to the need of existing pool of specialists, leaders and juniors to adjust to the fast changes that are already impacting our jobs. Weird concepts such as mental elasticity, critical thinking, or hard-to-digest acronyms such as STEM (Science Technology Engineering and Math), SMAC (Social, Mobile, Analytics & Cloud) will have to be embraced in the new skill portfolio of the future employee. However, the area of L&D will equally need the people skills, increasingly important in the future tech world.

Read the full report on this summer's edition of OT Learning & Development in the upcoming printed and online issue of Outsourcing Today.

---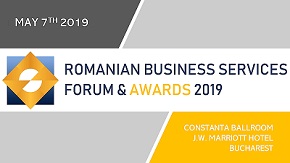 » Huawei opens a centre on cyber securit...
» ROMANIAN OUTSOURCING AWARDS FOR EXCELL...
» Romania ranks above EU average in gend...
» Bucharest, in the top of cities in Eur...
» Meet the experts who will decide the w...
» Berg Software Romania: Reasons to outs...
» KPMG launches an application enabling ...
» Bogdan Pelinescu, president of ABSL: A...
» ABSL GALA AWARDS celebrated its winner...
» George Rotariu, CEO Bitcoin Romania: B...

Catalina Dodu - Meet the speakers at Romanian Business Services Forum 2019 CEO LEADERS DEBATE, on May 7

Catalina Dodu runs the operations of Atos Romania since March 2014, with an experience of over 15 years in IT management. Previous to being appointed Country Manager, Catalina managed the System Integration div
Read Full article »
Philippe Beucher: Meet the speakers at Romanian Business Services Forum 2019 CEO LEADERS DEBATE, on May 7

Philippe Beucher is the Managing Director of Accenture Operations – Danubia Region, leading the Operations entity for Romania, Czech Republic, Slovakia and Hungary starting from February 2019. For the past 1
Read Full article »
Meet the speakers at Romanian Business Services Forum 2019 CEO LEADERS DEBATE, on May 7th - Matthieu Pasquier

Matthieu Pasquier is CEO of Societe Generale European Business Services since August 2018 bringing more than 27 years experience in Societe Generale group. During 2014-2018, Matthieu was Head of SG GSC Chennai
Read Full article »
Sorin Mindrutescu among the speakers at Romanian Business Services Forum 2019 CEO LEADERS DEBATE, on May 7th

Sorin Mindrutescu is the Country Leader for Oracle Romania, as of February 2003. In this role, he is responsible for local sales and project delivery. In Romania, Oracle has two major business directions: the l
Read Full article »
Meet the speakers at Romanian Business Services Forum 2019 CEO LEADERS DEBATE, on May 7th - Vivek Bakshi

Vivek Bakshi is the General Manager of Wipro Technologies. He has spent 12 years heading the International Locations / Delivery Centers Europe from the Bucharest office.
Read Full article »