Accenture assigns 200 mln. US dollars to digital age-focused education, training and skills initiatives in the next 3 years

Supporting its vision to improve the way the world works and lives, Accenture (NYSE: ACN) is committing more than 200 million US dollars over the next three years to help equip people around the world with job skills for the digital age.

"As a technology leader, we have an obligation to apply new scalable technology solutions to help solve complex societal challenges," said Pierre Nanterme, Accenture's chairman and CEO. "Our investments will continue to empower Accenture to produce socially minded partnerships and programs that will have a profound impact on the lives of millions of people throughout the world, now and for the future."

Accenture's commitment will help support Skills to Succeed, Tech4Good, Accenture Development Partnerships and related Accenture initiatives.

The company's Skills to Succeed initiative advances employment and entrepreneurship opportunities, leveraging digital innovation to help close employment gaps at scale. Together with a network of nonprofits and other ecosystem partners, Accenture has since 2010 equipped more than 2.2 million people with the skills to get a job or build a business, with a goal of equipping a total of more than 3 million people by 2020. Examples of Accenture's Skills to Succeed partnerships include:
• Helping Youth Business USA develop a platform that uses artificial intelligence and analytics to connect young entrepreneurs from under-represented communities with the resources, skills, training and mentoring needed to grow their business
• Working with Rede Cidadã and Instituto Ser Mais in Brazil to provide low-income populations with the business and technical skills they need to build meaningful, lasting careers in technology, including the opportunity to be hired by Accenture.
Accenture's Tech4Good projects use advanced technologies to help solve critical challenges facing business and society. For instance, the company collaborated with The Grameen Foundation India, using technologies from AI to augmented reality, to help disadvantaged people improve their financial literacy to enhance their financial and social well-being. In collaboration with Club Egalité, Accenture Labs in Sophia Antipolis, France, is developing a virtual-reality game that helps teen students explore future-proof jobs and develop critical skills for the digital economy, with the goal of encouraging an interest in STEM careers.

Accenture Development Partnerships works across government, business and civil society, applying business and technology solutions to build capacity and strengthen programs for development organizations around the globe. For example, Accenture collaborated with the Spanish Ministry of Employment and a consortium of nonprofit partners and corporations in 2013 to create Emplea+, an online program that helps marginalized individuals develop technical, digital and soft skills needed for employment.

"The opportunity to improve lives requires collaboration across business, government and non-governmental organizations," Nanterme said. "As leaders weigh new technologies and applications, we all must ask ourselves: Does this benefit the next generation? If the answer is yes, it's the right thing to do."



---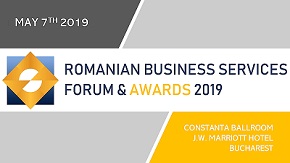 » The most appreciated companies from th...
» Webhelp Romania aiming for EUR 10 mill...
» Tremend joins Mellanox in powering the...
» Manpower: Romania's labor market, more...
» The Outsourcing industry announces its...
» Deloitte's Tech Trends 2019 report: B...
» Bucharest, in the top of cities in Eur...
» Oracle reaches 4,200 employees and pla...
» Genpact's COO: Staying ahead of the cu...
» Ascentis: The top ten HR trends for 20...

Nomination are now open for Romanian Business Services Forum and Awards

Nominations have opened for the prestigious Romanian Business Services Forum & Awards. The 2019 awards will continue to recognize and reinforce the important contribution made by business services professionals
Read Full article »
Study: 89 per cent of finance teams yet to embrace Artificial Intelligence

Report by Association of International Certified Professional Accountants and Oracle shows that almost 90 per cent of finance teams do not have the skills to support digital transformation.
Read Full article »
Bucharest, in the top of cities in Europe with the largest number of experts in high-tech industry

Bucharest is among the top cities boasting the most experts in the high-tech innovative industry, with over 70,000 current employees, next to London, Dublin, Madrid or Budapest, reads a study conducted by CBRE
Read Full article »
CBRE study: Post-millennials, the happiest about their offices
During 2018, real estate consultancy company CBRE conducted the first study dedicated to work environment in office buildings in Bucharest. The respondents have been structured in four age segments, such as Z g
Read Full article »
Deloitte's Tech Trends 2019 report: Beyond the digital frontier

The recently released Deloitte's Tech Trends 2019: Beyond the digital frontier, as each Tech Trends report in the series conducted by the consultancy company, lobbies for embracing the increasing, often mind-b
Read Full article »