Oracle: Customer connection missing as manufacturers yet to produce rewards from industry 4.0

Research of global manufacturers developed by Oracle with research company Coleman Parkes shows initial Industry 4.0 focus has been on internal changes rather than removing supplier, distributor and customer siloes.

Manufacturers are yet to use Industry 4.0 operating principles to get closer to customers, suppliers and distributors, reveals a new study from Oracle.
The research showed just over a third of manufacturers have used Industry 4.0 technology to remove all data siloes from across their value chain, while only 40 per cent have an open exchange of data with suppliers and distributors. For decision making processes, less than half, have integrated customer data and just 45 per cent have integrated supplier and distributor data.
Although the majority of manufacturers worldwide have invested in Industry 4.0-led programmes, only 17 per cent have transformed their business models as a result, with only a quarter of manufacturers gaining greater visibility into how customers purchase and use their products. Just over half, meanwhile, are using customer data to inform the design and manufacture of new products.
The research did show encouraging initial results from manufacturers that have created an internal digital thread within their own organisation, with 82 per cent of those who had integrated data internally seeing a benefit from it.

John Barcus, Vice President, Manufacturing Industries at Oracle, said: "It's good to see manufacturers reaping some rewards from their Industry 4.0-led programmes, but there's clearly a long way to go before their investments begin to have the disruptive and transformative impact they promise. Removing siloes internally is a good start but that digital thread has yet to extend outside the organisation and throughout the value chain. That is when real business transformation will take hold. Using interoperable and interconnected cloud-based systems is the easiest way manufacturers can securely integrate supplier and distributor data and make better use of customer and sensor data to manage the impact of disruptive forces.".

Promisingly for European manufacturers, the survey showed their Industry 4.0 gains are on a par with their Chinese counterparts, the research showed results to be relatively flat. In fact, only 34 per cent of Chinese manufacturers had integrated end user and customer data into their decision-making – lower than the global average of 43 per cent. However, more than half (53 per cent) admitted it was an area where they needed to improve – again, against 43 per cent globally.

In fact, overall, when it came to next steps for their Industry 4.0 implementations, manufacturers ranked customer-facing operations as the most crucial place for change within the next three years. Half said they would be focusing on removing data siloes and 47 per cent acknowledged they needed to create a more open exchange of data with suppliers and distributors.


---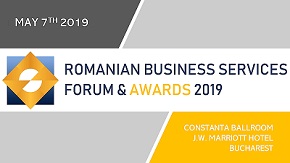 » The most appreciated companies from th...
» Webhelp Romania aiming for EUR 10 mill...
» Tremend joins Mellanox in powering the...
» The Outsourcing industry announces its...
» Manpower: Romania's labor market, more...
» Deloitte's Tech Trends 2019 report: B...
» Bucharest, in the top of cities in Eur...
» Oracle reaches 4,200 employees and pla...
» Genpact's COO: Staying ahead of the cu...
» Ascentis: The top ten HR trends for 20...

Nomination are now open for Romanian Business Services Forum and Awards

Nominations have opened for the prestigious Romanian Business Services Forum & Awards. The 2019 awards will continue to recognize and reinforce the important contribution made by business services professionals
Read Full article »
Study: 89 per cent of finance teams yet to embrace Artificial Intelligence

Report by Association of International Certified Professional Accountants and Oracle shows that almost 90 per cent of finance teams do not have the skills to support digital transformation.
Read Full article »
Bucharest, in the top of cities in Europe with the largest number of experts in high-tech industry

Bucharest is among the top cities boasting the most experts in the high-tech innovative industry, with over 70,000 current employees, next to London, Dublin, Madrid or Budapest, reads a study conducted by CBRE
Read Full article »
CBRE study: Post-millennials, the happiest about their offices
During 2018, real estate consultancy company CBRE conducted the first study dedicated to work environment in office buildings in Bucharest. The respondents have been structured in four age segments, such as Z g
Read Full article »
Deloitte's Tech Trends 2019 report: Beyond the digital frontier

The recently released Deloitte's Tech Trends 2019: Beyond the digital frontier, as each Tech Trends report in the series conducted by the consultancy company, lobbies for embracing the increasing, often mind-b
Read Full article »