The need of the industry to stay effective and relevant

In the current context of machinery and AI helping on operational processes of a company, with extended applicability in terms of capabilities, the digital context in which professionals, organizations and business infrastructure should operate become more sophisticated.

According to RAZVAN PIRVU, Head of Region Engagement, Operate Flow, Global Services Operations, Ericsson, digitalization should be embraced at the early stages of profession development: "We are looking at machinery helping to smarter processes and to become more effective and proactive. The way that we cope with this is through creating the right human resources, by changing our focus from offering the graduates and undergraduates jobs within front office and back office, in first and second lines, operational jobs propositions. We need to think of a system that can offer them more advanced positions. To move people from work-intensive jobs to more intelligence-intensive roles, to empower them with more sophisticated positions. To use their creativity resources in the better benefits of the company."

According to the representative of Ericsson company, Romania also has now a great advantage, one that other developed countries don't hold it, that is the opportunity to build on the entrepreneurship. The young people in Romania are entrepreneurship-oriented and this should be capitalized on. "We should not stay behind and let the language skills to dominate the offer of competitive advantages for the Romanian market. This will be soon overcome by AI. We need to emphasize on real advantages, such as creativity, innovation, everything that is human intelligence connected and can bring added value," Razvan Pirvu said.

The statement has been uttered within the first session of Romanian Outsourcing & Shared Services Summit focused on the digital transformation, the artificial intelligence revolution upending every sector of the economy. This promises huge opportunities to businesses that invest early while others could get left behind. The organizations are rapidly transforming to agile enterprises that require rapid development cycles and close coordination between business, engineering and operations.


---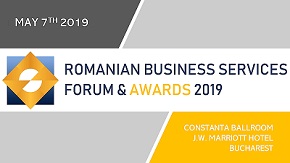 » Evolving from consumers of resources t...
» ROMANIAN OUTSOURCING AWARDS FOR EXCELL...
» Preparing for the new future
» Pepper Escu, the first humanoid robot ...
» Volvo Cars and Uber present production...
» Berg Software Romania: Reasons to outs...
» Marian V. Popa: Meet the speakers at R...
» Deloitte 2019 Global Human Capital Tre...
» George Didoiu: Meet the moderator of R...
» Andrei Voica: Meet the speakers at Rom...

Digital Transformation Conference to take place on June 19 at Bucharest

The Diplomat – Bucharest organizes Digital Transformation Conference to be held on 14 of June in Bucharest, at Hilton Hotel - Regina Maria Hall, starting 8:30 AM.
Read Full article »
L&D Conference by The Diplomat Bucharest took place on June 4th at Bucharest

The Diplomat-Bucharest organizes the Third Edition of its Learning & Development CONFERENCE on 4 June, 2019 at InterContinental Hotel Bucharest starting 09:00 am.
Read Full article »
Meet the winners of ROMANIAN BUSINESS SERVICES AWARDS, 2019 edition

ROMANIAN BUSINESS SERVICES FORUM & AWARDS 2019, in its fifth year, brrought on May 7, in Bucharest, a new concept event with engaging keynote sessions by industry leaders, interactive panel discussions, network
Read Full article »
Few hours away from to the long awaited CEO Leaders Debate, a premiere of Romanian Business Services Forum and Awards
We are a few hours away to the long awaited CEO Leaders Debate, a premiere of Romanian Business Services Forum and Awards on May 7.
Read Full article »
Colin C. Lovering: Meet the speakers at Romanian Business Services Forum & Awards 2019, on May 7

Colin C. Lovering has been living and working in Romania since 2009 when he arrived to offer consultancy and advice to organisations looking for growth and profitability and founded Achieve International.
Read Full article »