Comdata acquires CCA International, deal should be finalized in June

After the acquisition, mid-2017, and the successful integration of B2S (now Comdata France), the Comdata group signed, yesterday, an agreement on the acquisition of CCA International, the company says.

The group, led by Patrick Dubreil, and which achieves a 164 million-euro turnover throughout 12 countries, will join the former B2S, founded by Maxime Didier. The group clearly sets the course for the international and the BPO (business process outsourcing), one of the markets with the strongest growth. Accenture, Logica Bpo, Serco, Xerox are, as of now, the new rivals of the former call center and customer experience management groups, which expanded in silence.

Among these, the swiftest ones have triggered an overdrive. COMDATA will surely reach, by the end of the operation, the milestone of a turnover of one billion euros. It is run from Milan by Massimo Canturi, a former Cisco and Olivetti. CCA International has developed, especially over the last three years, a multi-shore, digital and Pan-European offer, that has attracted a large portfolio of world-class brands: Orange, Citroen, Coca Cola, Canal Plus, as well as major mobility or platform players.

After the operation, the new COMDATA Holding France group, which will soon be headed by Maxime Didier, should make more than 300€ millions in sales, and should thus occupy the second position in its domestic market. The COMDATA group as a whole would then cross the turnover mark of one billion euro, demonstrating with this its ambition to actively participate in the ongoing consolidation of its market, both at European and global levels.

This acquisition and its operation remain subject to approval by the current authorities, and should be finalized by June 2018.

Massimo Canturi, the group's CEO, declares "We deploy with enthusiasm and application our strategy which combines organic and external growth. With this operation, COMDATA sets itself on the firsts steps of the European podium and demonstrate its long-term commitment to serving its customers with the mot differentiated and the most comprehensive BPO CRM offer on the market."

Maxime Didier, CEO France adds "We are happy to welcome CCA's talented teams. They will bring us their know-how, their tenacity, and will benefit from the assets of the new ensemble. CCA's customers will quickly discover the benefit of COMDATA's unique expertise for their business."

Patrick Dubreil, CCA International's CEO, complements "This operation perfectly fits in the current consolidation logic, both at French and European levels. After B2S a few months ago, we ourselves became convinced of the solidity of the COMDATA positioning and of its advantage for our customers and employees."

---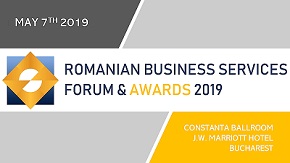 » Evolving from consumers of resources t...
» Preparing for the new future
» ROMANIAN OUTSOURCING AWARDS FOR EXCELL...
» Pepper Escu, the first humanoid robot ...
» Volvo Cars and Uber present production...
» Berg Software Romania: Reasons to outs...
» Marian V. Popa: Meet the speakers at R...
» Deloitte 2019 Global Human Capital Tre...
» Andrei Voica: Meet the speakers at Rom...
» How giving back pays dividends for com...

Digital Transformation Conference to take place on June 19 at Bucharest

The Diplomat – Bucharest organizes Digital Transformation Conference to be held on 14 of June in Bucharest, at Hilton Hotel - Regina Maria Hall, starting 8:30 AM.
Read Full article »
L&D Conference by The Diplomat Bucharest took place on June 4th at Bucharest

The Diplomat-Bucharest organizes the Third Edition of its Learning & Development CONFERENCE on 4 June, 2019 at InterContinental Hotel Bucharest starting 09:00 am.
Read Full article »
Meet the winners of ROMANIAN BUSINESS SERVICES AWARDS, 2019 edition

ROMANIAN BUSINESS SERVICES FORUM & AWARDS 2019, in its fifth year, brrought on May 7, in Bucharest, a new concept event with engaging keynote sessions by industry leaders, interactive panel discussions, network
Read Full article »
Few hours away from to the long awaited CEO Leaders Debate, a premiere of Romanian Business Services Forum and Awards
We are a few hours away to the long awaited CEO Leaders Debate, a premiere of Romanian Business Services Forum and Awards on May 7.
Read Full article »
Colin C. Lovering: Meet the speakers at Romanian Business Services Forum & Awards 2019, on May 7

Colin C. Lovering has been living and working in Romania since 2009 when he arrived to offer consultancy and advice to organisations looking for growth and profitability and founded Achieve International.
Read Full article »