Amazon creates more than 650 new permanent jobs in Bucharest

Amazon and Amazon Web Services (AWS) today officially opened a new Corporate Office and Technology Development Centre in Bucharest and announced the creation of more than 650 permanent, technology-focused and corporate jobs, adding to the 1000 roles already existing in Romania, the company official press release states.

The Corporate Office and Technology Development Centre will continue to focus on developing new and innovative features, including helping to build the speech and language solutions behind Alexa, as well as working on key technologies that form the building blocks that are the foundation of AWS.

The new Romanian Amazon and AWS office is home to a new Engineering Center, Technology Development, Speech and Language Solutions for Alexa, as well as Alexa Product Testing, which are all tasked with developing and innovating technology solutions and enhancing Amazon's operations. Amazon and AWS are currently looking among others for software development engineers, language specialists, business service sector generalists, project managers and team managers.

"We are very happy to be opening our new Corporate Office and Development Centre in Bucharest. Our growing teams will now benefit from an 11300 square meter modern office building with first-rate facilities. We are looking forward to continuing our investments in Romania and bringing the brightest talents from around the country and abroad to Bucharest," said Lucian Vornicu, Managing Director, Romania.

"I am delighted that Amazon will create a further 650 new, highly skilled jobs in Bucharest and we congratulate the company for its commitment to Romania. Romania prides itself on the high quality of talent they have here in Bucharest, particularly in the fields of research and technology development. This new investment in Bucharest, highlights the opportunities available here for innovative businesses", said Hans Klemm, US Ambassador to Romania.

"There are many opportunities available within AWS as a result of the new Bucharest office, in particular for software engineers with a specific knowledge of operating systems and virtualization. AWS teams in Bucharest will be working on key technologies for the Elastic Cloud Computing (EC2) service, where they will be developing the operating system and hypervisor. This will give them the opportunity to own, drive, and invent the building blocks that are the foundation of AWS," said Chris Schlaeger, AWS, Director, Software Development.

"The global interest and excitement around Alexa has been incredible and we want to ensure that as many people as possible can experience what it is like to have Alexa helping them on a daily basis. Romania gives us access to high calibre linguists and language engineers, aimed towards improving our efforts around conversational AI," said Rakesh Wanga, Director, Alexa Data Services.
Recruitment for Bucharest Corporate Office and Development Centre jobs is ongoing and those interested in roles should visit romania.amazon.com . All successful candidates will receive attractive salaries and comprehensive benefits including private healthcare and life insurance.

"We want to foster the next generation of tech talent in Romania, therefore we have been partnering with schools and Universities to support talent with thought leadership, financial support and internship opportunities. We hope that over time we will be able to make a big difference to many young men and women who one day will become future leaders in innovation," added Lucian Vornicu.

Amazon has been investing in Romania for years. In 2005, Amazon opened its first office in Romania and has invested almost 100 million EUR, developing next generation technologies and providing an unrivaled customer experience for its customers around the world.

---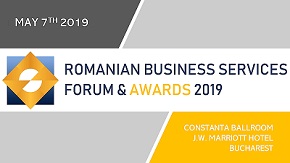 » Molson Coors started to grow its busin...
» TELUS International Europe: Three ways...
» Deloitte's Tech Trends 2019 report: B...
» Capgemini: Investing in people is the ...
» Committed to growth
» The Outsourcing industry announces its...
» Romania ranks above EU average in gend...
» ROMANIAN OUTSOURCING AWARDS FOR EXCELL...
» Engagement and inclusion through direc...
» KPMG study: Big data needs a big re-th...

The voting procedure for the BRAND OF THE YEAR 2019 IN ROMANIAN BUSINESS SERVICES is open!

This is the fifth edition of the event and the second year to select the public's favorite brand in the business services BPO, ITO and SSC in Romania.
Read Full article »
Romania ranks above EU average in gender employment gap

In Romania, the employment rate measures the number of people who have a job as a percentage of the working age population. This page provides - Romania Employment Rate- actual values, historical data, forecast
Read Full article »
Steven Hunt, SAP SuccessFactors: Tectonic movements in the world of work

The world of work will be shaped by five tectonic movements – or global megatrends – over the next few years. As you may guess from the geological analogy, the effects could be dramatic.
Read Full article »
EY: European companies are divesting to future-proof growth

According to the EY Global Corporate Divestment Study, 84 per cent of European companies surveyed intending to divest within the next two years (the majority planning to do so in the coming 12 months), executiv
Read Full article »
Knowledge-sharing presentation on latest trends the industry deals, in the program of Romanian Business Services Forum and Awards

Part of the upcoming joint half-day event, Romanian Business Services Forum and Awards to be held at JW Marriott Hotel on May 7th, the discussion agenda comprises a complex Knowledge-sharing presentation on lat
Read Full article »