We meet again at OT Learning & Development on June 7th

The Second Edition of OT Learning & Development roundtable will be held on June 7, 2018 at InterContinental Hotel Bucharest. The event brings together the business services professionals to discuss and discover new tools and programs designed to assist businesses in supporting employee development.

The event is organized with the support of: Gold Partners Wipro, Portland Trust, Expo Business Park, Colliers, with the support of ABSL, ANIS, ClujIT.

We welcome our panelists that will share valuable insights from their business experience, to join the event moderator ANDREI ROMANESCU, CEO at VEEAM, along with TEODORA TODORAN, Head, Training Function – Europe, WIPRO LIMITED, FLORIN FURDUI, Country Manager, PORTLAND TRUST, GEORGE DIDOIU, Associate Director, COLLIERS INTERNATIONAL

The event aims to focus on the exchange of relevant trends and research results as well as the presentation of practical experiences gained while developing, designing and testing elements of advanced corporate learning. The small group size, around 70 professionals, allows for an intimate experience where you can interact and gain valuable insights from nearly everyone.

AGENDA

9:00 – 9:30 Registration & Coffee
9:30 – 11:30 Roundtable

Proposed topics:
• Scanning the organizational actual needs in terms of talent management and succession planning by drawing a coherent strategy for the future
• Best practices of HR professionals in delivering the most cost-effective methods and solutions for more successful learning results
• Corporate structured learning programs with impact on corporate culture in terms of personal and professional development (e.g. coaching, mentoring etc.)
• Corporate in-house trainings / workshops / pills
• Innovative educational platforms

11:30 – 12:00 Q&A
12:00 Networking Lunch

---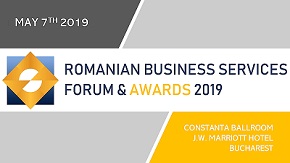 » Molson Coors started to grow its busin...
» TELUS International Europe: Three ways...
» Deloitte's Tech Trends 2019 report: B...
» Capgemini: Investing in people is the ...
» The Outsourcing industry announces its...
» KPMG study: Big data needs a big re-th...
» Romania ranks above EU average in gend...
» Committed to growth
» ROMANIAN OUTSOURCING AWARDS FOR EXCELL...
» Engagement and inclusion through direc...

The voting procedure for the BRAND OF THE YEAR 2019 IN ROMANIAN BUSINESS SERVICES is open!

This is the fifth edition of the event and the second year to select the public's favorite brand in the business services BPO, ITO and SSC in Romania.
Read Full article »
Romania ranks above EU average in gender employment gap

In Romania, the employment rate measures the number of people who have a job as a percentage of the working age population. This page provides - Romania Employment Rate- actual values, historical data, forecast
Read Full article »
Steven Hunt, SAP SuccessFactors: Tectonic movements in the world of work

The world of work will be shaped by five tectonic movements – or global megatrends – over the next few years. As you may guess from the geological analogy, the effects could be dramatic.
Read Full article »
EY: European companies are divesting to future-proof growth

According to the EY Global Corporate Divestment Study, 84 per cent of European companies surveyed intending to divest within the next two years (the majority planning to do so in the coming 12 months), executiv
Read Full article »
Knowledge-sharing presentation on latest trends the industry deals, in the program of Romanian Business Services Forum and Awards

Part of the upcoming joint half-day event, Romanian Business Services Forum and Awards to be held at JW Marriott Hotel on May 7th, the discussion agenda comprises a complex Knowledge-sharing presentation on lat
Read Full article »