We meet again at OT Learning & Development on June 7th

The Second Edition of OT Learning & Development roundtable will be held on June 7, 2018 at InterContinental Hotel Bucharest. The event brings together the business services professionals to discuss and discover new tools and programs designed to assist businesses in supporting employee development.

The event is organized with the support of: Gold Partners Wipro, Portland Trust, Expo Business Park, Colliers, with the support of ABSL, ANIS, ClujIT.

We welcome our panelists that will share valuable insights from their business experience, to join the event moderator ANDREI ROMANESCU, CEO at VEEAM, along with TEODORA TODORAN, Head, Training Function – Europe, WIPRO LIMITED, FLORIN FURDUI, Country Manager, PORTLAND TRUST, GEORGE DIDOIU, Associate Director, COLLIERS INTERNATIONAL

The event aims to focus on the exchange of relevant trends and research results as well as the presentation of practical experiences gained while developing, designing and testing elements of advanced corporate learning. The small group size, around 70 professionals, allows for an intimate experience where you can interact and gain valuable insights from nearly everyone.

AGENDA

9:00 – 9:30 Registration & Coffee
9:30 – 11:30 Roundtable

Proposed topics:
• Scanning the organizational actual needs in terms of talent management and succession planning by drawing a coherent strategy for the future
• Best practices of HR professionals in delivering the most cost-effective methods and solutions for more successful learning results
• Corporate structured learning programs with impact on corporate culture in terms of personal and professional development (e.g. coaching, mentoring etc.)
• Corporate in-house trainings / workshops / pills
• Innovative educational platforms

11:30 – 12:00 Q&A
12:00 Networking Lunch

---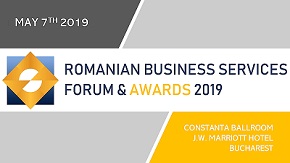 » Evolving from consumers of resources t...
» Preparing for the new future
» ROMANIAN OUTSOURCING AWARDS FOR EXCELL...
» Pepper Escu, the first humanoid robot ...
» Volvo Cars and Uber present production...
» Berg Software Romania: Reasons to outs...
» Marian V. Popa: Meet the speakers at R...
» Deloitte 2019 Global Human Capital Tre...
» George Didoiu: Meet the moderator of R...
» Andrei Voica: Meet the speakers at Rom...

Digital Transformation Conference to take place on June 19 at Bucharest

The Diplomat – Bucharest organizes Digital Transformation Conference to be held on 14 of June in Bucharest, at Hilton Hotel - Regina Maria Hall, starting 8:30 AM.
Read Full article »
L&D Conference by The Diplomat Bucharest took place on June 4th at Bucharest

The Diplomat-Bucharest organizes the Third Edition of its Learning & Development CONFERENCE on 4 June, 2019 at InterContinental Hotel Bucharest starting 09:00 am.
Read Full article »
Meet the winners of ROMANIAN BUSINESS SERVICES AWARDS, 2019 edition

ROMANIAN BUSINESS SERVICES FORUM & AWARDS 2019, in its fifth year, brrought on May 7, in Bucharest, a new concept event with engaging keynote sessions by industry leaders, interactive panel discussions, network
Read Full article »
Few hours away from to the long awaited CEO Leaders Debate, a premiere of Romanian Business Services Forum and Awards
We are a few hours away to the long awaited CEO Leaders Debate, a premiere of Romanian Business Services Forum and Awards on May 7.
Read Full article »
Colin C. Lovering: Meet the speakers at Romanian Business Services Forum & Awards 2019, on May 7

Colin C. Lovering has been living and working in Romania since 2009 when he arrived to offer consultancy and advice to organisations looking for growth and profitability and founded Achieve International.
Read Full article »