Portland Trust's Oregon Park in Bucharest wins CEEQA's "Overall Building of the Year SEE"

Portland Trust, a commercial real estate developer and asset manager headquartered in Prague, announcesd that Building B at its Oregon Park office complex in the Romanian capital of Bucharest won the 2018 CEEQA Award for "Overall Building of the Year SEE".

The CEEQA Awards, which recognize business leadership and achievement in New Europe real estate, said its award was based on Portland Trust's ability to fulfil its concept of building high specification, efficient office space with a particular focus on low energy consumption in a green environment.

Building B at Oregon Park, completed in 2017 and covering 24,000 sqm, has been certified 'Excellent' by BREEAM, based on the development's attention to the health and wellbeing of workers, energy efficiency, transport, sourcing of construction materials, and ecological use of the land.
Building B is one of three independent office buildings at the Oregon Park campus which totals 70,500 sqm and is built over two basement car parking levels, ground and six upper floors. The site cover is only 40% of the total 4 hectares, with the remainder set aside for communication and greenery, which allows for high levels of natural light to all the buildings.

"Bucharest is attracting tenants from all over the world and Oregon Park has attracted Deloitte (9,000 sqm), EULER Hermes (3.400 sqm) which is member of Allianz Group, the French IT company Kepler Alten (2,800 sqm), the Swedish software company Kambi, the Swiss company Markant, Europa FM, part of Czech Media Group, the Chinese company Cofco, the American telecommunication company Viavi Solutions American IT which is listed on NASDAQ", said Robert Neale, CEO of Portland Trust.
"We are delighted that Building B at Oregon Park has been recognised by such a prestigious industry award as CEEQA. At Portland Trust we are dedicated to designing and building developments that meet the highest quality requirements in order to offer a better working environment for all our tenants," he added.

Portland Trust has completed a wide range of projects including supermarkets, a regional shopping centre, office buildings and light industrial / logistic parks in the Czech Republic and Bucharest, Romania. Portland has completed over 600,000 sqm of net leasable space of new buildings with approximately 100,000 msqm net of new office space currently under construction in 2018.


---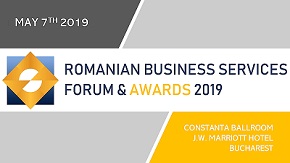 » The most appreciated companies from th...
» Webhelp Romania aiming for EUR 10 mill...
» Tremend joins Mellanox in powering the...
» The Outsourcing industry announces its...
» Manpower: Romania's labor market, more...
» Deloitte's Tech Trends 2019 report: B...
» Bucharest, in the top of cities in Eur...
» Oracle reaches 4,200 employees and pla...
» Genpact's COO: Staying ahead of the cu...
» Ascentis: The top ten HR trends for 20...

Nomination are now open for Romanian Business Services Forum and Awards

Nominations have opened for the prestigious Romanian Business Services Forum & Awards. The 2019 awards will continue to recognize and reinforce the important contribution made by business services professionals
Read Full article »
Study: 89 per cent of finance teams yet to embrace Artificial Intelligence

Report by Association of International Certified Professional Accountants and Oracle shows that almost 90 per cent of finance teams do not have the skills to support digital transformation.
Read Full article »
Bucharest, in the top of cities in Europe with the largest number of experts in high-tech industry

Bucharest is among the top cities boasting the most experts in the high-tech innovative industry, with over 70,000 current employees, next to London, Dublin, Madrid or Budapest, reads a study conducted by CBRE
Read Full article »
CBRE study: Post-millennials, the happiest about their offices
During 2018, real estate consultancy company CBRE conducted the first study dedicated to work environment in office buildings in Bucharest. The respondents have been structured in four age segments, such as Z g
Read Full article »
Deloitte's Tech Trends 2019 report: Beyond the digital frontier

The recently released Deloitte's Tech Trends 2019: Beyond the digital frontier, as each Tech Trends report in the series conducted by the consultancy company, lobbies for embracing the increasing, often mind-b
Read Full article »