Techsylvania 2018 lines up powerful tech specialists at Cluj-Napoca between June 9-12

Techsylvania is the leading technology event in Eastern Europe, built to revitalize the local tech community through high-quality information delivered by worldwide experts in the IT&C industry. Engineers, developers, IT experts, leading companies, hobbyists, entrepreneurs gather every year since 2014 for top-notch networking and lots of insights. The place where all these happen is in the heart of Transylvania, Cluj, a town well-k

Techsylvania started in 2014 with 380 attendees and grew to more than 1300 attendees in 2016. The conference is an educational course for people who want to learn about the steps of building a technology companies (hence the tagline Code.Product.Funding) and attracted speakers such as: Tim Draper (Founder of DFJ), Steffi Czerny (Managing Director at DLD Media), Peter Halacsy (CTO & Co-Founder at Prezi), Mark Shuttleworth (Founder of Ubuntu & Canonical), Andreas Ehn (First employee & CTO at Spotify), Peter Yared (Former CTO CBS Interactive), Gentry Underwood (Co-Founder of Mailbox), Johannes Reck (CEO GetYourGuide), Marcus Segal (Senior VP of Operations at Zynga), David Bettner (Creator of Words With Friends).

The event, now at its fifth edition will host in panel investors gathering budgets over 3 billion US dollars for ventures in tech. they will also jury projects registered at Techsylvania Startup Avalanche 2018.

One of the announced guests is Ashley Carroll, a partner in Social Capital, an investment fund over 1.2 billion US dollars, based in Palo Alto, California. The company was set up in 2011 by a former Facebook employee and has startup portfolios in areas such as health, education, finance, banking and mobile.
Another well-known investor is Max Niederhofer, a partner in Sunstone Capital, one of the largest investment funds in Europe, whose portfolio exceeds 300 million dollars. His first investment was in Last.fm online music platform, acquired by CBS in 2007 for 280 million dollars. The list of investors also finds Bartoj Ondrej, a Czech entrepreneur who founded his first successful business before finishing college in 1996. Currently, he runs Credo Ventures, a fund that manages over 50 million dollars. This is among the first investors of UiPath. Also, the event welcomes speakers from Waze, The New York Times, MIT and Storyheap.


---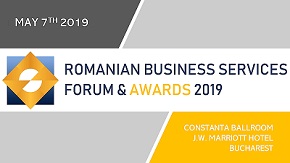 » The most appreciated companies from th...
» Webhelp Romania aiming for EUR 10 mill...
» Tremend joins Mellanox in powering the...
» Manpower: Romania's labor market, more...
» The Outsourcing industry announces its...
» Deloitte's Tech Trends 2019 report: B...
» Bucharest, in the top of cities in Eur...
» Oracle reaches 4,200 employees and pla...
» Genpact's COO: Staying ahead of the cu...
» Ascentis: The top ten HR trends for 20...

Nomination are now open for Romanian Business Services Forum and Awards

Nominations have opened for the prestigious Romanian Business Services Forum & Awards. The 2019 awards will continue to recognize and reinforce the important contribution made by business services professionals
Read Full article »
Study: 89 per cent of finance teams yet to embrace Artificial Intelligence

Report by Association of International Certified Professional Accountants and Oracle shows that almost 90 per cent of finance teams do not have the skills to support digital transformation.
Read Full article »
Bucharest, in the top of cities in Europe with the largest number of experts in high-tech industry

Bucharest is among the top cities boasting the most experts in the high-tech innovative industry, with over 70,000 current employees, next to London, Dublin, Madrid or Budapest, reads a study conducted by CBRE
Read Full article »
CBRE study: Post-millennials, the happiest about their offices
During 2018, real estate consultancy company CBRE conducted the first study dedicated to work environment in office buildings in Bucharest. The respondents have been structured in four age segments, such as Z g
Read Full article »
Deloitte's Tech Trends 2019 report: Beyond the digital frontier

The recently released Deloitte's Tech Trends 2019: Beyond the digital frontier, as each Tech Trends report in the series conducted by the consultancy company, lobbies for embracing the increasing, often mind-b
Read Full article »