Ciprian Dan, Wipro BPS: The industry needs to take a more sophisticated turn

According to Ciprian Dan, Location Head at Wipro BPS, the language skills have not ceased to remain one of the competitive advantages for our market but to relate to this advantage as the sole plus is risky on the long term.

Currently, according to companies operating in outsourcing and business shared services in Romania, there is an intense discussion regarding the availability of prepared workforce in the industry. Even if the companies in outsourcing are the most dynamic in terms of distribution and growth for the number of employees in the past years, the demand for professionals is high and the current offer of graduates doesn't seem to meet it.

In this context, the approach of the industry needs to take a more sophisticated turn. However, the learning of foreign languages is still an aspect that should stay high on the educational agenda even from the very early ages of education.

"The global trends and the advanced of technology is showing us that the foreign languages skills will be soon outdated and therefore, they cannot be any more used as an asset, but rather a tool. We also need to evolve in the industry, to switch the interest from general skills to particular and specific skills needed by companies. All these should also happen within the larger landscape of selling value. And this objective cannot be achieved in the lack of a certain sophistication of the market, as the next step in order to stay relevant. Also, all these should be put in the larger constant of a predictable and stable economic landscape," Ciprian Dan stated.

---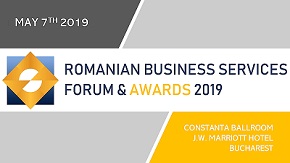 » Molson Coors started to grow its busin...
» TELUS International Europe: Three ways...
» Deloitte's Tech Trends 2019 report: B...
» Capgemini: Investing in people is the ...
» The Outsourcing industry announces its...
» Romania ranks above EU average in gend...
» Committed to growth
» ROMANIAN OUTSOURCING AWARDS FOR EXCELL...
» Engagement and inclusion through direc...
» KPMG study: Big data needs a big re-th...

The voting procedure for the BRAND OF THE YEAR 2019 IN ROMANIAN BUSINESS SERVICES is open!

This is the fifth edition of the event and the second year to select the public's favorite brand in the business services BPO, ITO and SSC in Romania.
Read Full article »
Romania ranks above EU average in gender employment gap

In Romania, the employment rate measures the number of people who have a job as a percentage of the working age population. This page provides - Romania Employment Rate- actual values, historical data, forecast
Read Full article »
Steven Hunt, SAP SuccessFactors: Tectonic movements in the world of work

The world of work will be shaped by five tectonic movements – or global megatrends – over the next few years. As you may guess from the geological analogy, the effects could be dramatic.
Read Full article »
EY: European companies are divesting to future-proof growth

According to the EY Global Corporate Divestment Study, 84 per cent of European companies surveyed intending to divest within the next two years (the majority planning to do so in the coming 12 months), executiv
Read Full article »
Knowledge-sharing presentation on latest trends the industry deals, in the program of Romanian Business Services Forum and Awards

Part of the upcoming joint half-day event, Romanian Business Services Forum and Awards to be held at JW Marriott Hotel on May 7th, the discussion agenda comprises a complex Knowledge-sharing presentation on lat
Read Full article »