Olga Botusan, Stefanini: There is a huge need to develop particular skills for specific areas

Stefanini is a company strongly involved in the business shared industry not only for creating the demand for workforce and hiring but also for the programs developed in order to specialize the needed professionals.

OLGA BOTUSAN, EMEA Human Resources Director at Stefanini underlined the interest of the company she represents in creating the work resources needed for their operations. "Hence, we try to work together with the governmental institutions in order to mitigate the gap between the school educational schemes and the specific needs of our industry, to offer what the school is not offering. We are investing in young people which are completing their studies as students or are at the start of their careers but we also go further and go to high schools where we established educational hours to train the scholars for foreign languages such as English, German and IT. However, in order to sustain and further develop these programs, the companies in our industry could use a stronger support from all the stakeholders, including the Governmental institutions. The companies operating in business shared services industry are investing in Romania as much as in other European countries though, here, we struggle more to put these programs into practice, that is why a support from the state institutions would be of great help."

The relevancy of the industry represented by its offer of professionals is a topic that generates a lot of debates, even among companies. According to Stefanini representative, in order to stay relevant and deliver the values that would be appreciated on the long term in the industry, the reference to the improvement of language skills is not anymore enough. "There is a huge need to develop particular skills for specific areas. Within the competition market of outsourcing and shared services, it is not enough anymore to sell outsourcing services from the perspective of multilayered skill development, language skills and cheap labor. These are not anymore selling assets. The current and future selling offer should address innovation, added value, creativity. In the last years, Romania started to differentiate from the former context because right now, the local services are not any longer cheap and more than that, we started to lack the necessary workforce in the industry in order to better sell out services. Also, the industry crossed a hard time in the past months of this year due to the changes in work legislation and being part of global companies, the shareholders from abroad meet us with a question mark regarding the predictability of future developments on the Romanian scene," OLGA BOTUSAN stated.

Olga Botușan has joined Stefanini in 2017 and she is representing the company as HR Manager for Stefanini Romania, Moldova and Poland. Olga Botușan is withal Recruitment Manager for EMEA. Her priorities are focused on supervising the HR departments in Romania, Poland, Moldova and involving in all HR projects' implementation. Olga is also in charge of agreeing the most suitable partnerships and contracts achieved for Recruitment. With over 16 years of experience in Human Resources area, Olga Botușan has worked in companies such as IT/ Telecom, Consultancy or Business Process Outsourcing (BPO). Besides this, she has occupied top management positions in the last 11 years, working for multinational companies like HP, Genpact and Accenture. She graduated Psychology at the University of Bucharest and then she achived her Master's degree in Human Resources Management at the same University.



---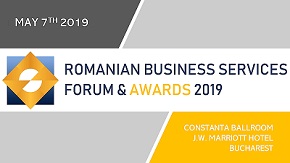 » Evolving from consumers of resources t...
» ROMANIAN OUTSOURCING AWARDS FOR EXCELL...
» Preparing for the new future
» Pepper Escu, the first humanoid robot ...
» Volvo Cars and Uber present production...
» Berg Software Romania: Reasons to outs...
» Marian V. Popa: Meet the speakers at R...
» Deloitte 2019 Global Human Capital Tre...
» George Didoiu: Meet the moderator of R...
» Andrei Voica: Meet the speakers at Rom...

Digital Transformation Conference to take place on June 19 at Bucharest

The Diplomat – Bucharest organizes Digital Transformation Conference to be held on 14 of June in Bucharest, at Hilton Hotel - Regina Maria Hall, starting 8:30 AM.
Read Full article »
L&D Conference by The Diplomat Bucharest took place on June 4th at Bucharest

The Diplomat-Bucharest organizes the Third Edition of its Learning & Development CONFERENCE on 4 June, 2019 at InterContinental Hotel Bucharest starting 09:00 am.
Read Full article »
Meet the winners of ROMANIAN BUSINESS SERVICES AWARDS, 2019 edition

ROMANIAN BUSINESS SERVICES FORUM & AWARDS 2019, in its fifth year, brrought on May 7, in Bucharest, a new concept event with engaging keynote sessions by industry leaders, interactive panel discussions, network
Read Full article »
Few hours away from to the long awaited CEO Leaders Debate, a premiere of Romanian Business Services Forum and Awards
We are a few hours away to the long awaited CEO Leaders Debate, a premiere of Romanian Business Services Forum and Awards on May 7.
Read Full article »
Colin C. Lovering: Meet the speakers at Romanian Business Services Forum & Awards 2019, on May 7

Colin C. Lovering has been living and working in Romania since 2009 when he arrived to offer consultancy and advice to organisations looking for growth and profitability and founded Achieve International.
Read Full article »