London Stock Exchange Group to establish operations in Romania


London Stock Exchange Group (LSEG) today announces that it is setting up a new Business Services centre in Bucharest, Romania. The new centre will employ personnel within the Group's Shared Services company, Business Services Ltd (BSL). BSL currently delivers technology, data services and corporate support functions across the Group's global operating entities.


LSEG has secured office premises located within the central-west area of Bucharest, near the Polytechnic University. The new LSEG facility will initially employ 200 personnel across a range of roles and complements BSL's existing operations in Colombo, Sri Lanka, which employs 480 people.

Murali Subrahmanyam, Head of LSEG Business Services said: "We are pleased to announce the opening of a new shared services centre in Romania. Through the development of strategic operational hubs within appropriate time zones and geographic regions, we are well placed to deliver services and support to our global operating entities.

"Romania offers LSEG a highly skilled workforce, a strong education system and good infrastructure. We have been delighted by the warm reception that we have received from the Government of Romania, Invest Romania Agency and the local business community. We look forward to being an employer in Romania and contributing to the further development of capital markets skills in the country to support its future growth."

Stefan-Radu Oprea, Minister for Business Environment, Trade and Entrepreneurship said: "We are delighted that London Stock Exchange Group has chosen Romania as a location for one of its strategic operational hubs, creating more than 200 skilled jobs in Bucharest. The long-term commitment to our country also reinforces the development of Romania's capital markets capabilities."


---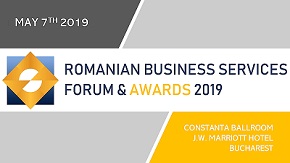 » The most appreciated companies from th...
» Webhelp Romania aiming for EUR 10 mill...
» Tremend joins Mellanox in powering the...
» The Outsourcing industry announces its...
» Manpower: Romania's labor market, more...
» Deloitte's Tech Trends 2019 report: B...
» Bucharest, in the top of cities in Eur...
» Oracle reaches 4,200 employees and pla...
» Genpact's COO: Staying ahead of the cu...
» Ascentis: The top ten HR trends for 20...

Nomination are now open for Romanian Business Services Forum and Awards

Nominations have opened for the prestigious Romanian Business Services Forum & Awards. The 2019 awards will continue to recognize and reinforce the important contribution made by business services professionals
Read Full article »
Study: 89 per cent of finance teams yet to embrace Artificial Intelligence

Report by Association of International Certified Professional Accountants and Oracle shows that almost 90 per cent of finance teams do not have the skills to support digital transformation.
Read Full article »
Bucharest, in the top of cities in Europe with the largest number of experts in high-tech industry

Bucharest is among the top cities boasting the most experts in the high-tech innovative industry, with over 70,000 current employees, next to London, Dublin, Madrid or Budapest, reads a study conducted by CBRE
Read Full article »
CBRE study: Post-millennials, the happiest about their offices
During 2018, real estate consultancy company CBRE conducted the first study dedicated to work environment in office buildings in Bucharest. The respondents have been structured in four age segments, such as Z g
Read Full article »
Deloitte's Tech Trends 2019 report: Beyond the digital frontier

The recently released Deloitte's Tech Trends 2019: Beyond the digital frontier, as each Tech Trends report in the series conducted by the consultancy company, lobbies for embracing the increasing, often mind-b
Read Full article »